Disaster Response Routes
In an emergency, critical seconds can save lives. Disaster response route signs indicate routes that are designated for use by emergency personnel and are not for use by the general public during an emergency or disaster situation such as an earthquake.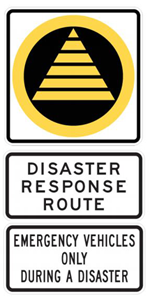 Disaster response routes enable emergency services and supplies to move quickly to where the need is greatest. This includes transporting and treating sick and injured people, putting out fires, restoring water and electricity, and other critical services.
Disaster Response Routes are not Evacuation Routes
Disaster response routes are not evacuation routes. Disaster response routes are required for the movement of emergency responders during an emergency.
Disaster response routes will be activated as needed by authorities during an emergency or disaster situation. Disaster response routes may be activated following a declaration of a local or provincial state of emergency.
Obey all traffic signs and traffic control personnel at all times. It is recommended that members of the public listen to the radio and monitor media for updates to find out which routes are open to non-emergency traffic.
If you find yourself on a disaster response route during an emergency situation, exit the route at the earliest safe opportunity to make way for emergency personnel.