Forest bioeconomy
Forest bioeconomy development uses sustainably managed forest biomass as the main input for making bioproducts such as consumer goods and industrial products. The bioeconomy contributes to reduced petrochemical-based products in the economy.
On this page:
Click on the image below to enlarge the picture.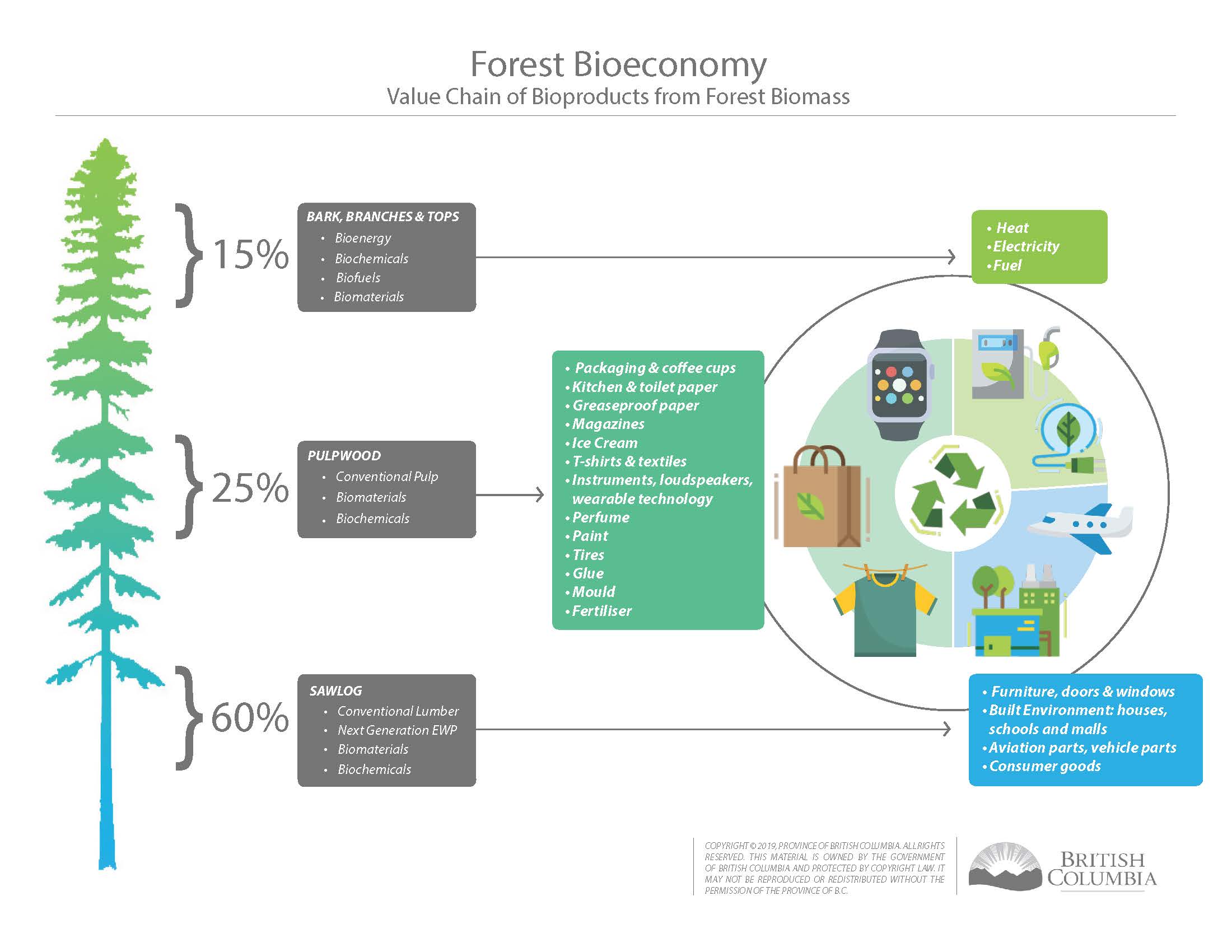 Forest bioeconomy in B.C.
A forest bioeconomy considers a wider range of product and resource development opportunities compared to conventional forestry. Bioproducts differ from conventional forestry products like lumber or pulp and paper products. However, conventional forest products are still important to our provincial economy. By using the waste from conventional forest practices, a bioeconomy maximizes the use of biomass and adds economic value to it. It also provides an opportunity for product diversification.
A forest bioeconomy provides opportunities to use locally sourced forest biomass as sustainably managed and renewable material inputs for a wide range of bioproducts. It can also help support the sustainability of local and regional economies while providing entrepreneurial opportunities and jobs for communities across B.C., including First Nations.
The results are innovative bioproducts which are made from residual fibres of conventional forest product manufacturing activities and from harvest residuals. The forest bioeconomy provides a way to use more biomass and reduce or eliminate waste. The bioeconomy also provides solutions to climate change by sequestering carbon in products and reducing emissions from forestry practices.
Click on the image below to enlarge the picture.

Bioproduct examples:
Non-timber forest products
Non-timber forest products (NTFPs) are products found in a forest that are not made from wood. Examples include forest-grown flowers and mushrooms. Non-timber forest product harvesting is a rapidly growing sector that is supported in many ways by the province.
Programs and initiatives
Supporting diverse products and innovative use of our natural resources is an important part of diversifying our bio-economy, and the province partners with multiple organizations to do so.