SlaughterRight training
SlaughterRight is a comprehensive update to the previous SlaughterSafe training used by health authorities, and was designed to help more British Columbians enjoy safe, locally raised beef, pork and poultry as well as contributing to food security and supporting businesses in rural communities. In addition to a more thorough training manual (PDF, 1.7 MB) and coursebook, new elements of the program also include the compulsory development of food safety and humane slaughter plans, as well a set of standard operating procedures, specific to each operation.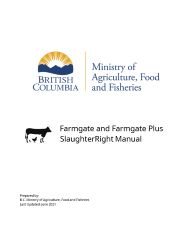 SlaughterRight is a training resource developed by B.C. Ministry of Agriculture, Food and Fisheries to support producers that intend to become licensed as a rural slaughter establishment and process their livestock and poultry through on-farm slaughter. Its focus is for operators to understand critical food safety points in the slaughter process that need to be considered and managed so that meat does not become contaminated. The course will also reinforce awareness and understanding of enhanced animal welfare practices.
Who needs SlaughterRight training?
The completion of this course is mandatory and required for all Class D and E Licence holders, as well as all existing licence holders who are applying for a new licence or renewing an existing one.
How do I complete my SlaughterRight training?
The SlaughterRight workbook is required to complete the course and will only be made available to those applicants who have submitted a full Class D and E Licence Application Package Checklist (PDF, 95 KB) that has been approved by Meat Inspection Program staff.
The Ministry is posting the SlaughterRight manual here to provide potential applicants the opportunity to review the mandatory training before and during their application process.