Grazing Management Guide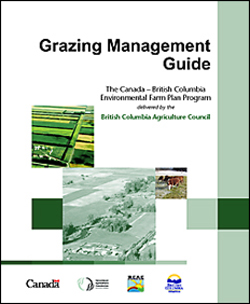 The Grazing Management Guide assists B.C. farmers and ranchers in preparing a grazing management plan for their operations. The Guide can be used in designing, implementing, and monitoring a Grazing Management Plan.
The information is intended to apply primarily to privately owned farm and ranch lands in British Columbia. The information may also apply to Crown land grazing.
This guide is one of a number of publications prepared to support the implementation of the Canada - BC Environmental Farm Plan Program.