Plain language exercise 3 - sample page #2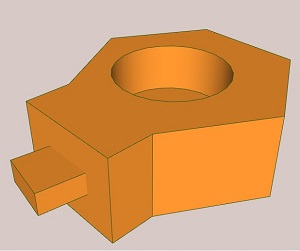 The Ultimate Doohickey
No. 10101
---
The Ultimate Doohickey
Doohickeys have been prized by young and old alike since the dawn of time. Some hold mysteries greater than you might ever imagine and some have never been seen by human eyes. Except this one, a copy of one of the greatest doohickeys ever made, can be yours. It's for sale.
The original was a stone relic taken from an ancient tomb, worn, crumbling, and barely discernible from its encasing cobwebs. It has now been rebuilt and a manufacturing process developed using cutting-edge technologies and lots of lasers.
It's the best doohickey you will ever know. People will want you to show them its secrets.
The Ultimate Doohickey (No. 10101). Containing one immense secret inner chamber for hiding your most precious keepsakes. Carrying case with handle. Durable reinforced plastic that will improve as it ages. Imported.
Colour: Orange.
How to take care of your doohickey: This doohickey does not need to be coddled - it can handle whatever stresses you subject it to.
The sooner it gets scratched, kicked, dropped, bashed, scrunched, toppled, electrocuted, and left outside overnight, the better.
When you receive your doohickey, it will be so ferociously new looking that you may be ashamed of it. But we have no choice. It would be frightfully expensive to pre-age each doohickey before sending it out to a customer. (Antiques cost more than new, for a reason.)
Here's our recipe for speeding up the aging process. First, spend one day playing with it the way it is. You will initially enjoy it like this, but not for long. The next day, drop it repeatedly down a flight of stairs. It will be hard at first. Then dunk it in a cold water bath. Let it dry. The scratches and dents from the repeated tumbles will lose their sharpness and begin to look old. Repeat this treatment as often as you can manage; twice a week for 7 weeks. (Clean doohickey with plain water only. Not soap or spray cleaner, not vinegar or laundry detergent. Not even baking soda. It will do just fine with water and will outlast humanity.)