Configuration Menu - Enhanced Search
The Configuration menu display is split into two distinctive panes: Configuration Edit Pane and Configuration Tabs pane. The panes are divided by scrollbar and the Navigation Pane may be collapsed to maximize the Configuration pane working area.
When the configuration screen is opened, the list displays all configurations the user' has access to. The configurations displayed will be based on your security access.
Configuration Filter - You may filter on any portion of the configuration title, CMS Lite Search page ID or Enhanced Search page ID. The field is not case sensitive and does not require any wildcard characters.
Configuration Title represents what has been entered in the Configuration Title field in the configurations Settings tab. Click the Edit button to the right of the Configuration Title to open the configuration.
Action Drop-Down Menu

Create New Public Configuration: select from Action Drop-Down Menu to create a new Public Configuration
Create New Private Configuration: select from Action Drop-Down Menu to create a new Private Configuration

Check the box next to an Configuration Title , to select it, to perform any of the following functions

Clone Search Configuration: To clone a a Search Configuration select from Action Drop-Down Menu
Delete Search Configuration: To delete a Search Configuration, you must first un-publish the configuration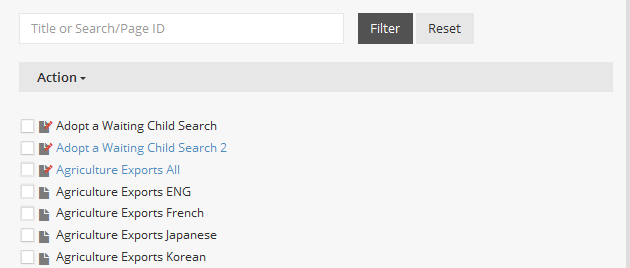 Click image to view in full screen
Content Pane
To display a configuration instance in the Content Pane, click on the Nav Title. The configuration instance settings tab will be displayed for the selected configuration instance and a check mark will appear in the Navigation Pane next to the navigation title.