2021 Award for Grading
---
The nominees for the 2021 Award of Excellence for Grading are:
Bad Ventures
Project: Highway 3 Jaffray Westbound Passing Lane project
Location: Highway 3, west of Jaffray
Contract Amount: $4.3 million
Bad Ventures completed construction of a two-kilometre westbound passing lane on Highway 3 in July 2021. The goal of the project was to improve highway capacity, reliability and safety by providing motorists an opportunity to pass slower vehicles.
Bad Ventures were professional and flexible with its traffic management to ensure safe, efficient movement of traffic. It communicated effectively to the public via Dynamic Message Signs and DriveBC. It utilized three scrapper machines to mine borrow material to build the new passing lane with a process that allowed vehicles to turn around while highway traffic continued. Bad Ventures' staff, environmental protocols and scheduling enabled it to complete a fill into the wetland during a dry part of the season without causing harm to the environment.
The project was scheduled so that the passing lane and wetland fill was completed first, and the wildlife tunnel was completed the following season. By the end of the first season in 2020, one lane in each direction had bottom and middle lift asphalt paving complete with lines painted. This scheduling prevented issues and supported winter layup for the maintenance contractor.
In spring and summer 2021, the third lane and wildlife tunnel were constructed, which required extensive detour construction to maintain the highway for traffic.
Bad Ventures worked with Project Manager Robbie Kalabis and Ministry Representative Ron Sharp to complete the project on time and on budget.
---
Lafarge Canada Inc.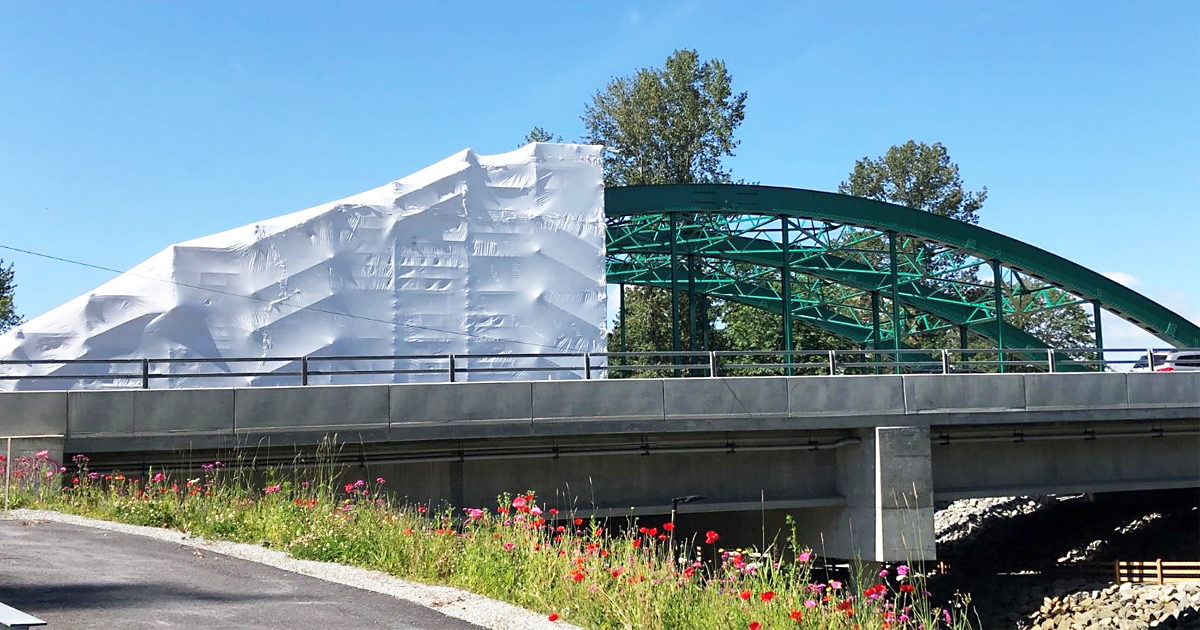 Project: Highway 1 Lower Lynn and Lynn Creek Connectivity Improvements Project
Location: Approximately 1 kilometre north of the Ironworkers Memorial Bridge
Contract Amount: $62 million
This four-phase project included the reconstruction of the existing Highway 1 at Keith Road Interchange and new westbound collector lanes. Construction included a new five-lane Keith Road underpass, realignment of Keith Road, reconstruction of ramps, reconstruction of the Lillooet/Seymour Parkway intersection, two new Highway 1 westbound collector lanes, two new Highway 1 Lynn Creek Bridges, new Mountain Highway eastbound on-ramp and the relocation of Keith Creek.
Over 120,000 vehicles passed through the site each day. There were extensive utility relocations and upgrades, complex construction staging and traffic management and nearby sensitive environmental habitat, all within a densely populated and constrained area. Lafarge worked with stakeholders to address challenges that arose on this complex project through innovation and collaboration.
Lafarge Canada Inc. worked with Project Manager Jay Porter and District Manager Elena Farmer to deliver a project that provides locals with a network of safe trail and pathways, beautification through art and landscaping, and enhanced aquatic habitat and environmental protections.
---
Lafarge Canada Inc.
Project: Highway 1 Lower Lynn and Lynn Creek Connectivity Improvements Project
Location: Approximately 1 kilometre north of the Ironworkers Memorial Bridge
Contract Amount: $62 million