Climate Related Monitoring Program
Last updated: May 31, 2023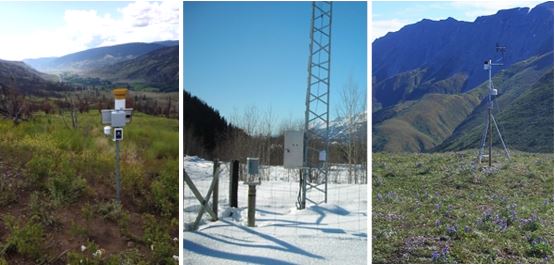 On this page
---
The Climate Related Monitoring Program (CRMP) is a cooperative effort amongst hydrometeorological (weather) network operators in Provincial, Regional and Federal Governments and other weather observing agencies in B.C. These network operators have agreed to formally collaborate in operations and data sharing under the Province's Amended and Restated Agreement on Management of Hydrometeorological Networks (PDF, 9MB).
Climate data resulting from this collaboration may be accessed at the Pacific Climate Impacts Consortium's (PCIC) website which also contains near real-time and historic hydrometeorological time series data. Data collected by Federal, Provincial and other monitoring programs is contained in PCIC's Pacific Climate Data Set dating back to the 1890s.
Station information
A major part of the CRMP is tracking the network of hydrometeorological observation stations currently operating in British Columbia. Information about the networks and monitoring locations is accessible through the BC Data Catalogue and iMapBC. Efforts are made to keep the information current, however stations operated by agencies that are not a part of the CRMP agreement are not always included. Users are encouraged to communicate with local agencies to gain access to any additional local data and site information.
When seeking information through iMapBC, search for active and inactive meteorological stations.
Projects underway with CRMP participation include:
Participation in national standards development for:

Hydrometeorological station siting and operations
Hydrometeorological data qualification
Hydrometeorological data transmission

Improvements to winter precipitation monitoring technology applied in British Columbia
Defining gaps in provincial climate monitoring
Improvements to data quality and availability
Training on monitoring network operations and planning
Ministry of Agriculture, Food and Fisheries working in collaboration with a privately maintained network
Ministry of Environment and Climate Change Strategy

Automated Snow Weather Station Network
Air Quality Network

Ministry of Forests Lands, Natural Resource Operations and Rural Development

Forest Ecosystem Research Network
Ecosystems research network supported by UNBC
BC Timber Sales
BC Wildfire Service

Ministry of Transportation and Infrastructure
Environment and Climate Change Canada
BC Hydro
Rio Tinto
Metro Vancouver Regional District

Water Services
Air Quality and Climate Change

Capital Regional District