Bats
Bats in B.C. eat a wide variety of insects and pests. They are essential for keeping our ecosystems in balance. This page overviews information on bats and what to do if you come in contact with one.
On this page:
---
What to do if you find a bat
Bats can carry many different pathogens, some of which are harmful to bats and humans. We need to ensure humans have the information they need to live around bats.
What to do if you find a bat: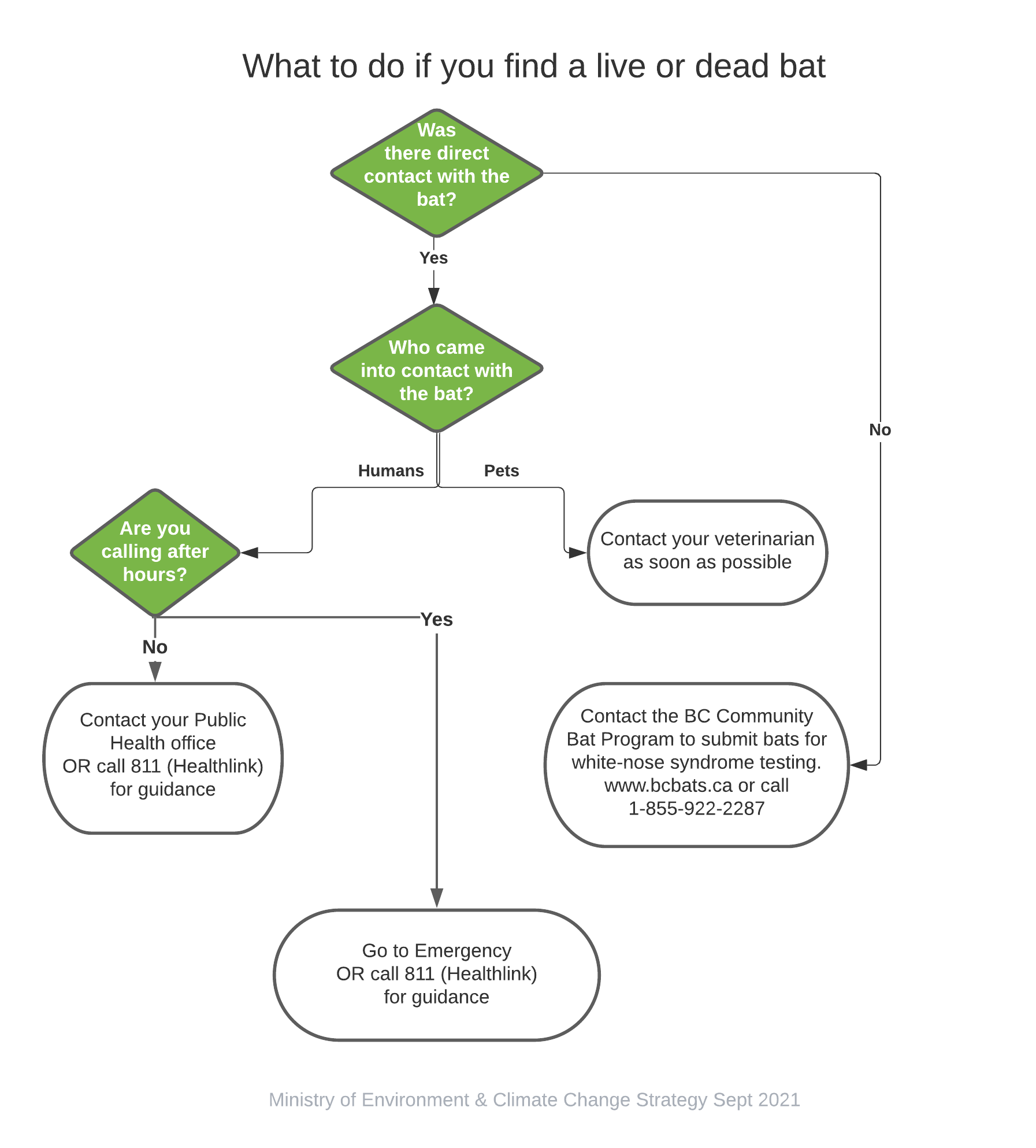 There was direct human contact with a bat:
Contact your public health regional office OR call 811 (Healthlink B.C.) for guidance
If you are looking for assistance after hours, go to your nearest Emergency centre or call 811 (Healthlink B.C.)
My pet came into direct contact with a bat:
Contact your veterinarian as soon as possible
I want to report a bat:
For information on reporting and living with bats contact:
---
Learn more about bats
Bats are an important group of animals. To understand more about the impacts of bat health on humans. We need to learn about:
General health of bats and their basic biology

Their population numbers

Daily activity patterns

Roost selection (where they gather when they are not active)
More information on bats:
---
COVID-19 and bats
It is unknown if bats in B.C. can become infected with or transmit the SARS-CoV-2 virus responsible for COVID-19. This situation is evolving; check in with the BC Small Mammal and Herpetofauna Specialist for updates. ​
The Canadian Wildlife Health Cooperative's (CWHC) recommendations on the handling of bats.
---
Guidance for those who work with wildlife from the American Association of Fish and Wildlife Agencies.
---
Update from the U.S. National Wildlife Health Centre (NWHC) about the Coronavirus in wildlife.