Recreational Vehicle & Trailer - Tire and Chain Requirements
Drivers of recreational vehicles must obey winter tire and chain signs throughout the province from October 1 to April 30. For select highways not located through mountain passes and/or high snowfall areas, tire and chain requirements end March 31.
Sections of highways requiring winter tires or chains on board are marked with roadside signs. The symbol of the truck camper on the tires and chains sign represents all classes of recreational vehicles (RVs), including RVs that look similar to commercial buses.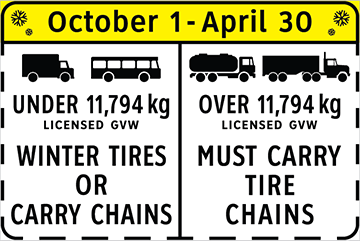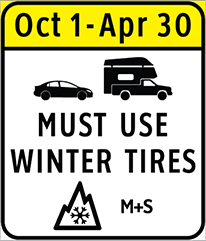 The minimum requirement for recreational vehicles is to use the M+S tires, however we recommend carrying chains or having the vehicle equipped with other traction devices in case severe winter conditions are encountered.​
Fifth Wheels & Trailers
Recreational vehicles such as fifth wheels and trailers should have either 3-peaked mountain snowflake or M+S tires on the drive axle of the primary vehicle and chains on board for the trailer tires to prevent slippage on banked curves.
Class A Motorhomes
Class A motorhomes that are built on commercial truck chassis and that do not have winter tires available can use chains or other traction devices. See Commercial Vehicles for rules.