Highway 1 - 216th to 264th Widening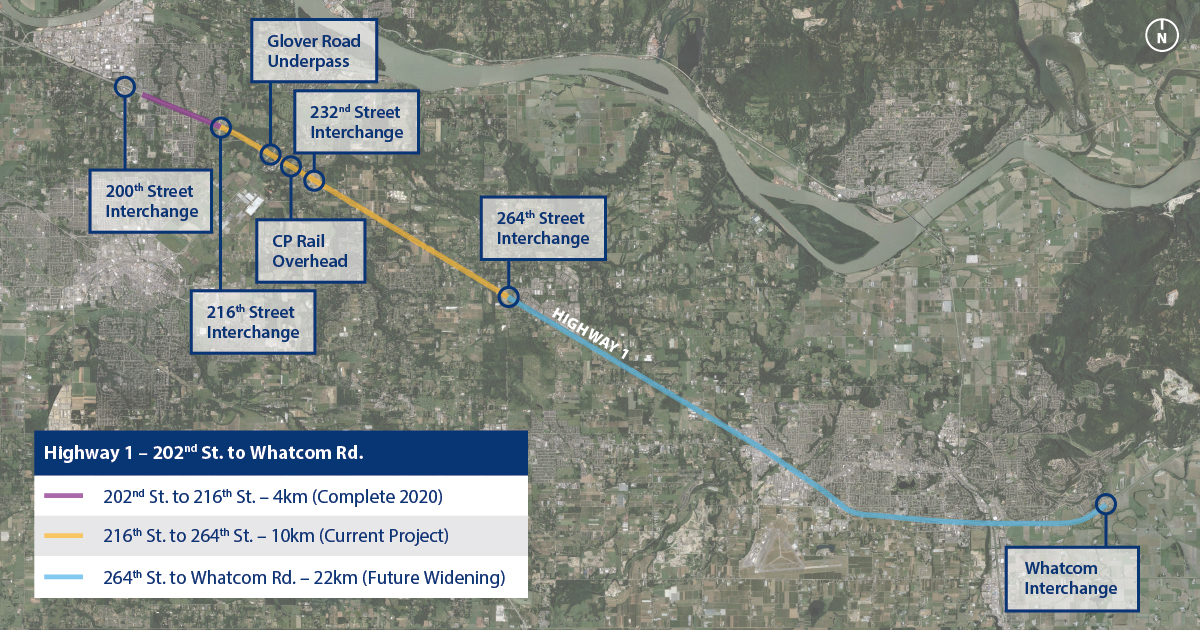 This Highway 1 widening project is located in the Township of Langley between the new 216th Street Interchange and the 264th Street (Highway 13) Interchange.
This segment of highway is operating at capacity during peak periods and contains vertical clearance issues for commercial vehicles. The 232nd Street Interchange configuration no longer operates well under current traffic volumes and will only get worse as volumes increase.
The project will include:
Widen Highway 1 to accommodate eastbound and westbound high occupancy vehicle (HOV) lanes in the median between the 216 Street and 264 Street Interchanges
Construction of a new crossing at Glover Road, which will include dedicated 2.5-metre wide cycling lanes on either side and a separate two-metre wide sidewalk
Reconfiguration of the existing 232 Street Interchange and the replacement of the existing crossing, including a three-metre wide multi-use pathway on either side
Replacing the existing railway crossing immediately east of Glover Road
Project Cost
The project is funded with contributions from:
The Government of Canada

Province of B.C.

Township of Langley
Status
Request for Proposals/Request for Qualifications (RFP/RFQ) is currently underway for detailed design
February/March 2021 public engagement has been completed. See public engagement materials.
Advanced works

Pre-clearing work completed winter 2021
Single structural test pile at 232nd Interchange in early spring 2021
Preloading of new HOV lanes in the median to commence summer 2021
Project Objectives
This project will:
Reduce Highway 1 congestion
Improve overall safety and capacity of the highway and the 232nd Street Interchange
Eliminate low clearance issues for commercial vehicles on the corridor
Encourage motorists towards more sustainable transportation rather than traveling in single occupancy vehicles
Support increased use of existing Highway 1 transit services by improving transit travel times and reliability
HOV lanes will support CleanBC and reduce greenhouse gas emissions
Enhance pedestrian and cycling features at Glover Road and 232nd Street
Schedule
Functional design was completed in winter 2020
Preliminary construction works begin in spring 2021
Detailed design to be completed in early 2022
Construction will begin in 2022
Construction to be completed in 2025