Tourism Marketing
In collaboration with stakeholders across the province, Destination BC coordinates tourism marketing at the international, provincial, regional and local levels.
The brand Super, Natural British Columbia© highlights the value of B.C.'s magnificent wilderness and recognizes that travellers are drawn to the abundance and diversity of B.C.'s natural landscapes.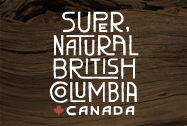 Destination BC's Global Marketing team deploys a combination of media relations, travel trade, consumer-direct and co-operative marketing worldwide to drive demand, increase provincial tourism revenues and encourage the geographic and seasonal distribution of visitors to and within B.C. All activities are integrated and strategically targeted to increase demand for B.C. as a preferred travel destination and the most recommended destination in North America.
Read more about Destination BC's marketing activities.
Watch this video showcasing how Destination BC is marketing British Columbia to the world: