Tourism Marketing
Tourism marketing and promotion in B.C. is led by Destination BC.
Destination British Columbia (Destination BC) is a Provincially funded, industry-led Crown corporation that supports a strong and competitive future for BC's tourism industry through a combination of global marketing, destination development, industry learning, cooperative community-based programs, and visitor servicing. Destination BC's programs help to improve the visitor experience, support businesses and communities across the province, and strengthen BC's worldwide reputation as a destination of choice.
B.C.'s destination brand, Super, Natural British Columbia© highlights the value of our province's magnificent wilderness and recognizes that travellers are drawn to the abundance and diversity of B.C.'s natural landscapes.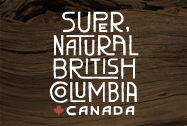 Read more about Destination BC's marketing activities.
Watch this video showcasing how Destination BC is marketing British Columbia to the world: