Strategic Framework for Tourism in B.C.
Tourism has — and will always be — integral to who we are as British Columbians. A thriving tourism industry contributes to an inclusive economy and provides a pathway for jobs, opportunity, and entrepreneurship in our province.
The Strategic Framework for Tourism 2022–2024: A Plan for Recovery and Resiliency is our roadmap for rebuilding tourism in the province and a fundamental part of our province's economic recovery from the COVID-19 pandemic. This framework will play an important role in achieving a more resilient sector as we look toward the future.
Overview
The strategic framework has been updated in response to a recommendation of the Tourism Task Force Report and is guided by the foundational principles of the Provincial Government, including:
putting people first
lasting and meaningful reconciliation with Indigenous peoples
addressing equity and anti-racism
a better future through fighting climate change
a strong, sustainable economy that works for everyone
Strategic Framework Highlights
Download the Strategic Framework 2022-2024 At a Glance
The strategic framework outlines priorities and concrete actions under three equally important pillars: People, Planet, and Prosperity.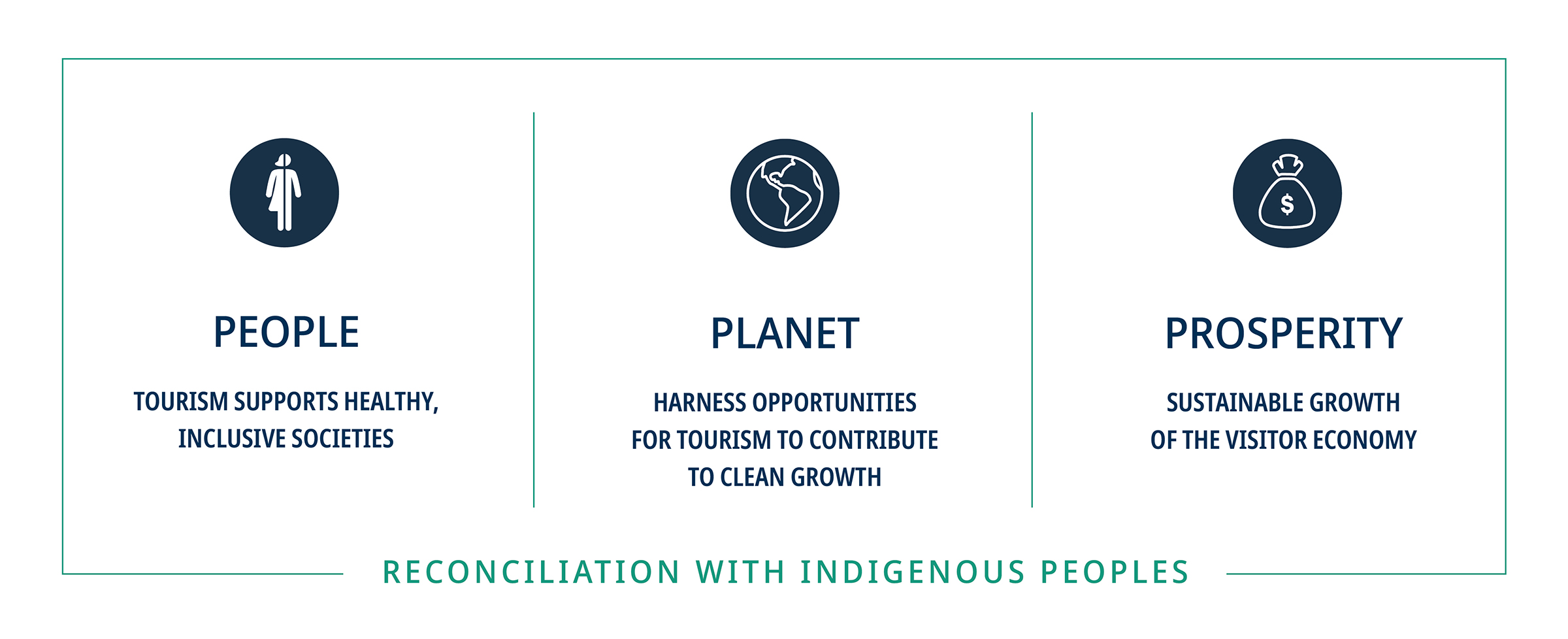 People
Tourism Supports Healthy, Inclusive Societies
Key Priorities
Support communities in rebuilding and enhancing their visitor economies
Support true and lasting reconciliation with Indigenous peoples through tourism
Continue to support the tourism sector in becoming more inclusive and accessible
Planet
Harness Opportunities for Tourism to Contribute to Clean Growth
Key Priorities
Build a cleaner tourism industry that is prepared to adapt to climate change
Support responsible travel and preservation of B.C.'s natural spaces
Prosperity
Sustainable Growth of the Visitor Economy
Key Priorities
Build back a strong and diverse tourism workforce
Invest in B.C.'s competitive advantages in the post-COVID-19 pandemic era through destination management
Attract visitors during all four seasons and to more regions of the province
Working together
The Ministry of Tourism, Arts, Culture and Sport acknowledges the many tourism leaders who provided input and advice that helped shape the strategic framework. As we work towards the objectives, priorities and actions, we will continue to draw on their expertise, experience, partnership, and exceptional leadership.