Forest & Range Evaluation Program (FREP)
The Forest and Range Evaluation Program (FREP) supports the sustainable management of BC's forest and range resources under the Forest and Range Practices Act (FRPA), by monitoring and evaluating the condition of resource values and effectiveness of resource practices. An overview of the program and strategic priorities can be found in the FREP 3 Year Strategic Plan (20/21 to 22/23).
FREP Vision: Collect and communicate trusted and scientifically robust natural resource monitoring information to inform decision making and improve resource management outcomes.
FREP Mission:
Assess the impacts of forest and range activities on the 11 FRPA resource values to determine if on-the-ground results are achieving government's desired outcomes for these values;
Monitor and report on the condition of resource values, including trends and causal factors; and
Identify opportunities for continued improvement of practices, policies and legislation, and support their implementation.
FREP is a science-based program, with monitoring protocols developed through broad expert input. To date, FREP has collected over 10,000 samples and communicated results through more than 125 publications.
Below: Sample site locations for timber, stand-level biodiversity, riparian, water quality, visual quality, cultural heritage and soils.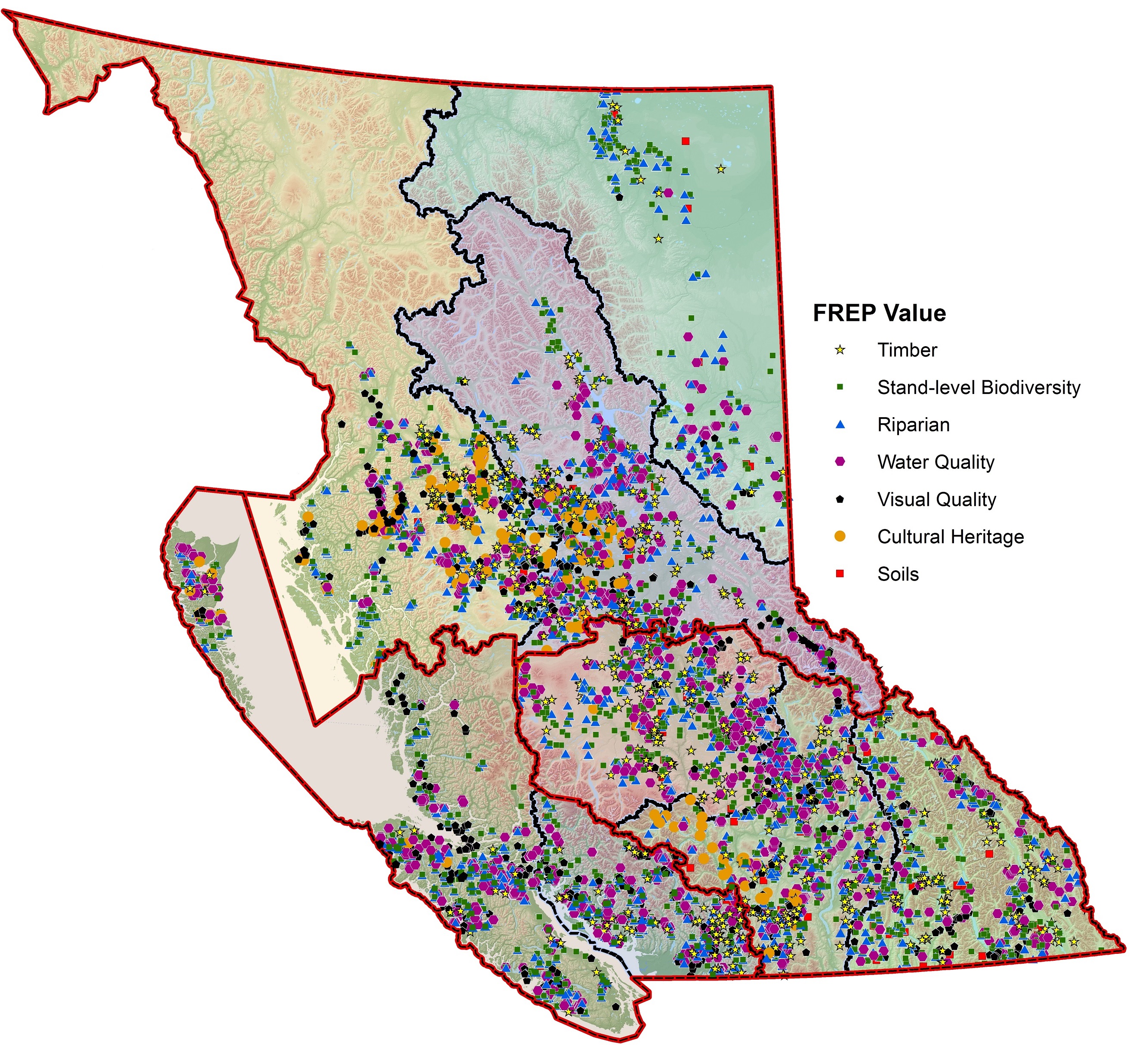 ​Monitoring Values
There are 11 resource values to be monitored under FRPA: Biodiversity, Cultural Heritage, Fish/Riparian, Forage & Associated Plant Communities, Recreation, Resource Features, Soils, Timber, Visual Quality, Water and Wildlife.