Feed BC in health care
In collaboration with B.C. health authorities, the Ministry of Agriculture, Food and Fisheries and the Ministry of Health are working together to bring more B.C. food to B.C. hospitals and other health care facilities through Feed BC. By using B.C. ingredients, health care facilities improve the patient experience while supporting B.C. farmers, fishers and food and beverage processors to build the provincial food supply and bring local foods to patients and other health care facility clients.
Food expenditures in B.C.'s health sector
B.C.'s health authorities have been long-time champions of local food and have been working to optimize their use of B.C. food for several years with good results. To support Feed BC, the Ministry of Health directed all health authorities to track their annual B.C. food expenditures towards Feed BC's early aspirational target of 30% starting in the 2018/19 fiscal year. The annual reports detail their hard work and determination in supporting B.C.'s farmers, fishers, ranchers, and food processors.
Feed BC partnerships in health care ​
On September 21, 2020, Feed BC in health care was officially launched in Northern Health.
Northern Health operates 27 hospitals and care facilities serving over 1.9 million meals per year to patients and residents.
Northern Health is committed to supporting B.C. producers and processors and serving more B.C. foods to patients and residents, like frozen vegetables and berries, cheese and chicken.
Northern Health has partnered with Interior Health to purchase entrees prepared in Interior Health production kitchens rather than sourcing these entrees from non-B.C. companies. These entrees are used where on-site preparation is not possible.
B.C. products are found in blueberry muffins, braised red cabbage and apple, cabbage borscht, and chicken souvlaki. Many sites in B.C.'s northwest and northern interior use B.C. eggs in new menu items like garden vegetable or spinach and ricotta bakes, and broccoli and cheese quiches.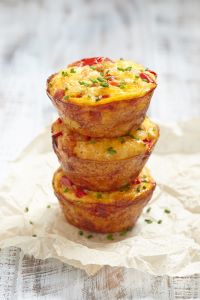 On January 29, 2020, the Minister of Agriculture, Food and Fisheries visited Baillie House, a long-term care home in Maple Ridge, to announce the Feed BC institutional partnership with Fraser Health facilities.
Fraser Health prepares nearly 5 million meals a year for patients and residents in hospitals and care facilities.
Fraser Health has been working for several years to increase B.C. food use in their hospitals and care facilities while ensuring all food complies with high standards for nutrition and safety.
Fraser Health has introduced more seasonal fresh fruit and salad choices; purchased B.C. baked scones, loaves and cookies; switched to a B.C. meat supplier and egg producer; and switched to a B.C. processer of fruit juices.
Some of Fraser Health's early Feed BC efforts: Patients enjoying pumpkin muffins in the fall and maple walnut muffins in winter from B.C. bakeries, and B.C. blueberries in yogurt berry parfaits and blueberry cake in the summer. B.C.-grown mushrooms are highlighted in Fraser Health's cream of mushroom soup.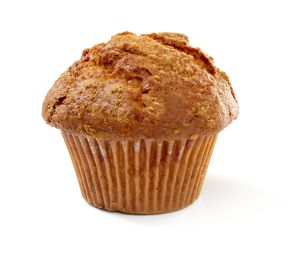 On March 8, 2019, Lana Popham, B.C. Minister of Agriculture, Food and Fisheries, visited the Penticton Regional Hospital's production kitchen to announce the launch of Feed BC in Interior Health facilities.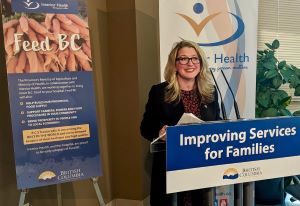 Since that time Interior Health has made significant progress to include more B.C. foods on the menu:

Whole eggs from B.C.
Beef ground in B.C.
Tomatoes and peppers from the Okanagan.

Interior Health prepares over 5 million meals a year for patients, families and individuals in need in the community.
Interior Health is working closely with its food distributors and suppliers to source more B.C. food and meet the high food safety and nutrition standards required for health care food services.
Interior Health has hired an executive chef who is seeking out new opportunities to use more B.C. ingredients. The chef has created a new fall/winter menu for all Interior Health facilities that features seasonal and B.C. food.
Over 1.6 million entrée portions are made each year in the production kitchen at Vernon Jubilee Hospital for patients and residents across Interior Health. This food complements other food made on-site at all Interior Health facilities.
To highlight B.C. foods, Interior Health created a beef stew using locally grown carrots, onions and squash. "This mix of fresh vegetables matched with the flavourful, melt-in-your-mouth beef has a rich creamy flavoured sauce to tie it all together," says Curtis Langford, executive chef. Interior Health is also pleased to serve its baked ham and cheese frittata, which incorporates B.C. milk and eggs with local ham from Helmut's Sausage Kitchen, a Vernon-based company providing artisan meats and charcuterie.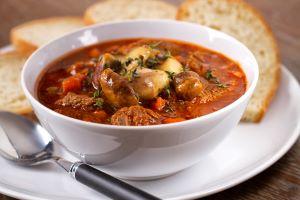 Education, promotion, awareness
Feed BC patient, staff and visitor education materials help raise awareness of Feed BC in health facilities in B.C. Some examples:
Dietitian services at HealthLink BC
Good nutrition supports patient's health and healing. For more information, contact HealthLink BC and ask to speak to a registered dietitian. Registered dietitians can answer your healthy eating, diet and nutrition questions.
To speak with a registered dietitian, call 8-1-1 (or 7-1-1 for the deaf and the hard of hearing) from 9 am to 5 pm Pacific Time Monday to Friday. Translation services are available in over 130 languages.