Frailty in Older Adults - Early Identification and Management
Effective Date: October 1, 2008
Revised Date: January 18, 2012
Recommendations and Topics
Scope
This guideline addresses the early identification of patients who are at risk for frailty and the management of patients aged 65 years or older who are identified as frail. Over a series of planned office visits, this guideline will facilitate enhanced individualized planning for patients who are frail or at risk for frailty, and implementation of patient-centred strategies to prevent further functional decline, particularly during transitions in care.
Elements of Care
In people over 65, those at risk of frailty will be identified proactively (see Frailty Scale [PDF, 59KB])
Significant issues, including safety risks, will be noted through targeted assessment
Patient goals will be identified and recorded in a Care Plan that includes a medication review, advance care planning and scheduled follow-up
Appropriate community referrals will be made and monitored
The Care Plan will accompany the patient to consultations or admissions
Key management information will be available to other health care providers after regular business hours as required
Care contact names and phone numbers will be recorded and updated regularly
Care Summary
This guideline focuses on the development of a Care Plan. The Care Plan is individually developed and addresses modifiable biological and psychosocial factors while integrating individual disease factors that impede the health goals of patients. The recommended approach to care incorporates patient-centred preferences and tolerance for intervention and support. The approach is grounded in the philosophy that frailty may be prevented or delayed and that patients can improve their function and quality of life through rehabilitation.1
Identification of Frail Patients and Patients at Risk for Frailty
Each visit provides an opportunity to engage the patient in individualized care planning, and to identify any follow-up needs.2
Older adults may share a number of non-specific concerns that could lead the physician to think about their older patients as frail or at risk for frailty, such as:3-6
difficulty managing daily activities at home
unintentional weight loss
fatigue or loss of energy (often occurs over a period of time)
recent fall(s), fear of falling
memory loss
concerns about the patient, expressed by the family/caregiver(s)
Once a patient is identified as frail, or at risk for frailty, it is recommended that the Canadian Study on Health and Aging (CSHA) Clinical Frailty Scale7 be used to categorize the needs of the patient. The scale is based largely on a person's function for Basic and Instrumental Activities of Daily Living (ADL and IADL).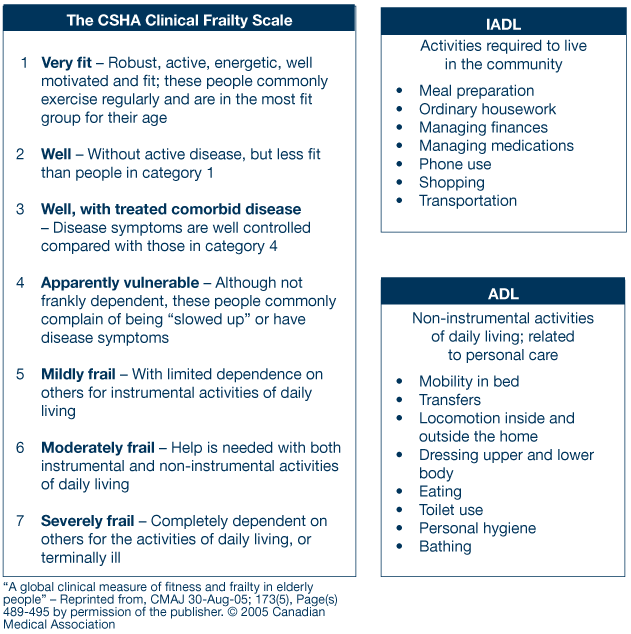 Further Assessment
Patients with identified frailty (CSHA Scale, Level 4 and above) require additional assessment in order to support the development or refinement of a Care Plan (see Appendix A for a sample Seniors Assessment Tool).
Ideally, the physician and other health professionals will work collaboratively to complete assessments, in order to create one comprehensive Care Plan that is used by the patient and all health professionals involved in the patient's care. For example, if community case managers have completed their comprehensive initial assessment using the Minimal Data Set-Home Care8, a list of identified problem areas generated by that assessment could help to further inform the physician assessment and Care Plan.
In addition to the collection of information on underlying chronic conditions, some practical areas to pursue in assessing older adult patients are noted below. 9-12Observed changes in these areas constitute early warning signs of frailty (CSHA Frailty Scale Level 4), while a combination of impairments may signal progression toward frailty (CSHA Frailty Scale Levels 5-7):
weight change
reduced physical activity levels and endurance
impaired balance and mobility
increased number and frequency of falls or first fall if not with cause
declining functional status
difficulties due to polypharmacy and psychoactive medications
impaired vision/hearing
increased alcohol consumption
driving competency
difficulty maintaining continence
irregular patterns of sleep
frequent/increased pain
inappropriate behaviour
social isolation
transition in living circumstances
change in family/caregiver support
advanced caregiver stress
irrational fears/concerns
altered mental health status, including presentation of delirium, depression and/or dementia
(see the Clinical Practice Guidelines page Cognitive Impairment: Recognition, Diagnosis and Management in Primary Care to access the Geriatric Depression Scale [GDS] and the Standardized Mini-Mental State Examination [SMMSE])
Collaborative Goal Setting
It is important to have a shared understanding of desired care with the patient and family/caregiver.1 One approach is to combine the physician's problem list with the patient and family/caregiver concerns and preferences for care:
What are the patient's or family/caregiver's concerns?
What are the physician's concerns?
What are the patient's priorities for their care when considering both the physician's concerns and their own concerns?
What does the patient or family/caregiver hope to achieve from medical treatment?
Incorporate and document discussion of advance care planning
Collaborative goal setting will inform the development and implementation of a functional Care Plan.
Development and Implementation of a Care Plan
The Care Plan (see sample, Appendix B) is generated from these collaborative goals. Develop a Care Plan by first noting the most bothersome complaint, as voiced by the patient, and proceed with consideration for:
Patient rehabilitation potential
Appropriate prevention activities for the patient13
Self-management support for the patient and family/caregiver(s)
In this complex population of older adults, it is recommended that the Care Plan also include:
A Medication Review 10,14-16 (see Appendix C)
Advance care planning17
Goals associated with significant health and safety risks (e.g. falls, living alone)18
Plans to manage significant co-morbidities in relation to patient goals19
Expected outcomes
Names and contact information of other providers involved in the care of the patient (i.e. for case conferencing as required)
Plans for follow-up
Sharing Care Plan Documents with Patients
Communication for coordination and continuity of care is particularly important with older adult patients.20 Key management information should be made available at transitions of care to other providers including medical specialists, as well as emergency room staff and acute care practitioners. The Care Plan, including advance care planning documentation, could be given to the patient (and/or family/caregivers) to carry as they become involved with other care providers and as they transition across care settings. The patient could also carry a copy of the Medication Review (includes medication list paired with medical problem list).
Monitoring, Follow-up and Re-evaluation
A scheduled Care Plan review should include input from the patient, family/caregiver(s), and other involved health care providers. The review should be undertaken as scheduled, at the request of the patient, or when there is a transition (planned or unplanned), such as:
significant change in a patient's health status;
transition across care locations (e.g. into and out of the emergency room and/or hospital, into assisted living or a care facility, etc.); and
change in patient's caregiver support.
Rationale
While many older adults living in British Columbia are robust and active, some older adults who are frail, or at risk for frailty, have a limited capacity to respond to stresses and are at significant risk of morbidity or death. A prudent response is to identify older adults in our population who are frail, or at risk for frailty, and take steps to reduce or manage the risks associated with frailty.1,5,21-23
A common approach to assessment is needed that would enable physicians:
to evaluate older adults based upon level of risk and prioritize unmet needs in collaboration with the patient;
to efficiently determine whether older adult patients require additional care and support interventions in their current environment (particularly with respect to risk factors associated with the social determinants of health); and
to identify patients who are frail or at risk for frailty and refer those patients for further comprehensive assessment as needed.
Information collected during assessment visits will inform the development of a Care Plan – an essential tool for capturing key medication information, patient/provider goals and patient preferences for care. To help facilitate shared understanding within a multi-disciplinary approach, the Care Plan could be given to the patient (and/or family/caregivers) to carry as they become involved with other care providers and as they transition across care settings.
References
Resources
Aboriginal Resources
This guideline is based on scientific evidence current as of the Effective Date.
This guideline was developed by the Guidelines and Protocols Advisory Committee, approved by the British Columbia Medical Association and adopted by the Medical Services Commission.
Appendices
Appendix A - Seniors Assessment Tool (PDF, 137KB)
Appendix B - Sample Care Plan Template (PDF, 135KB)
Appendix C - Medication Review (PDF, 127KB)
Associated Documents
The following documents accompany this guideline:
The principles of the Guidelines and Protocols Advisory Committee are to:
encourage appropriate responses to common medical situations
recommend actions that are sufficient and efficient, neither excessive nor deficient
permit exceptions when justified by clinical circumstances.

Contact Information
Guidelines and Protocols Advisory Committee
PO Box 9642 STN PROV GOVT
Victoria BC V8W 9P1
E-mail: hlth.guidelines@gov.bc.ca
Web site:
www.BCGuidelines.ca
Disclaimer The Clinical Practice Guidelines (the "Guidelines") have been developed by the Guidelines and Protocols Advisory Committee on behalf of the Medical Services Commission. The Guidelines are intended to give an understanding of a clinical problem and outline one or more preferred approaches to the investigation and management of the problem. The Guidelines are not intended as a substitute for the advice or professional judgment of a health care professional, nor are they intended to be the only approach to the management of clinical problems. We cannot respond to patients or patient advocates requesting advice on issues related to medical conditions. If you need medical advice, please contact a health care professional.