Managing waste asbestos
Managing waste asbestos, including transporting and disposing of, from residential, industrial, commercial or institutional buildings, is within the ministry's jurisdiction, but the decision to remove asbestos from structures and the removal process itself is not.
Special techniques are required to remove asbestos safely. Building owners should contact a removal expert or be sure to follow all procedures in the WorkSafe BC handbook "Safe Work Practices Handling Asbestos."
See the diagrams below for a summary of how waste asbestos can be managed based on its origin:
Homeowners
Industrial, commercial and institutional sources
More details about the content of the diagram are found below in the Frequently Asked Questions section.
Click on each of the diagrams to open the link in a new window.
Asbestos from homeowners
Asbestos from industrial, commercial and institutional sources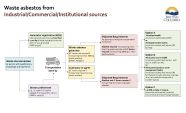 ---
Frequently Asked Questions