Chronic Wasting Disease
Chronic Wasting Disease Test Results - January 24th, 2020 (PDF)
NO POSITIVES for head submissions up to 24th January 2020.
If you submitted your samples on or before January 24th and cannot find your ear tag number in the above document, please contact Cait Nelson 250-751-3219 or the Wildlife Health Program Lab 250-751-7246
Chronic Wasting Disease (CWD) is a deadly infection that affects the central nervous system of cervids (members of the deer family) such as mule deer, white-tailed deer, elk, moose and caribou. The disease is caused by an abnormal protein called a prion, which can be transmitted through saliva, urine, feces, carcasses and even plants and soil. Signs of infection in deer include weight loss, poor coordination, stumbling and trembling. However, the disease is not obvious in early stages.
CWD is similar to bovine spongiform encephalopathy – commonly known as mad cow disease – in that is it also caused by a prion. However, there is no direct evidence that CWD can be transmitted to humans. That said, as a precaution, any animal suspected or confirmed to have CWD should not be consumed.
For the current distribution of CWD in North America see the latest USGS map.
Chronic Wasting Disease has not been detected in B.C.
CWD is not known to affect humans, but for wildlife populations it can be devastating. The disease can be transferred between deer through multiple ways and an infected animal may be contagious for months or years before appearing sick. Moreover, CWD is always fatal.
Although its presence has not yet been detected in B.C., CWD has continued to spread in all affected jurisdictions despite mitigation and management efforts. In June 2019, the disease was detected in deer in Libby, Montana – very close to the B.C. border. This significantly increases the disease risk to B.C.'s cervid populations and requires a collaborative, coordinated and rapid response.
Chronic Wasting Disease has not been detected in B.C. Collectively we have an opportunity to be proactive and protect B.C. deer by preventing CWD from entering our province.
Since 2002, the B.C. Wildlife Health Program has tested over 3900 cervids for CWD and the disease has not yet been detected in B.C. However, sample numbers in recent years have not consistently provided confidence in disease absence in the province.
See the Surveillance and Response Plan for CWD in B.C. (2019).
How can you help?
You can be part of the solution by understanding the risks, reporting sick animals and submitting a head for testing.
Human importation of infected tissue is the highest threat of introduction to B.C. wildlife. If you hunt in areas where CWD affects wild deer, please do not bring intact carcasses or any high-risk tissues (brain, spinal cord, lymph nodes, organs) back to B.C. In addition, the use of cervid derivatives (i.e. deer urine) is prohibited by law as outlined in the B.C. Hunting Regulations (2018-2020). It is good practice to leave the high risk tissues at the kill site so as to not inadvertently move infected tissues to new areas
Whether you are in the backcountry or in your backyard, you can help by being our ears and eyes on the ground. It is uncommon to observe CWD-associated symptoms in the wild because infected animals become more vulnerable to predators as the disease progresses. That said, if you see a deer, elk, moose or caribou exhibiting any of these symptoms: weight loss, drooling, poor coordination, stumbling, trembling or little fear of people, please report your observations to the RAPP Line or the B.C. Wildlife Health Program.
Surveillance for CWD in B.C.'s cervid populations is important for two reasons. First, we have to look for the disease to be able to confirm B.C.'s CWD-free status. Second, if the disease does enter B.C., we need to detect it as early as possible to improve our chances of containing it. Hunters are encouraged to submit their deer, elk or moose head for CWD testing. This is voluntary in most parts of B.C. but will be mandatory for all white-tailed and mule deer harvested September 1st, 2019 to November 30th, 2019 in Management Units 4-1, 4-2, 4-3, 4-4, 4-5, 4-6 and 4-7.
Within one week of harvest, heads of harvested deer must be deposited in one of the freezers whose location is listed below. Submitted heads must meet the following conditions when being deposited:
The head must be removed from the body, with at least three inches of neck still attached to it. Three inches of neck must still be attached as the tissues required for testing are at the back of the throat.
Antlers must be removed. As freezer space is limited, antlers can be removed from the head either by cutting at the base of the antler or removing both antlers with the skull plate. The hide may also be removed. The top of the skull and the skin of the head are not required and can be removed.
The head can be fresh or frozen but must be in good condition and not rotten.
An ear tag must be completed with the management unit the animal was harvested in, a description or Universal Transverse Mercator (UTM) coordinate of the harvest location and hunter contact information attached with a zap-strap to either the ear or the skull (if skinned).
Heads must be placed in a garbage bag and the bag closed with a knot or zap-strap before being deposited in a freezer.
Ear tags, zap-straps and garbage bags will be supplied at the freezer locations.
For 'European' style mounts:

If you would like keep the skull and antlers intact, carefully remove the top of the head you wish to preserve leaving the remainder of the head, including the tissues from the back of the throat as well as the lower jaws.
Completed ear tags (see instructions above) can be attached to the lower jaws with a zap-strap, and along with all the attached tissues, placed in a garbage bag and closed with a knot or zap-strap before being deposited in a freezer.
Drop-off locations
Location of freezers for head drop-off can be found on the following interactive map and are also listed below. Thank-you to the B.C. Wildlife Federation for the generous purchase and donation of ten freezers towards this initiative.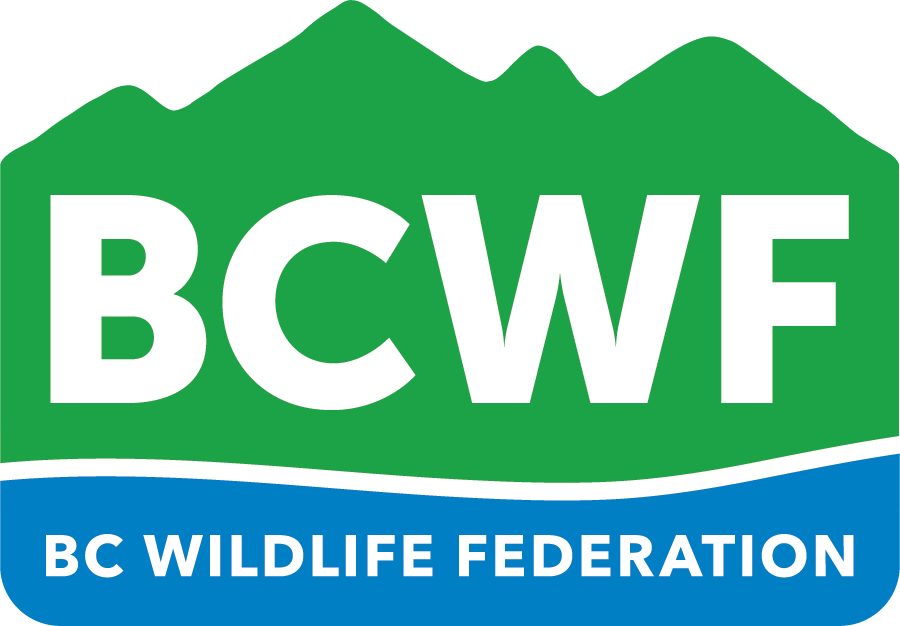 Kootenay Region
Peace Region
Heads can also be dropped off at any B.C. Wildlife or Conservation Officer Service office during business hours.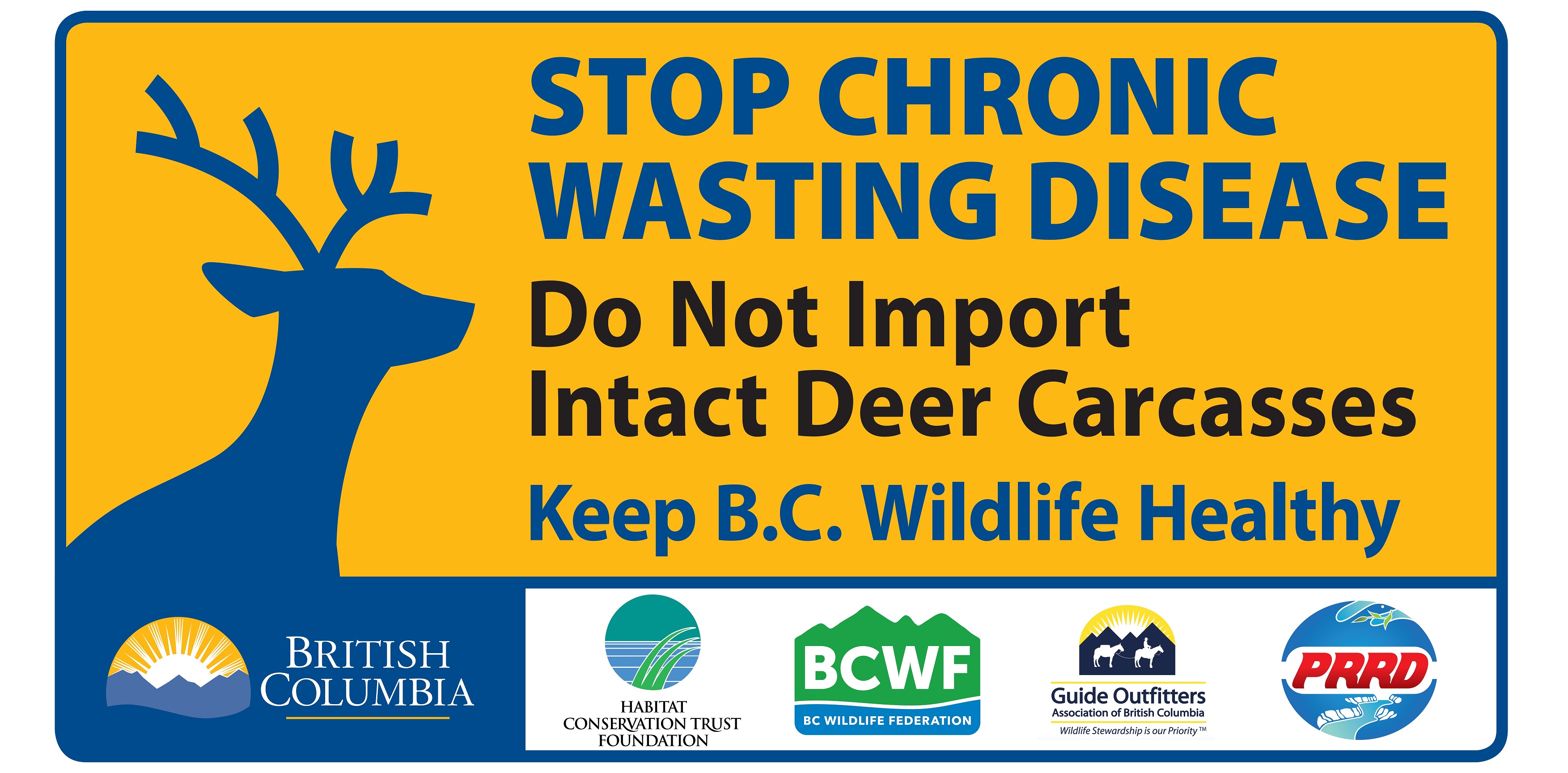 The B.C. Wildlife Health Program recognizes the Habitat Conservation Trust Foundation and anglers, hunters, trappers and guides who contribute to the Trust, for making a significant financial contribution to support the Chronic Wasting Disease project in B.C. Without such support, this project would not have been possible.