Soil Infested with Invasive Species
Sometimes invasive species spread through the movement of soils, aggregates, gravel, sand, mulch, compost, turf and other materials. This can increase the rate and extent of spread and the negative impacts invasive species can cause.
Infested soil is different than contaminated soil as defined under the Contaminated Sites Regulation.
Working Towards Solutions
In May 2016, provincial and local government representatives formed a 'Soils and Invasive Species Working Group'. This group has since been exploring and collaborating on province-wide short and long term solutions to limit or prevent the movement of soil and related materials infested with priority invasive species.
Public input wanted!
Do you work in an industry related to the movement or sale of soil, aggregates, gravel, sand, mulch, compost and turf? If so, we want to hear from you!
Please fill out this quick 10 question survey https://www.surveymonkey.com/r/Y6GHVXL
Responses will be used to help inform potential solutions to prevent the spread of invasive species through contaminated soil and other materials! No personal information will be collected.
Examples Of Invasive Species That Can Spread Through Soil
European Fire Ants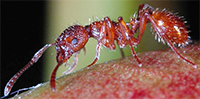 European Fire Ants primarily spread through the movement of soil and wood. The impacts include:
Loss of property values
Loss of land use (for example, recreational activities on private and public lands or agricultural use)
Economic impacts such as the cost of ongoing pesticide treatment
Health issues due to European fire ant stings
Invasive Knotweeds
Invasive knotweeds spread through the movement of soil, aggregates, gravel and anything else that may include knotweed rhizomes and/or sections of live stems. An outbreak can start from piece of knotweed as small as 0.6 cm. Knotweed can grow through hard surfaces such as pavement and building foundations as well as spread rapidly to take over ecosystems such as riparian areas of streams. The impacts include:​
Economic costs related to property and infrastructure damage
Loss of property values
Serious ecological damage
Many invasive species can spread through the movement of soil, compost and other materials including :
Chafer beetle
Japanese beetle
Giant hogweed
Siberian Elm
Tree of Heaven
And many other invasive species