Inter-Agency Agriculture Compliance Committee
The Province of British Columbia is committed to ensuring worker safety and enforcing employment standards for all workers, including those in the agricultural sector.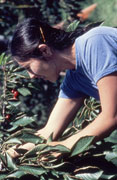 The Inter-Agency Agriculture Compliance Committee was formed in May, 2007 to ensure that the rights and safety of workers in the agriculture sector are protected. Building on the work of industry and several provincial ministries and agencies, the committee focuses on education, prevention, and enforcement. Its terms of reference (PDF, 19KB) include improved information sharing and coordination of enforcement activities.
On December 11, 2007, a Memorandum of Understanding (PDF, 149KB) was signed between the Ministry of Labour (Employment Standards Branch), WorkSafeBC, the Ministry of Transportation (Commercial Vehicle Safety and Enforcement), the Ministry of Agriculture and Lands and the BC Agriculture Council (BCAC) on behalf of its Member Organizations.
As part of government's continuing commitment to enhance safety for farm workers, the committee is continuing with roadside inspections. The latest statistics related to these inspections are available on a quarterly basis.
Committee Mandate
The committee provides leadership and a forum for coordination and collaboration of enforcement activities between the agencies where appropriate. It consolidates data from each agency and facilitates information sharing.
Members
Government Response to the 2009 Coroner's Inquest Jury Recommendations
On March 7, 2007, a van carrying 17 people (16 farmworkers and a driver) was involved in a motor vehicle accident near Abbotsford, B.C. that resulted in the deaths of three workers and injuries to the other 14 occupants.
From December 7 to 11, 2009, the Office of the Chief Coroner held an inquest into the deaths resulting in the jury responding with 18 recommendations affecting various ministries and agencies of the provincial government. These documents provide information about the provincial government's response to the 2009 coroner's recommendations:
Statistics and Meeting Minutes
Interagency Statistics 2022 (PDF, 145.7KB)
Interagency Statistics 2021 (PDF, 144.3KB)
Due to the impacts of the COVID-19 pandemic, the Agricultural Compliance Team has no combined statistics for 2020. Individual program statistics may be available directly from each individual program area.
Interagency Statistics 2019 (PDF, 46KB)
Interagency Statistics 2018 (PDF, 102.3KB)
Interagency Statistics 2017 (PDF, 101.8KB)
Interagency Statistics 2016 (PDF, 41.6KB)
Interagency Statistics 2015 (PDF, 40KB)
Interagency Statistics 2014 (PDF, 117KB)
Interagency Statistics 2013 (PDF, 46.7KB)
Interagency Statistics 2012 (PDF, 17KB)
Interagency Statistics 2011 (PDF, 38.4KB)
Interagency Statistics 2010 (PDF, 18.8KB)
Interagency Statistics 2009 (PDF, 17.8KB)
Interagency Statistics 2008 (PDF, 18.1KB)