Small Business Success Stories
Small businesses and entrepreneurs play an important role in strengthening B.C.'s economy and creating good jobs for people in their community.
Here we shine the spotlight on B.C. small businesses that create our dynamic small business sector.
Spotlight On: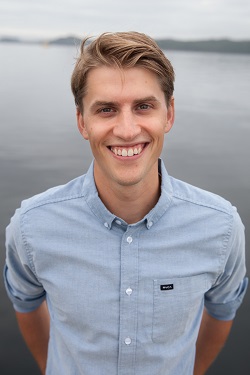 Blair Mirau | CEO Gitmaxmak'ay Nisga'a Economic Development Corporation – Rupert Lawn & Garden, Est. 2014
Success Stories: 2018
Success Stories: 2017
Success Stories: 2016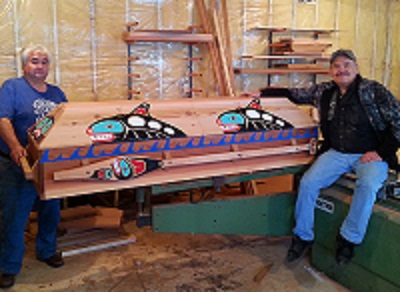 While pre-planning his mother's funeral in 2009, Tom Simpson wanted to pay tribute to her First Nations heritage with a red cedar casket. But he couldn't find a supplier on Vancouver Island. A year later Tom, a member of the Snuneymuxw First Nation, suffered a stroke. While recuperating he started a business to fill a need – Cedar Journeys Caskets.
"I began this as something therapeutic, something to do and to contribute to my stroke recovery, both emotionally and physically: it grew from the concept that I wished had been available for my mom – a tribute to heritage and life lived in a casket painted with traditional Coast Salish artwork," Simpson explains.
Simpson wanted to work with red cedar because of its historical importance to the peoples of the coast. A former logger, he taught himself to create and assemble burial caskets, making 30 to 36 a year. So far he has created a job for himself and a part time apprentice.
Demand is increasing mainly through word of mouth. Simpson now has help with his online presence from Tom Sewid, who runs a website to promote aboriginal tourism and businesses. Sewid also volunteered to paint a casket in traditional orca design.
Simpson has both pre-painted and unpainted caskets at his Nanaimo workshop. Families often custom paint caskets for their loved ones with their own family crests or personal images. Others are ordered and shipped throughout the province.
"The lengths families will go to in order to pay tribute to their loved ones is amazing," Simpson says.
Simpson found the right partner in Sandy Poelvoorde, owner of Boyd's Funeral Services in Campbell River. Boyd's is the only funeral home in B.C. with one of Simpson's caskets on display.
"She's unusual on the Island, because she sells out of her shop without raising the price of my caskets. She's willing to work with my affordability model to make these available to First Nations."
The increased interest in the caskets has led to collaboration with local artists. Simpson took on an apprentice to help with painting. He says the business has attracted interest from potential partners, but it needs to be a good fit to shift from being a sole proprietor.
His advice for would be entrepreneurs is simple. "Be passionate and believe in yourself. Anything can happen."
Firehall Brewery - Sid Ruhland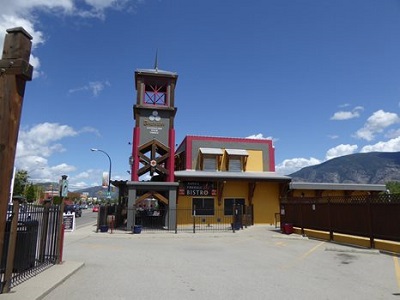 The details should perhaps remain a little murky, but legend has it that the Firehall Brewery in Oliver, British Columbia, was the result of a collection of three timely events:
Sid Ruhland graduated from business school, where he had also acquired some beer brewing skills;
The old Oliver Firehall, bought by Sid's father and a couple of other investors, had an unused basement; and
The authorities had caught wind of a home brewer verging on the border of bootlegging, so he decided his equipment should probably to go to a more legal home.
An additional deciding factor was that the Oliver Wine and Welcome Centre, a wine store that used to occupy some of the Old Firehall space, had ironically lost its VQA wine licence… for not selling enough wine! Sid agreed that yes, perhaps a wine store in the midst of 40 wineries or so isn't the greatest business model; but what about a brewery? "Everything fell into place and I just went for it!"
Of course the early days weren't easy, and they still aren't. "Every day requires creativity and innovation in order to get 40 hours' worth of work done in about 10. Small businesses only have so many hands."
Other challenges of note are navigating BC's complex liquor regulations, though, due to the recent Liquor Policy Review and subsequent changes, paperwork issues are changing for the better and making it easier for craft breweries to hold on to more of their cash flow, resulting in opportunities to re-invest that money into equipment and maintenance or business growth.
Maintaining the quality of the product while attempting to expand the business, however, is a different challenge: "Natural beer doesn't stay fresh on the back of a truck or in a warehouse for months on end," explained Sid, "so in order to grow my business to the point where my beer is available outside of the Okanagan region, I'd either have to start processing our beer, or build a brewery in every city I wanted to sell it in."
His limited distribution area hasn't stopped him, however, from partnering with other breweries and even distilleries to expand his customer reach. Recently, Sid has partnered with a local distiller to make a whisky-barrel-aged beer, and he also uses the distiller's gin and whisky to sterilize ingredients for his cask beer, resulting in some innovative new flavours. "Many people don't mind paying an extra $0.75 for something that is locally produced… they want to support small business, they want that local feel and relationship."
Sid commits to supporting the local community and local small businesses through his business as much as possible – whether by participating in or sponsoring community events and charities, or hiring local tradespeople to complete renovations in his brewery (he is currently installing a tasting lounge in the basement).
"It's not exactly what they taught me in business school, but I'd rather be honest than manipulate people. I feel that if I support the local community and always try to do the right thing, I have hope they will support me back and we will be successful."
Interior Stainless - Jim Ure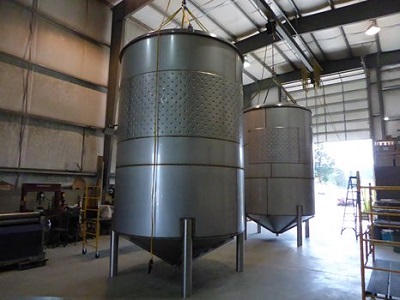 Welder Jim Ure started making beer tanks in his garage in 1999, after spending the previous eight years learning to custom-make tanks while working for someone else. So, when it was time to start his own business, he already had the manufacturing expertise. "I paid attention to the details," Jim recounts.
He started out small - one of his first orders was a custom-built series of small tanks that he exported to Tahiti, and his businesses grew - both in customer base and size of tanks – from there. It wasn't long before Jim realized he was limiting his skills and abilities by not having the proper sized workshop. "It is imperative to have the proper space and tools to do your job," he explained.
Luckily, Jim and his wife were able to purchase some land in Summerland, BC, where they built a shop big enough to suit his business needs. Located near the junction of three main highways and about hour from the United States border, Interior Stainless can easily ship its products throughout BC, Alberta, Washington State and beyond - which is exactly what happened once Jim moved into his new space.
To date, he has exported numerous tanks and hardware to breweries (and some wineries) in over a dozen States and multiple countries. Exporting can be a daunting task for many small business owners, but Jim's advice is to speak to a customs broker and hire a consultant or lawyer to handle the paperwork. While the experts took care of the details, Jim was able to expand his range of clients and now has repeat customers from all over the world. Of course, the growth of the craft brew industry here in British Columbia is also keeping him busy: "As their business expands, my business expands."
The difference between Interior Stainless and other beer tank manufacturers, is that Jim custom-makes virtually every tank – from size to shape to location of hardware – everything is made to spec and Jim is used to designing around unusual requests, from space limitations like under-height basements in heritage buildings, to display showcases for large craft breweries. "One guy wanted extra-long legs on his tanks, so I put extra-long legs on the tanks!"
Running a made-to-order business while trying to grow to keep up with those orders has been a challenge, at times. There was a period of time where Jim hired welders to learn the trade on the job, only to lose them to the oil fields in Alberta weeks later.
Considering all of the specialized training and experience it takes to produce Interior Stainless' customized tanks, that kind of staff turnover is a major cost and concern. As a result, over the past few years, Jim has decided to focus on keeping the business as a small, family operation. His customers don't seem to mind waiting (sometimes up to two years) for their tanks, and Jim likes the freedom to connect one-on-one with clients and come up with designs custom-made for their business.
As for regrets, Jim wishes that perhaps he should have built a bigger shop earlier in his career. His advice to other manufacturers is to have the right work area and tools to do the job: "You never know what kind of innovation will be possible if you have the space and ability to experiment."
Kekuli Café - Sharon Bond-Hogg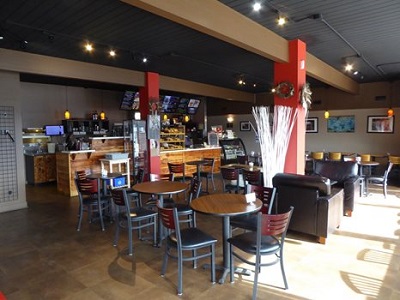 Sharon Bond-Hogg knew she would franchise her business from day one, and now the requests are rolling in from all around British Columbia, Alberta, Saskatchewan and as far away as Ontario.
She and her husband, Darren, started serving bannock from a concession stand at Westside Daze in Westbank, BC, back in 2005. Sharon knew they were on to something when customers started lining up for the Indigenous treat that is a light, fluffy, fried dough made from local ingredients with delicious toppings like Saskatoon (berry) cream, cinnamon sugar and maple glaze. "I didn't start out thinking Kekuli Café would be an Indigenous restaurant," Sharon said, "but the need and demand was there."
More permanent concession stands at a soccer field in Lake Country and a car wash in Westbank soon followed. During that time, the couple also found 'day' jobs – Sharon at Starbucks and Darren at Tim Horton's – with the focus of learning all they could about coffee, assembly lines, customer service, corporate standards and product consistency.
"We learned a new level of working," Sharon explains, "it was intense training for both of us… there were times when we'd look at each other and ask 'why are we doing this?' but we always had a goal in sight that we were working toward."
After four years of running concession stands and learning from industry heavyweights, Sharon and Darren opened their first Kekuli Café in Westbank in September 2009, followed by the Merritt location in August 2014. Both locations serve breakfast, lunch and dinner, and also offer catering for special events and a venue for gatherings, workshops and meetings.
Kekuli Café is a step above fast food; food is served fast, but made with fresh, local ingredients. Although the cafés are in very different settings – the fast-paced shopping centre of Westbank and the quiet, walkable town of Merritt – both locations do an excellent job of welcoming the community with an Indigenous flair in décor, food quality and friendliness.
Sharon and Darren's long list of accomplishments include a 2010 Aboriginal Business of the Year Award, appearances on the Food Network's "You Gotta Eat Here" and many other accolades from the Food and Beverage and Aboriginal Business and Tourism industries. The future for Kekuli Café is bright and expanding, hopefully soon to a location near you!
Smart Dolphins IT Solutions - Dave Monahan
Starting a business involves taking risks; growing a business involves taking even more risks. Dave Monahan, President of Smart Dolphins IT Solutions, has taken many calculated risks over the past 16 years.
Smart Dolphins IT Solutions was founded in May 2000 as a work experience requirement for a computer science program at the University of Victoria. The son of an entrepreneur, Dave had the confidence it would take to step out on his own after being unable to find a suitable business in town in which to complete his work experience. "I asked if I was allowed to start my own business, and they said yes!"
Dave completed his studies and kept the business running. Over the next eight years, Smart Dolphins continued to grow, hiring about one new staff member each year. In 2008, however, Dave realized his company needed restructuring. He was tired of the chaotic, reactive nature of the IT industry in general and knew he had more to offer his clients. He reached out to an external consulting firm who had successfully implemented some of the changes he wanted to make, and began turning his "do everything from building websites to last-minute emergency fixes" IT company into a focused IT infrastructure (computer networks) business.
Today, Smart Dolphins has been successfully redesigned to align with Dave's goal of providing ongoing IT services that are assets to small businesses, as opposed to what many business owners view as "the cost of doing business."
"Most small business owners don't have an IT background and therefore don't have the skill set or awareness to recognize potential issues as they arise. These issues - such as intermittent computer glitches – can build up over time. If allowed to continue, they can grow to the point where staff get frustrated and it starts to negatively affect productivity and customer service."
Smart Dolphins endeavors to fix problems before they start by being proactive with their ongoing service and maintenance of corporate computer networks. This allows business owners to focus on growing their business and providing excellent customer service, rather than spending resources on unnecessary technology problems.
Ongoing education and learning opportunities for Dave and his employees is another important aspect of his leadership philosophy. Throughout his career, he has been grateful for the mentorship and networking opportunities he's had, and has this advice for other business owners:
"Learning is a lifelong process. Communication is very important – take advantage of industry-specific peer groups and mentors."
Smart Dolphins has won numerous awards over the years and has been steadily growing. Their offices are located in Victoria and Nanaimo, with expansion to the Okanagan on the horizon.