Highway 91/17 and Deltaport Way Overview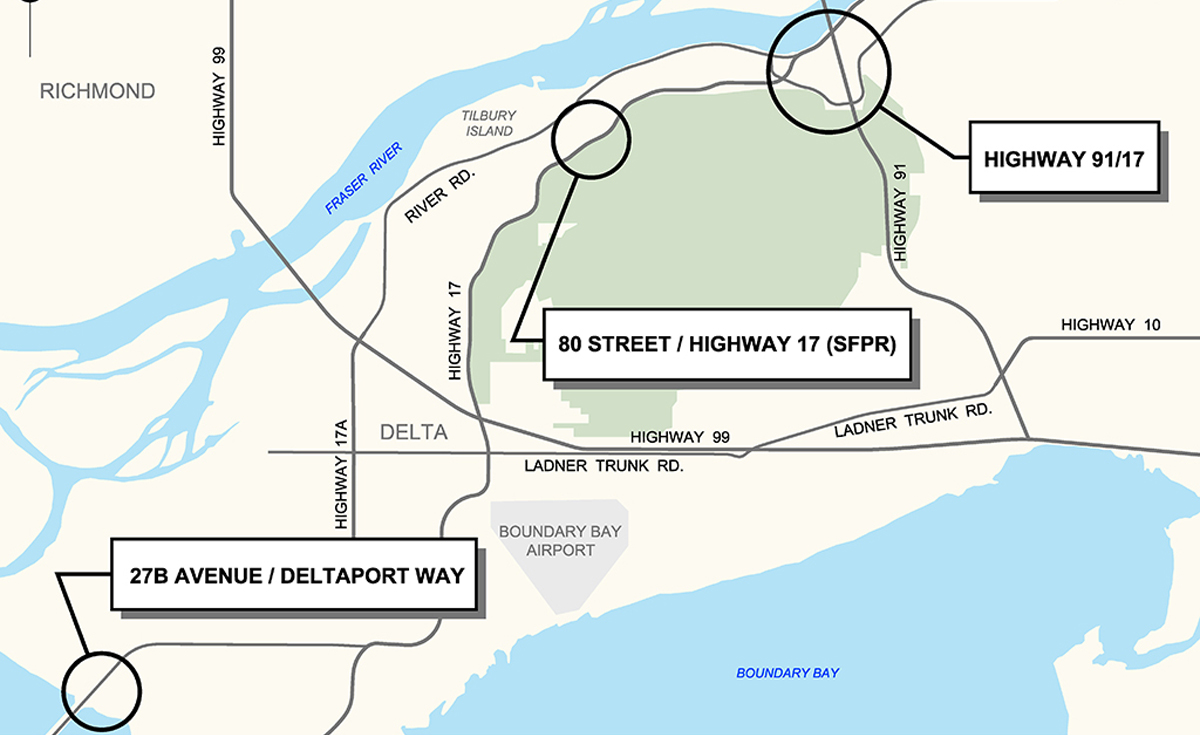 The Highway 91/17 and Deltaport Way Upgrade Project is a combination of improvements to existing Highway 91, Highway 17, Highway 91 Connector and Deltaport Way to improve travel safety and efficiency.
These upgrades will improve local and commercial travel in the area, reduce conflicts between commercial vehicles and other traffic. They also complement the completed 72nd Avenue Interchange Project and the Alex Fraser Bridge Improvements.
Project Benefits
The project will:
Improve travel time and reliability through Delta, with congestion-reduction travel time savings that will help reduce greenhouse gas emissions.
Improve traffic safety for goods movers and the travelling public, with less collision risk and better operating hours at the Nordel commercial vehicle inspection facility.
Support community and economic development, with better access to employment areas, faster access between South Delta and North Delta/Surrey, improved cycling connections, improved permitting and inspection service for commercial vehicle operators.
Project cost:
The anticipated cost of the project is approximately $260 million with joint funding from the National Infrastructure component of the New Building Canada Fund, Vancouver Fraser Port Authority, the Province of B.C., and Tsawwassen First Nation.
Status:
Projects
27B Avenue at Deltaport
27B Avenue to Deltaport Way access improvements

- providing a smoother, safer merge for westbound traffic
27B Avenue upgrades between Deltaport Way and 41B Street

- roadway widening and upgrading in cooperation with Tsawwassen First Nation, to improve access to industrial lands and the Canadian Border Service Agency's container examination facility (COMPLETED)
80th Street at Highway 17 *
Intersection improvements at Highway 17 at 80th Street (Tilbury)

– upgrading the connection from 80th Street to Highway 17 westbound, to improve merging and reduce queuing on 80th Street.
* Project component currently on hold pending final approvals to proceed
Highway 91/17