Invasive Mussel Defence Program
The B.C. Invasive Mussel Defence program's goal is to prevent the introduction of zebra and quagga mussels into B.C. The program's prevention efforts are focused on inspecting boats, monitoring lakes, educating the public and coordinating actions with neighbouring jurisdictions.
The Invasive Mussel Defence Program (IMDP) was piloted in 2015 and consists of three main components:
A watercraft inspection program to detect and respond to high-risk watercraft potentially transporting invasive mussels into B.C. from infested waterways
Lake monitoring to assess for the continued absence of invasive mussels in B.C. waters
Outreach and education to change behaviour and promote the message of clean, drain, dry to the boating community, in collaboration with partners
Provincial legislation gives the Province authority to take action on ZQM. The Controlled Alien Species (CAS) Regulation under the Wildlife Act is the principle legislation that defines, lists, and affords provisions to regulate invasive mussels in B.C.
Under the CAS Regulation, prohibitions apply in relation to any mussel listed in Schedule 4 (Zebra, Quagga, and Conrad's False Mussel). Specifically, it is illegal for a person to:
possess, breed, ship, or transport prohibited mussels
release prohibited mussels into B.C. waters
allow a prohibited mussel to be released or escape into B.C. waters
Inspectors are trained to deliver the watercraft inspection program and have been designated as Auxiliary Conservation Officers under the Wildlife Act. This designation provides powers to intercept/stop, inspect, search, question, obtain information, and issue decontamination orders. See the Zebra and Quagga Mussel Early Detection and Rapid Response (ZQM EDRR) Plan (PDF) for more information on the CAS Regulation as it pertains to ZQM.
2015-2017 Watercraft Inspection Seasons
In March 2015, the pilot season of the provincial Invasive Mussel Defence Program was launched. The pilot season consisted of six mobile decontamination units, 12 trained watercraft inspectors, lake monitoring for ZQM, and "Clean, Drain, Dry" education and outreach activities.
In 2016, the program expanded to 32 auxiliary Conservation Officers staffed at eight watercraft inspection stations strategically situated along eastern and southern border locations to target boaters entering B.C. This expansion was funded through partnerships with BC Hydro, Columbia Power Corporation, Fortis BC, and Columbia Basin Trust.
In 2017 program further expanded from 32 inspectors to 65 inspectors. The expanded operations included two new stations bringing the total to ten inspections stations. Nine of the stations were operational from dawn to dusk, and the Golden station on Hwy 1 was operating 24 hr/d. The tables below provide a summary of the 2015-2017 watercraft inspection seasons operations and inspection findings.
B.C. Invasive Mussel Defence Program Operations from 2015-2017


| | 2015 | 2016 | 2017 |
| --- | --- | --- | --- |
| Inspection Stations | Roving | 8 | 10 |
| Number of Auxiliary Conservation Officers | 12 | 32 | 65 |
| Hours of Operation | 5 days/week & 7 hrs/day | 7 days/week & 10 hrs/day | 9 stations dawn-dusk 7 days/week, 1 stations 24hrs |
| Inspection Season | June-October | April to Sept/Oct | April/June to mid-November |
Watercraft Inspection Findings for the 2015-2017 seasons of the B.C. Invasive Mussel Defence Program

| | 2015 | 2016 | 2017 |
| --- | --- | --- | --- |
| Total Watercraft Inspected | 4,350 | ~24,500 | 35,500 |
| Number of People Interacted With | ~10,000 | ~50,000 | 72,300 |
| High Risk Inspections | 70 | 685 | 2,071 |
| Mussel Fouled Boats | 15 | 17 | 25 |
Resources
2015
2016
2017
2018
Aquatic Invasive Species K9 Unit
In 2017 the program launched the start of the Aquatic Invasive Species K9 unit and the training of B.C.'s first multipurpose detection dog Kilo. The primary handler of Kilo is a Sergeant within the Conservation Officer Service (COS). Kilo is trained to sniff out invasive mussels as well as firearms and bear parts, and will also be used in evidence recovery cases within the Conservation Officer Service. Kilo and his handler are touring the watercraft inspection stations throughout the season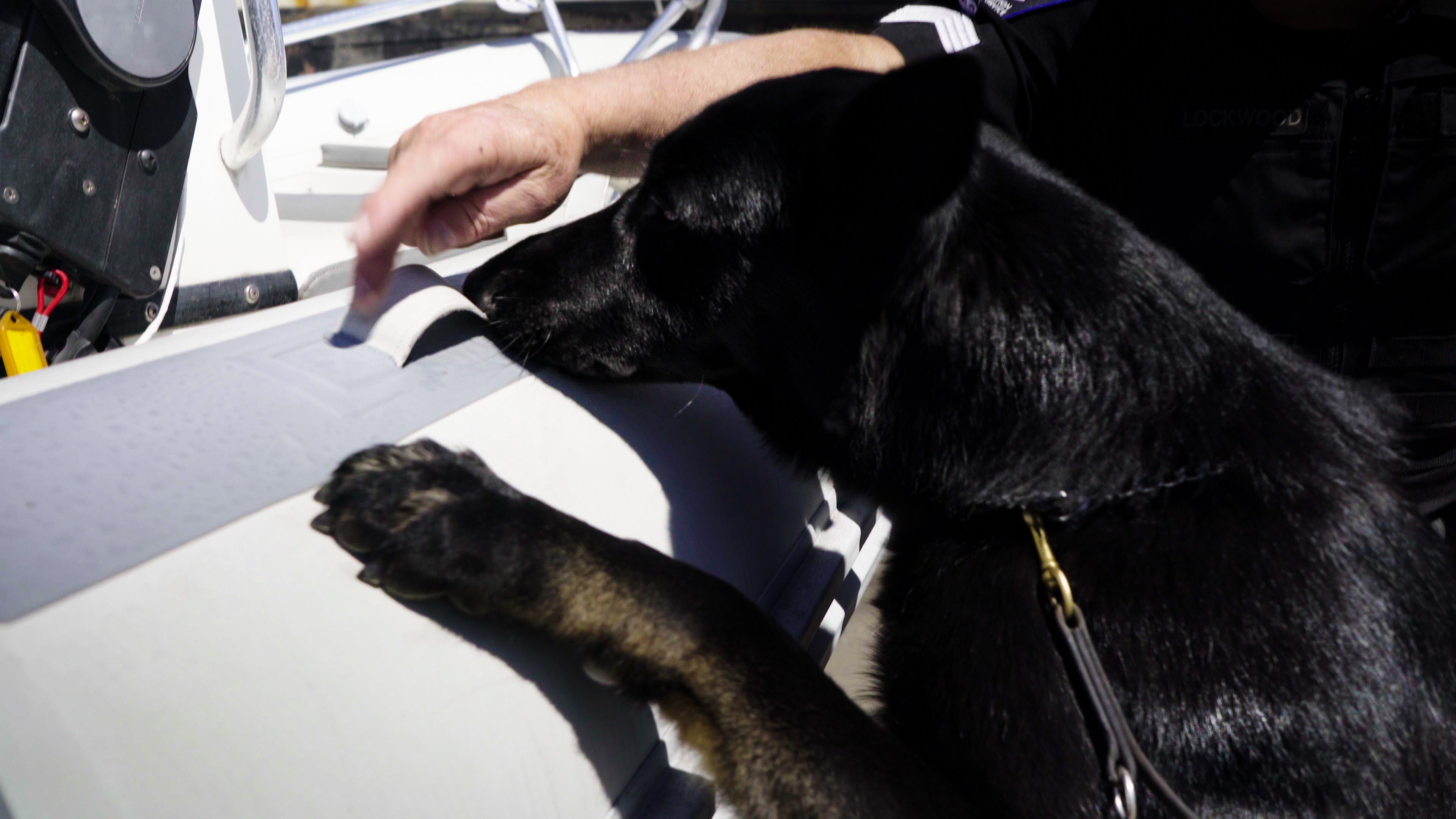 Program Funders