BCGS News
An update on upcoming events, recent activities and recent publications of the BC Geological Survey. Subscribe to our announcements
Upcoming Event
Cordilleran Geoscience: A 2020 perspective
The BCGS Open House, normally held annually in Victoria, will not be offered in 2019. Instead the Pacific Section of the Geological Association of Canada, the Geological Survey of Canada, the British Columbia Geological Survey, and the Yukon Geological Survey will be holding the workshop Cordilleran Geoscience: A 2020 perspective in Vancouver, March 24-25, 2020. See more
Recent activities
Emeritus Scientist JoAnne Nelson awarded the 2019-2020 Howard Street Robinson Medal
The Howard Street Robinson medal is named in honour of a founding member of the Geological Association of Canada, whose bequest supports a cross-Canada distinguished lecture tour. Awarded by the GAC Mineral Deposits Division in alternate years, the medal recognizes a respected and well-spoken geoscientist.
JoAnne's career as a field geologist spans more than 30 years. As a well-rounded mapper, she has studied the stratigraphy, sedimentology, physical volcanology, igneous petrology, structural geology, geochronology, and economic geology from regions along the length and breadth of the Canadian Cordillera. Stemming from this work, JoAnne has become the leading expert on the tectonics and metallogeny of the Cordillera. Since 2013, JoAnne has devoted her efforts to examining volcanic arc successions and porphyries in Stikine terrane, particularly the Golden Triangle of mineral deposits in northwestern British Columbia. JoAnne continues to be generous with her energies, supporting new and old colleagues, and nurturing the next generation of field geologists.
JoAnne will start her tour in eastern Canada in the early fall, with lectures in Ottawa (Carleton University, University of Ottawa, Geological Survey of Canada), Montreal (McGill University, L'Université du Québec à Montréal), Quebec City (Laval University), Fredricton (University of New Brunswick), Halifax (St. Mary's University), Wolfeville (Acadia University), Anitigonish (St. Francis Xavier University), and St. John's (Memorial University). Detailed tour information can be found here.
Preliminary bedrock mapping and geological investigations of the Kitsault River area
South of Stewart in the Goldern Triangle of northwestern British Columbia, the Kitsault River area contains numerous precious metal-rich and massive sulphide occurrences together with several molybdenum-bearing porphyry deposits. Some of these precious metal occurrences (e.g., Dolly Varden, Torbrit) and Paleocene molybdenum porphyries (e.g., Kitsault, Tidewater) are past producers. The precious metal-rich massive sulphide occurences are hosted in upper Hazelton Group volcanic and sedimentary rocks, at a stratigraphic level similar to the Eskay Creek deposit to the north.
This past summer, Rebecca Hunter started the first year of a multi-year mapping program to better understand the geology of the Kitsault River area and to update the geochronologic, geochemical, and biostratigraphic dataset for the region. Fieldwork in 2019 focussed on the Hazelton Group in the northeast part of the area and included reconnaissance mapping, measuring new detailed sections to better outline stratigraphic relationships and depositional settings, and sampling for lithogeochemistry and U-Pb zircon geochronology to better define the unit's composition, tectonic setting, and age.
Evaluate potential of serpentinized ultramafic rocks to sequester atmospheric CO2
Dr. Dejan Milidragovic is working with Professor Greg Dipple, students, and research associates at the University of British Columbia (UBC) – Bradshaw Research Initiative for Minerals and Mining (BRIMM) to evaluate if serpentinized ultramafic rocks in British Columbia have potential to sequester atmospheric CO2. The team is developing a predictive framework to remotely identify the most favourable carbon sinks using the geochemical and physical properties of these rocks. They spent nearly three weeks this summer in central British Columbia, mapping and sampling ultramafic rocks of the Cache Creek terrane. This fieldwork included an excursion to Mount Sidney Williams, where some of the freshest mantle rocks in the province are exposed. Participants included UBC students and representatives from the Tl'azt'en and Binche First Nations.
The project is supported through a formal agreement between the British Columbia Geological Survey and BRIMM, the recipient of a major grant from the Government of Canada's Clean Growth Program. Other supporting organizations include Geoscience BC, Geological Survey of Canada, and a number of industry partners.
Northern Vancouver Island multi-media drainage geochemical and Pb isotopic survey
A collaborative study by BCGS and UBC (PCIGR) on northern Vancouver Island led by Alexei Rukhlov builds on the regional drainage geochemical survey (RGS) programs, managed by the Geological Survey of Canada, British Columbia Geological Survey, and Geoscience BC since 1976. The analytical determinations from these programs provide baseline information on the dispersion of elements in drainage systems, which has become an increasingly effective tool for mineral exploration, bedrock mapping, and environmental monitoring.
An early phase of the study focussed on establishing optimal media and analytical methods by collecting RGS water, stream and moss-trapped sediments, and heavy mineral concentrate (HMC) samples recovered by panning, shaking table, and sluicing from Loss Creek, southern Vancouver Island. The study then moved to northern Vancouver Island, where water, stream sediments, and sluice HMC samples were collected from streams draining prospective rocks of the Bonanza arc (Triassic to Middle Jurassic), including those with known porphyry Cu-Mo-Au and other mineralization. Analytical work included multi-element determinations of up to 65 analytes and lead isotope determinations on sediments, HMC, and water. The results of this survey will help identify the best technique for mineral exploration at the property level, and refine the provincial-level geochemical surveys.
Assessment Report Digital Data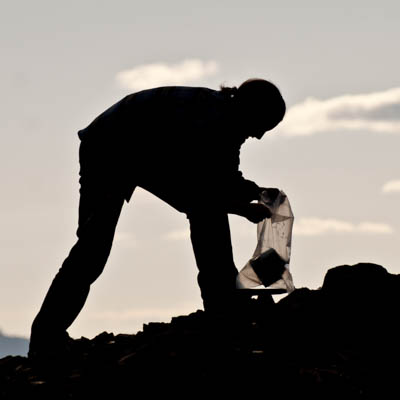 Access to raw data is critical for successful exploration. Traditionally however, data in assessment reports have been embedded in paper or non-digital electronic files (e.g., .PDF) making them difficult to extract and use. To resolve this problem, the British Columbia Geological Survey has embarked on a program to encourage digital data file submission. Digital data are any files (spreadsheets, databases, maps, grids, etc.) used or created for the technical work in an assessment report. Such raw data files are to be compressed into a .ZIP archive and submitted to ardata.bcgeologicalsurvey.ca when the report (.PDF) is submitted to the Mineral Titles Branch. The data will become available to download alongside .PDF files through ARIS once the confidentiality period ends.
Explorationists will benefit because digital data can be easily retrieved, integrated, processed, recalculated, and recast for specific needs. Digital submission will also enable the Survey to maintain province wide databases and create derivative products that use past results to guide future exploration.
For more information please visit the Assessment Report Submission Information webpage.
Recent publications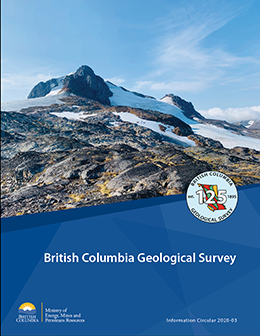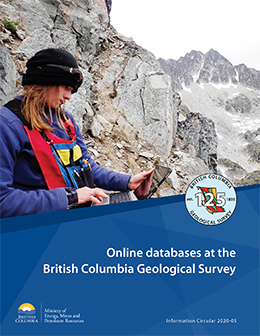 Information Circular 2020-03 summarizes the mission and activities of the British Columbia Geological Survey.
Information Circular 2020-04 summarizes the mission and activities of the British Columbia Geological Survey Mineral Development Office.
Information Circular 2020-05 describes the databases housed by the British Columbia Geological Survey and how these databases can be used.
Recent peer-reviewed journals and partner publications
Febbo, G.E., Kennedy, L.A., Nelson, J.L., Savell, M.J., Campbell, M.E., Creaser, R.A., Friedman, R.M., van Straaten, B.I., and Stein, H.J., 2019. The evolution and structural modification of the supergiant Mitchell Au-Cu porphyry, northwestern British Columbia. Economic Geology 114, 303-324.

Hickin, A.S., Best, M.E., and Levson, V.M., 2019. Electromagnetic resistivity anisotropy in till from the Kiskatinaw streamlined landform field, northeastern British Columbia, Canada. Geomorphology, 335, 14-27.

Nixon, G.T., Milidragovic, D., and Scoates, J.S., 2019. Convergent margin Ni-Cu-PGE-Cr ore systems: temporal and magmatic evolution. In: Targeted Geoscience Initiative 5, Grant Program Interim Reports 2018-2019. Geological Survey of Canada, pp. 49-61.

Sheen, A., Heaman, L.M., Kjarsgaard, B., Ootes, L., Pearson, D.G., and Creaser, R.A., 2019. Athapuscow aulacogen revisited: geochronology and geochemistry of the 2046 Ma Union Island Group mafic magmatism, East Arm of Great Slave Lake, Northwest Territories, Canada. Precambrian Research, 321, 85-102.
Current annual publications