BCGS News
An update on the recent activities and recent publications of the BC Geological Survey. Subscribe to our announcements
Recent activities
The Geospatial frame data model - international recognition for novel in-house approach to delivering data
The British Columbia Geological Survey continues to make delivering data in readily accessible formats a priority and has gained international recognition for developing novel in-house approaches. The digital geology map of British Columbia is an example, and the methods for updating and integrating the province-wide digital map and geospatial database created by Yao Cui (Senior Geomatics Geologist) has generated a lot of excitement. Yao's approach resolves some of the issues that plague this sort of work globally, significantly reducing costs and time.
In 2018, Yao presented this approach at the Resources for Future Generations conference in Vancouver. The conveners of the session, representing the international geoscience community, were so intrigued, they invited Yao to present at the US-State Geological Survey Mapping Forum in Minnesota in April 2019. Again, impressed by what he had created, organizers from U.S. Geological Survey invited Yao to participate in the 23rd annual Digital Mapping Techniques meeting being held Butte, Montana.
The following is the abstract Yao presented at the meeting in Minnesota.
Since 2005, when the British Columbia Geological Survey first completed digital coverage of bedrock geology for the entire province, we have been faced with the challenge of integrating new field mapping into our corporate database. Digital maps in the Earth sciences have long-used polygons to define bedrock units. However, polygons are prone to topological errors when used to compile, update, and integrate digital maps. These errors include gaps, overlaps, slivers, and discontinuities in the data that are hard to detect and fix. Using polygons also makes it time consuming to reconcile geometric differences at shared boundaries such as faults. To avoid these problems, we developed a geospatial frame data (GFD) model that dispenses with polygons at the map compilation and integration stages. Instead, the GFD model consists only of two data components: centroids describing geological units, and lines defining geological boundaries. Polygons representing geological units are not part of the GFD but are generated from GFD at the data production stage in the finished map products. Implementing the GFD model in a spatial database allows us to develop a fully automated data 'checkout' process and 'anchoring' mechanism to simplify data integration and eliminate boundary problems when maps are updated and merged. With only linework and point geometries, GFD also simplifies other processes, such as map generalization, without losing data integrity or introducing topological errors. Furthermore, the bedrock polygons in finished maps are the result of spatial database 'views' or 'materialized views' of the GFD data. These 'views' and 'materialized views' can be used to customize a map by, for example, reducing coordinate precision, re-projecting the map coordinate system, simplifying lines, and generalizing bedrock units, without changing the source data in GFD.
Figure 1. GFD data 'checkout' step 1. (A) Limit of new mapping shown as black dotted line is used to intersect bedrock units and structures. (B) Buffer area (blue dashed line) extends beyond the limit of mapping and includes all units and structures that might need revision.
Figure 2. GFD data 'checkout' step 2. (A) GFD data components are tagged as anchorlines (in red), anchorpoints (anchors in black), rodelines (in green), and bedrock units are tagged for revision (dots in blue). (B) The GFD data components and bedrock polygons are extracted.
Figure 3. Data integration processes. (A) Outdated GFD data components are retired from the corporate database. (B) Updated data are loaded to the corporate database, and rodelines (in green) are snapped to existing anchorpoints (anchors in black) or to new anchorpoints (anchors in red).
The GFD data checkout process first extracts the geology that extends beyond the limits of new work and includes all units and structures that may be affected (Figure 1). The outermost boundaries of this extended area are then tagged as 'anchorlines', the nodes on outermost boundaries are tagged as 'anchorpoints', boundaries connecting the anchorpoints are tagged as 'rodelines', and bedrock units as points are tagged for 'revision' (Figure 2A). Then, all the data within the extended area, including the GFD data components and the bedrock polygons, are extracted and packaged for update (Figure 2B).When update is complete and ready for integration, the first step is to retire the GFD data components in the corporate database (Figure 3A). After anchorlines in the updated GFD package are removed, the new geology is then uploaded into the corporate database. Rode lines in the updates are snapped to the anchor points in the corporate database (Figure 3B). The geological map products with bedrock polygons are automatically updated when the database view or materialized view are refreshed from the updated corporate database.
The GFD data checkout process leaves no room for introducing topological errors because polygons are not split when data are extracted, and there is no edge matching between polygons in map integration. It also reduces the risk of introducing unit or structure discontinuities at the map boundaries. The GFD model can be applied to any discipline that uses polygons and lines in digital mapping.
BCGS Fieldwork - Another busy season for Survey field crews
This will be another busy field season for Survey field crews, with major programs northwest of Germansen Landing, south of Stewart, and in northern Vancouver Island, and reconnaissance programs in the Dease Lake and Fort St. James areas, and near the community of Tulameen.
Mapping northwest of Germansen Landing represents our largest field program this year. Eight bedrock mappers and two surficial geologists will work to provide an updated and detailed geological database for this copper- and gold-rich region. The Survey, together with the Geological Survey of Canada, is also funding a graduate student from the University of British Columbia to examine the potential for nickel, copper, and platinum group metals in nearby ultramafic rocks. South of Stewart, the Survey is initiating a multi-year mapping program to better understand the setting and potential for Eskay-style gold and silver-rich massive sulphide deposits in this part of the Golden Triangle. In northern Vancouver Island, a new project will conduct an orientation survey to evaluate the effectiveness of panned stream sediments and water geochemistry as an exploration method for finding metallic mineral deposits in glaciated areas. This project will be expanded based on the results from the 2019 field season.
Smaller field programs include: 1) examining key stratigraphic sections in the Dease Lake area that will be integrated with results from a major mapping program completed in 2018; 2) working on a nickel-, copper- and platinum group metals-bearing ultramafic body south of Tulameen that, together with data from a similar body northwest of Germansen Landing, will lead to a new deposit model; and 3) in partnership with the University of British Columbia, examining ultramafic rocks near Fort St. James with potential for storing atmospheric CO2.
UAV - developing protocols to integrate UAV data into traditional field projects
The BC Geological Survey recently acquired an unmanned aerial vehicle (UAV) to collect imagery for Quaternary geology and bedrock mapping. UAV surveys are ideally suited for filling data gaps between traditional aircraft and ground-based surveys, and for covering areas that are unsafe or inaccessible by foot. The Survey is developing data capture and processing protocols to integrate UAV data into traditional field projects. UAVs were first used in mineral exploration to acquire high-resolution imagery for planning, data analysis, and interpretation. Traditionally, fixed-wing aircraft and helicopters were needed to mount devices such as gamma-ray spectrometers, magnetometers, LiDAR, VLF-EM, and hyperspectral sensors. However, with recent miniaturization, these devices have been scaled-down to <5 kg and can now be mounted and flown with commercially available UAVs. Furthermore, advances in flight planning and data processing software have put this airborne platform within reach of non-specialists. The Survey hopes to capitalize on these technologies in the future.
Recognition - George Simandl awarded 2019 Wardell Armstrong Prize
George Simandl (BCGS Industrial Minerals and Critical Materials geologist) and Suzanne Paradis (GSC Geologist) have been awarded the 2019 Wardell Armstrong Prize for the best paper published in the peer-reviewed journal, Transactions B: Applied Earth Science, from the Council of the Institute of Materials, Minerals and Mining (UK). The paper is about carbonatites, the main source of rare earth elements (REE) and Nb, and host to significant deposits of apatite, vermiculite, Cu, Ti, fluorite, Th, U, natural zirconia, and Fe. This work is part of the joint Geological Survey of Canada-British Columbia Geological Survey Targeted Geoscience Initiative (TGI iterations 4 and 5) partnership. The collaboration exemplifies the strong working relationship between the BCGS and the Geological Survey of Canada.
Simandl, G.J. and Paradis, S., 2018. Carbonatites: related ore deposits, resources, footprint, and exploration methods. Applied Earth Science, 127, p. 123-152.
The Survey welcomes two new geologists
BCGS welcomes two new team members. Rebecca Hunter joined the Survey in March 2019 as our Minerals Geologists – Base Metals Metallogeny, and Pierre Landry will start at the Survey in June as the newest Assessment Geologist.
Rebecca completed her B.Sc. (Geology) at the University of Saskatchewan in 2003, and her M.Sc. (Geology) at the University of Regina in 2007. She worked for the Saskatchewan Geological Survey as a summer student in different areas of northern Saskatchewan. Her M.Sc. work included geological mapping designed to decipher the deformation and tectonic history of the Thluicho Lake Group, north of Lake Athabasca. From 2005 to 2016, she worked for Cameco Corporation in their Exploration Department in Saskatoon. As project lead on the Turqavik-Aberdeen project in the northeastern Thelon Basin (Nunavut), Rebecca played a key role in discovering two high-grade uranium zones and helped expand the mineral potential of Thelon Basin. In 2012, supported by Cameco and Laurentian University, she initiated a Ph.D. research project on the tectonics, structural geology, geochemistry, and metallogeny of the Aberdeen Lake area, Nunavut. Most recently, and while focussing on her thesis, Rebecca worked part-time for Burkehill Uranium Corp., developing an exploration strategy and portfolio in Saskatchewan, Nunavut, and Namibia. Her main areas of focus and passion in geology are structural geology, stratigraphy, tectonics, and ore deposit geology.
Pierre completed his B.Sc. (Geology, minor in Economics), at Queen's University in 2006. Upon completing his undergraduate studies, he worked for Iamgold Corporation in Toronto as an associate in their Corporate Development department. In between project reviews, Pierre accepted multiple secondments to mining operations in Quebec, Botswana, Peru, and Suriname. From 2011 to 2015, he worked for Roscoe Postle Associates (RPA) in Toronto as a Resource Geologist where his primary responsibility was performing Mineral Resource Estimates and audits, including one for the famous Serra Pelada mine in Brazil. In 2015, he moved to Centerra Gold to work in a small technical services team responsible for project evaluations and development. In addition to providing operational support, Pierre worked on two feasibility studies and multiple technical reports. In 2017, he transferred from Toronto to Centerra's Mt. Milligan Mine in central British Columbia, where he spent the last two years as a Senior Mine Geologist. His main areas of interest in mining and geology are public disclosure compliance, geological modelling, resource estimation, and ore deposit geology.
Recent publications
Open File 2019-06: Geology of the Cache Creek terrane north of Trembleur Lake, parts of NTS 93K/14 by D. Milidragovic
Open File 2019-07: Bedrock geology, Search Phase I project area, western Skeena arch, west-central British Columbia by J.J. Angen, M. Rahimi, J.L. Nelson and C.J.R. Hart
Open File 2019-08: Aeromagnetic correlation with bedrock geology, Search phase 1 project area, western Skeena arch, west-central British Columbia by J.J. Angen, M. Rahimi, J.L. Nelson and C.J.R. Hart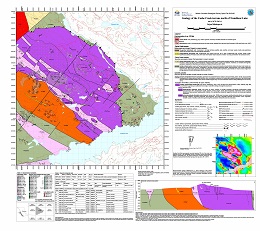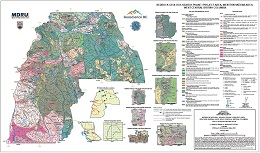 New bedrock mapping in the southern segment of the Cache Creek terrane (part of NTS 93K/14 - Trembleur Lake) refines the distribution and geodynamic setting of the tectonically emplaced, variably serpentinized and carbonate-altered lithospheric mantle , and the surrounding Upper Pennsylvanian to Lower Jurassic, greenschist to amphibolite-facies volcanic, shallow-intrusive, and siliciclastic rocks.
This map presents the results of new mapping carried out during the summer of 2016, a compilation of previous mapping, and interpretations based on new aeromagnetic data. The map is accompanied by spatial data including administrative, cultural and natural features, vector and raster topographic information, historical and modern mineral exploration information, and regional historical geochronology and structural measurements derived from government sources and published literature. The MINFILE data contain records modified from the BC MINFILE database and newly identified occurrences. The map also provides new geochemical and geochronologic results and structural and physical properties measurements. The complete database is available through Geoscience BC.
Complementing British Columbia Geological Survey Open File 2019-07 (Bedrock geology, Search Phase 1 project area, western Skeena arch, west-central British Columbia, by Angen, Rahimi, Nelson, and Hart), Open File 2019-08 integrates bedrock mapping with a recent aeromagnetic conducted by Precision Geosurveys Inc. (Geoscience BC, Report 2016-02).
Current annual publications