Mass timber
B.C. is a leader in mass timber construction, technology, engineering and design.



Last updated: March 24, 2023
On this page:
---
Understand mass timber
Mass timber products are solid, structural load-bearing components such as columns, beams, and panels. They are typically manufactured off-site in factories by fastening multiple layers of wood together with glue, dowels or nails, and are engineered for high strength. They have similar fire and seismic performance as concrete and steel, but are significantly lighter in weight and outperform traditional light-frame wood (2x6) construction.
Examples of mass timber products include:
Cross-laminated timber
Nail-laminated timber
Glue-laminated timber
Mass timber can be used in many types of construction including residential, commercial and industrial buildings.
Prefabricated building components can be brought to job sites just in time for installation, reducing overall construction time, noise, and disruption. Mass timber is often combined with concrete and steel in "'hybrid'" buildings to make use of the strengths of each material.
Explore more about mass timber on naturally:wood.
---
Mass Timber Action Plan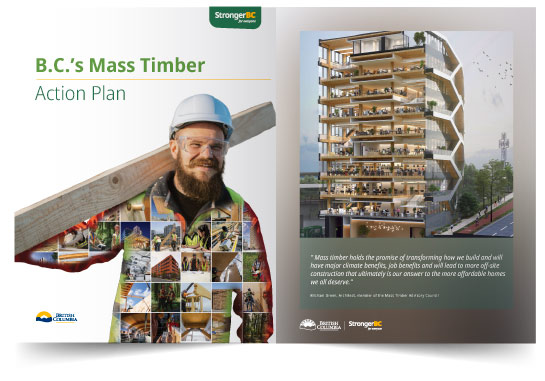 Through the Mass Timber Action Plan, the province is working to grow the industry, create good jobs and support communities by engaging with First Nations partners, training new workers, modernizing regulations, and profiling mass timber to national and global markets.
---
Climate benefits of mass timber
Mass timber has an important role in increasing climate-friendly technology and buildings in the province. Mass timber buildings are made from wood and can store carbon for generations, keeping it out of the atmosphere. Mass timber buildings also replace more carbon-intensive materials, such as concrete and steel, and help to reduce construction waste.
---
Mass timber innovation in B.C.
B.C. is well known in North America for being a leader in mass timber innovation, production and usage. We have more mass timber buildings per capita than any other place in North America and we lead the country with over 285 mass timber buildings (as calculated at the end of 2020).
Notable early and innovative mass timber buildings in B.C. include:
The Wood Innovation and Design Centre in Prince George showcased local wood technology, design, and all the wood in the project was produced in B.C. At the time it was built in 2014, it was the world's tallest modern all-timber structure.
UBC's Brock Commons Tallwood House student residence is a landmark example of a mass timber tall building. It was the tallest hybrid mass timber building in the world when it opened in July 2017.

Brock Commons informed both the 2020 National Building Code of Canada for 12-storey construction, and the

2021 International Building Code for 18-storey construction

. The International Building Code is widely used throughout the U.S. 

Explore more mass timber buildings throughout B.C. on naturally:wood.
B.C. has already adopted the new provisions from the National Building Code that allow for encapsulated mass timber construction. Through the Tall Wood Initiative, the Province adopted these provisions early for interested communities, providing valuable proof of concept.
The Mass Timber Demonstration Program provides funding to support the design and construction of mass timber buildings that demonstrate emerging or new mass timber building systems and construction processes. Program recipients share lessons learned, results, and research findings to support future mass timber projects.
By 2035, the mass timber sector could produce 1,880 more jobs in technology, forestry, engineering, and design, as well as an estimated 2,350 jobs in mass timber manufacturing.
The global engineered-wood market (of which mass timber is a part) is expected to grow by 40% from 2019 to 2027 (from $285 billion in 2019 to $400 billion by 2027). Modelling shows potential for the equivalent of up to 10 more mid-sized mass timber manufacturing facilities in B.C. by 2035. Forecasts project that the mass timber sector could be worth $403 million by 2035.
Growing the mass timber sector will create many new types of jobs throughout the province. Along with new jobs in manufacturing, remanufacturing and building deconstruction, new opportunities are emerging in areas like:
Building information modelling
Building lifecycle assessment
Digital design
Software development
Robotics
Logistics
Design engineering
General contracting and project management
---
I have questions
Have questions about mass timber? Contact the Office of Mass Timber Implementation.
Mail
Office of Mass Timber Implementation
PO Box 9803 STN PROV GOVT
Victoria, B.C. V8W 9W1