Hypertension - Diagnosis and Management

Effective Date: April 15, 2020
Recommendations and Topics
Scope
This guideline provides recommendations on how to diagnose and manage hypertension (HTN) in adults. Management of secondary causes of HTN,* accelerated HTN, acute HTN in emergency settings, and HTN in pregnancy are out of scope.
For an algorithm of this guideline, refer to Appendix A: Diagnosis and Management of Hypertension Algorithm.
Key Recommendations †
Hypertension is a modifiable risk factor for cardiovascular disease (CVD) and an important public health issue.
Detection and Diagnosis
When measuring blood pressure in the office, the use of an automated office blood pressure (AOBP) electronic device is recommended in patients with regular heart rate.1–3 [Strong Recommendation, Strong Evidence]
Hypertension is diagnosed in adults when automated office blood pressure reading is ≥ 135/85 in the higher BP arm. [Strong Recommendation, Strong Evidence]
When a manual office blood pressure device (MOBP) is used hypertension is diagnosed at ≥ 140/90. 4–6 [Strong Recommendation, Strong Evidence]
Consider 24-hour ambulatory blood pressure monitoring, or standardized home blood pressure monitoring, to confirm a hypertension diagnosis in all patients7. [Strong Recommendation, Strong Evidence]
Management
A desired blood pressure level should be determined with each adult patient. Achieving an automated blood pressure reading of ≤ 135/85 is associated with the greatest reduction of risk for adults with no co-morbid conditions.8–10 [Strong Recommendation, Strong Evidence]
Health behaviour change is recommended as a first step for those with average blood pressure 135-154/85-94 (AOBP), low-risk for cardiovascular disease and no co-morbidities.11 [Strong Recommendation, Strong Evidence]
Initiate pharmaceutical management in context of the patient's overall cardiovascular risk and not solely on their blood pressure.12,13 [Strong Recommendation, Strong Evidence]
Definitions
An elevated automated office blood pressure (AOBP) is defined as an average systolic blood pressure (SBP) of > 135 mm Hg or an average diastolic blood pressure (DBP) of > 85 mm Hg or both with best available technique.
White-coat hypertension refers to the untreated condition in which BP is elevated in the office but is normal when measured by ambulatory blood pressure monitoring (ABPM), home blood pressure measurement (HBPM), or both.
Masked hypertension refers to untreated patients in whom the BP is normal in the office but is elevated when measured by HBPM or ABPM.
Classification
Based on the average BP recorded, hypertension is classified as High-Normal, Stage 1, Stage 2, or Stage 3 (Note: Figure 1 lists MOBP values only for Stage 2 and 3 since validated AOBP levels are currently unavailable). Management of hypertension based on the classification should be further informed and guided by the patient's CVD risk, organ damage, and presence of co-morbidities.

Epidemiology
In BC, the age standardized prevalence rate for hypertension is 22.5 (per 100) and the age standardized annual incidence rate is 20.2 (per 1000 people over the age of 20) for 2017/18.14
Detection
Screening blood pressure should be recorded as accurately as possible in all adults at every appropriate visit. At appropriate visits, ask permission to check BP on all adults (trauma-informed practice). Inform patients that they may be sensitive to the tightening of the cuff on their arm. Ensure standardized technique for measurement of BP (see Figure 2) and equipment are being used (see Table 1 in Appendix B: Recommended Methods and Techniques for Measuring Blood Pressure).3,15.
Diagnosis
Assessment of Blood Pressure
Automated office BP measuring electronic device is recommended, in preference to manual office BP technique. Using automated office BP reduces errors and avoids an overestimation of BP values (white-coat HTN), underestimation of BP values (masked HTN), reduces threshold avoidance (where the BP reading is adjusted to avoid thresholds that entails making a diagnosis) and digit preference (rounding their BP recording to a nearest zero end-digit).2,16,17 The advantages and limitations of the different methods are listed in Appendix B: Recommended Methods and Techniques for Measuring Blood Pressure – Table 1.
Assessment of postural hypotension should be included for appropriate patients (e.g., elderly).
Ensure patient has not consumed caffeine or smoked in the last 30 minutes. Measure BP in both arms with the patient in a seated position resting quietly for at least 5 mins prior to measuring. Select the arm with the higher reading for further measurements. If average AOBP using the arm with the higher reading exceeds threshold for Hypertension diagnosis, proceed to investigations and work-up to assess target organ damage and cardiovascular disease (CVD) risk. If still using manual office technique, measure BP three more times using the arm with the higher reading, then discard the 1st reading and average the latter two.
Consider 24 hour ambulatory or home BP monitoring for patients with borderline or variable measurements, significant anxiety or white coat syndrome.18
Table 1: Definition of Hypertension (in uncomplicated patients without co-morbidities)
Definition of Hypertension according to measurement method
SBP
mm Hg
DBP
mm Hg
(and/or)
Automated Office BP (AOBP)
≥135
≥85
Manual Office BP (MOBP)
≥140
≥90
Ambulatory BP monitoring (ABPM)
Daytime (awake) mean
≥135
≥85
Night-time (asleep) mean
≥120
≥70
24 hr mean
≥130
≥80
Home blood pressure measurement (HBPM) mean
≥135
≥85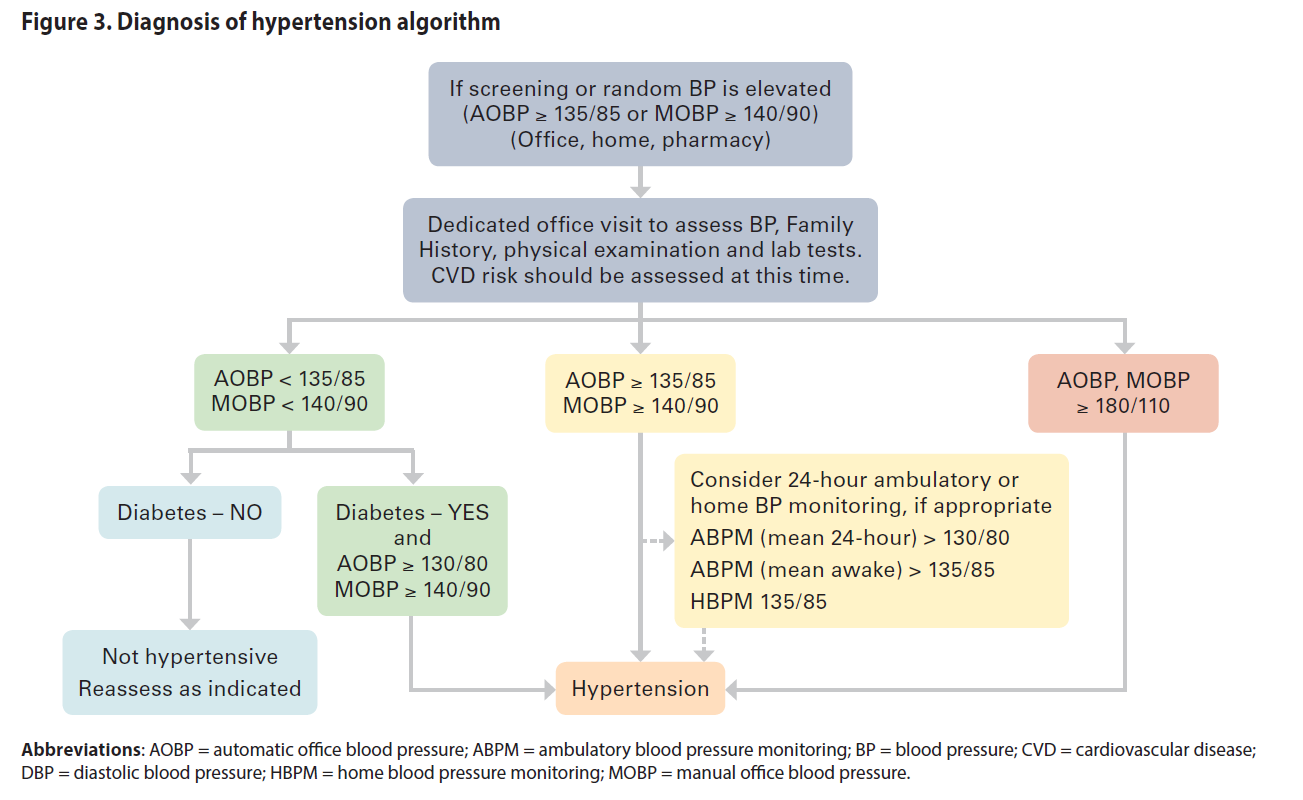 Evaluation and Investigations
Medical history
Collect personal and family medical history to identify risk factors and potential secondary causes of hypertension (See Appendix C: Examples of Secondary Causes of Hypertension).
Risk Factors
Modifiable: smoking; high alcohol consumption; low physical activity levels/sedentary lifestyle; unhealthy eating (such as high sodium intake and low vegetable and fruit intake); body composition (e.g., high body weight, high body mass index, waist circumference); poor sleep; poor psychological factors (e.g., stress levels).
Non-modifiable: age; family history; ethnicity (e.g., African, Caribbean, South Asian including East Indian, Pakistani, Bangladeshi, Sri Lankan origin)
Prescription drugs (e.g., nonsteroidal anti-inflammatory drugs (NSAIDs), steroids, decongestants, oral contraceptive use); others (e.g., alcohol, stimulants, sodium).
Indications for a secondary cause of hypertension
Severe or refractory hypertension;
An acute rise over previously stable values;
Age < 30 years without family history; and/or
No nocturnal fall in blood pressure (BP) during a 24-hour ambulatory BP monitoring period.
Refer to Appendix C: Examples of Secondary Causes of Hypertension for more details.
Physical examination
Weight, height, waist circumference, dilated fundoscopy, central and peripheral cardiovascular examination, and abdominal examination.
Laboratory tests
Urinalysis - albumin to creatinine ratio (ACR), hematuria
Blood chemistry - potassium, sodium, creatinine/estimated glomerular filtration rate (eGFR)
Fasting blood glucose or hemoglobin A1c level
Blood lipids – non-HDL cholesterol and triglycerides (non-fasting is acceptable)
Electrocardiogram (ECG) standard 12-lead
Cardiovascular Risk Assessment
Administer a Cardiovascular Risk Assessment using one of the several assessment tools available, including the Framingham Risk Score ( for patients age ≤74), Qrisk risk calculator (for patients age ≤84), Absolute CVD Risk/Benefit Calculator (for patients age ≤80). It is recommended to be familiar with at least one of the tools to predict CVD risk.
CVD risk assessment tools can provide only an approximate CVD risk value and clinical judgement is essential in the interpretation of the scores. Some tools (e.g., QRISK2) may not provide accurate risk scores when co-morbidities such as non-insulin dependent diabetes mellitus is present.19
Refer to BCGuidelines.ca: Cardiovascular Disease – Primary Prevention for further information on cardiovascular risk.
Indications for Consultation
Indications for consultation with a specialist include:
Hypertensive emergency – DBP > 130 or BP > 180/110 with signs/symptoms§;
Sudden onset in the elderly;
Abnormal nocturnal BP differences18 – an extreme nocturnal BP dip (>20%), non/small nocturnal BP dip (<10%), or an increase in nocturnal BP are at risk for CVD;
Signs or symptoms suggesting of secondary causes of the HTN (See Appendix C: Examples of Secondary Causes of Hypertension);
Resistant HTN – Not achieving desired BP despite considerable treatment effort; and
More than 15 mm Hg difference between the arms.
Management
Once a diagnosis has been confirmed, conduct a patient-centred discussion to agree upon desirable BP readings and an individualized treatment plan. Engage the patient in committing towards changes in lifestyle to lower their BP and informed decisions on pharmacological interventions. This discussion should consider any benefits and potential harms.
Desirable Blood Pressure Readings
AOBP less than 135/85 is the desirable blood pressure reading for an adult with no comorbid conditions, diabetes, chronic kidney disease or other target organ damage.4–6,8 However, an individual patient's desirable BP is influenced by their age, presence of target organ damage, CVD risk level and/or the presence of other CVD risk factors (refer to BCGuidelines.ca: Cardiovascular Disease – Primary Prevention) and influenced by patient preferences, medication side effects and medication compliance.
This guideline uses the term 'desirable BP' instead of 'targets' to encourage individualized and patient-centred care. The suggested desirable BP readings of ≤135/85 is provided as guidance only, since recommending a uniform threshold for all patients or even patient groups is not optimal. Also, the term 'targets' is not used because the treat-to-target approach is not recommended.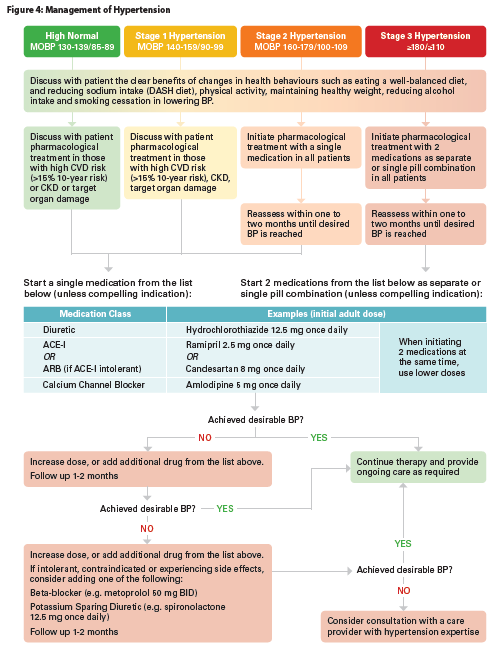 Healthy Behaviours
Recommend health behaviour changes for all patients with hypertension. The benefits of healthy behaviours such as smoking cessation, decreasing alcohol intake, increasing physical activity, obtaining or maintaining a healthy body composition, eating a well-balanced diet, and monitoring sodium intake has been shown to have clear benefits for high normal, stage I, and stage II hypertensive patients.22,23
Patients in B.C. can access registered dietitian and exercise physiologist services by calling 8-1-1. Patient resources on lowering blood pressure are available through HealthLinkBC - Lifestyle Steps to Lower Your Blood Pressure (www.healthlinkbc.ca). Additional links for patient resources are available under Practitioner Resources and in 'A Guide for Patients: Diagnosis and Management of Hypertension'.
Health behaviour modification is recommended as a first line intervention for those in the high normal group (125/75-134/84 mm Hg) and those with stage I and II hypertension with <15% 10-year CVD risk. Recent meta-analyses
and clinical trials showed pharmacologic treatment in the high-normal group and stage I and stage II group without established CVD and low to moderate CVD risk only minimally reduced the risk of cardiovascular morbidity and mortality and no reduction in all-cause mortality and coronary heart disease.4,5,12,13,24,25
Table 2. Impact of health behaviours on blood pressure23,26
Intervention
SBP
(mm Hg)
DBP
(mm Hg)
Goal

DASH dietb

-11.4
-5.5

Weight control

-6.0
-4.8

BMI < 25 kg/m2; WC ≤ 102/88 cm (Caucasian men/women), ≤ 90/80 cm (Asian men/women)

Reduced salt/sodium intake

-5.4
-2.8

Reduced alcohol intake (heavy drinkers)

-3.4
-3.4

Physical activity

-3.1
-1.8

30-40 minutes 4-7 days/week

Smoking cessation

-
-

Relaxation therapies

-3.7
-3.5
-

Multiple interventions

-5.5
-4.5
-
Abbreviations: BMI = body mass index; DASH = dietary approaches to stop hypertension; DBP = diastolic blood pressure; kg/m2 = kilogram per square metre; mm Hg = millimetre of mercury; SBP = systolic blood pressure; WC = waist circumference.
Footnotes: a Hypertension Canada now recommends a salt/sodium intake threshold 2000 mg (5 g of salt/sodium) per day. The previous threshold was ≤ 1500 mg (3.75 g of salt/sodium) and was changed based on clinical trial evidence from two systematic reviews published in 2013. The aim is to identify salt sensitive patients. b There are no mortality outcome studies of the DASH diet.
Pharmacologic Management
Instigate pharmaceutical management in context of the patient's overall CVD risk (e.g., not solely based on a patient's BP) and in conjunction with health behaviour change.27,28
Pharmacologic management should be considered in addition to lifestyle management if:
average BP is > 135/85 with target organ damage or CVD risk >15%;
average BP is > 135/85 with 1+ co-morbidities (refer to Table 4 for co-morbidities list);
average BP is ≥ 160/100; or
desirable BP is not reached with health behaviour change.
Treatment of Hypertension without Specific Indications
When prescribing, take into account cost of the drug, any potential side-effects and any contraindications.25,29–31
Without specific indications, consider monotherapy or single pill combination with one of the following first-line drugs32:
low-dose thiazides and thiazide-like diuretic;
long-acting calcium channel blocker (CCB);
angiotensin converting enzyme inhibitor (ACE-I; in non-black patients); or
angiotensin II receptor blocker (ARB).
Table 3. Contraindications for antihypertensive medications
Drug
Contraindications
Precautions
Angiotensin converting enzyme inhibitors
Angiotensin II receptor blocker
Pregnancy
History of angioedema
Bilateral renal artery stenosis
Electrolyte imbalances
Severe renal impairment
Beta-blockers
Second- or third-degree AV block
Sick sinus syndrome or SA block
Bradycardia
Decompensated HF
Severe peripheral arterial circulatory disorders
Athletes and physically active patients
Asthma (non-selective BBs)
Calcium Channel Blockers – Dihydropyridine (e.g., amlodipine)
Heart Failure
Pre-existing severe leg edema
Severe aortic stenosis
Chronic constipation
Thiazides and Thiazide-like diuretics
Anuria
Gout
Glucose intolerance
Electrolyte imbalances
Significant hepatic disease
Among these, thiazide diuretics are the least costly agents. Evidence suggests a non-significant difference in CV events and all-cause mortality between chlorthalidone and hydrochlorothiazide.33,34 In a recent meta analysis of routinely collected health data, chlorthalidone was associated with a significantly higher risk of hypokalemia, hyponatremia, acute renal failure, chronic kidney disease, and type 2 diabetes mellitus when compared to hydrochlorothiazide.35
Note that alpha-blockers and beta-blockers are no longer considered to be a first-line option.36
If desirable BP is not achieved with standard-dose monotherapy, use combination therapy by adding one or more of the first-line drugs. Combination of ACE-I and ARB is not recommended, and caution with combining a non-dihydropyridine CCB (i.e., verapamil or diltiazem) and a beta-blocker.
For a list of commonly prescribed antihypertensive medications in each class, refer to Appendix D: Commonly Used Antihypertensive Drugs.
Treatment of Hypertension with Specific Indications
Selecting an antihypertensive drug for a patient with 1+ co-morbidities may require a specific first-line drug. Refer to Table 4 for recommended first-line and second-line treatments.
Table 4. Pharmacologic treatment recommendations of hypertension complicated by co-morbidity7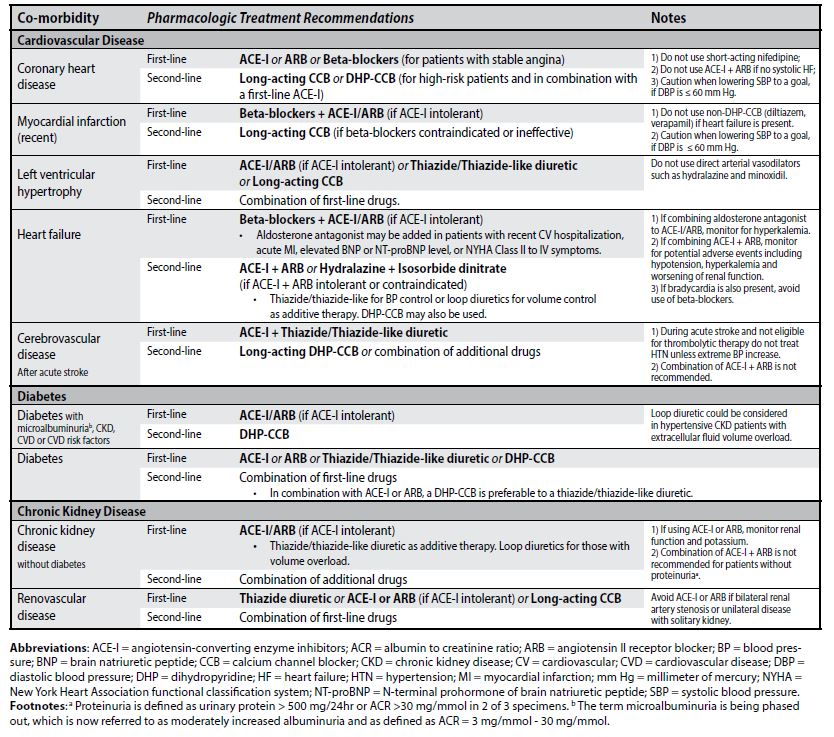 Follow-up to Treatment
Two weeks after initiating antihypertensive medications, follow-up with an eGFR to monitor kidney function and monitor for adherence to medications. Then, follow-up with the patient at monthly intervals until BP is in a desired range for two consecutive visits. Review every 3 - 6 months (as long as the patient remains stable). Establish the minimum dose of medication required to achieve the desired BP and reassess medication adherence with patients prior to adding/increasing medications. Periodically, consider discontinuing or reducing antihypertensive medications to assess the appropriate level of pharmacologic management. Monitor kidney function whenever medications are changed (e.g., dose adjustments).
Ongoing Care
Implement self-management strategies to assist the patient in managing their BP including measurement of their BP at home, committing to healthy behaviours and appropriate use of medications. At least annually, review the patient's medication, lifestyle change behaviours, risk factors, and examine for evidence of target organ damage.
Controversies in Care
Blood Pressure Readings in Population with Diabetes: For patients with diabetes, reaching a desirable MOBP reading of <130/80 is recommended by Hypertension Canada, American College of Cardiology, European Society of Hypertension and the Diabetes Canada Clinical Practice Guidelines. The desired level of MOBP <130/80 was determined by these groups following review of several recent clinical trials that support lower BP levels with reductions in risk of microvascular diabetic endpoints, stroke and major cardiovascular events.11,37
Chronic Kidney Disease: For those diagnosed with chronic kidney disease a BP reading of AOBP < 135/85 is recommended as a desired level. Although there are differences in recommended BP targets for this population between the American College of Cardiology and of Hypertension Canada and the European Society of Hypertension, our recommendations align with the latter as the current evidence failed to show improved clinical outcomes for BP targets < 125/75 compared to < 135/85.9,38,39
Older Adults: For adults aged 60 and above desirable BP reading of AOBP < 145/85 is recommended. Treating older adults to < 145/85 has been shown to significantly reduce mortality, stroke and cardiac events. BP targets lower than < 145/85 maybe beneficial for some (such as those with high cardiovascular risk) however clinical outcomes vary between trials.40–42
A paradoxical relationship between lower BP and increased mortality in older adults has been suggested to be explained by frailty.43 Elevated BP is associated with greater mortality in fit persons whereas in frail persons higher BP was associated with lower mortality risk (e.g., National Health and Nutrition Examination Survey44). The American College of Cardiology/American Heart Association Task Force provides no specific recommendation on treatment for this population due to the lack of evidence.45
Finally, frailty is associated with limited life expectancy. Therefore, the time-until-benefit of a given treatment might exceed the life expectancy in frail individuals and may modify the risk–benefit ratio of preventive treatments for chronic diseases, including hypertension.43
Hydrochlorothiazide and Skin Cancer Association:
At this time, substantial uncertainty exists around the evidence on the link between Hydrochlorothiazide (HCTZ) and skin cancer. Although photosensitivity is a known rare adverse reaction of HCTZ, and patients are advised of possible skin reactions such as sunburn, premature aging, and rash, malignancy is not one of them. Patients should be advised of the potential risk. Advise patients to regularly check for skin lesions, limit sun exposure and use adequate sun protection. Engage in shared-decision making with patients to find alternative medications especially in those with high risk for non-melanoma skin cancer.46
HCTZ is a commonly prescribed medication for hypertension. In January of 2019, Health Canada issued a safety alert that concluded that prolonged use of HCTZ may be associated with a risk of non-melanoma skin cancer that is at least four times the risk of not using HCTZ.46 The evidence for this safety alert came from 2 published studies from Denmark where nested case-control studies using the National database suggested a link between HCTZ use and the risk of cutaneous squamous cell carcinoma (cSCC) and cutaneous basal cell carcinoma (cBCC) (non-melanoma skin cancers). The studies suggested that high use of HCTZ (i.e., >3 years) could lead to 122 more (95% CI, from 112 more to 133 more) cases of cSCC per 1000 treated patients compared with its non-use (meta-analysis of 3 observational studies; very low certainty evidence) and 31 more (95% CI, from 24 more to 37 more) cases of cBCC per 1000 treated patients compared with its non-use (meta-analysis of 2 observational studies; very low certainty evidence).47,48
Resources
References
Practitioner Resources
Appendices
Associated Documents
The following documents accompany this guideline:
This guideline is based on scientific evidence current as of the effective date.
The guideline was developed by the Guidelines and Protocols Advisory Committee and adopted by the Medical Services Commission.
For more information about how BC Guidelines are developed, refer to the GPAC Handbook available at BCGuidelines.ca: GPAC Handbook.
THE GUIDELINES AND PROTOCOLS ADVISORY COMMITTEE
The principles of the Guidelines and Protocols Advisory Committee are to:
encourage appropriate responses to common medical situations
recommend actions that are sufficient and efficient, neither excessive nor deficient
permit exceptions when justified by clinical circumstances.
Contact Information
Guidelines and Protocols Advisory Committee
PO Box 9642 STN PROV GOVT
Victoria BC V8W 9P1
E-mail: hlth.guidelines@gov.bc.ca
Web site: www.BCGuidelines.ca
Disclaimer
The Clinical Practice Guidelines (the "Guidelines") have been developed by the Guidelines and Protocols Advisory Committee on behalf of the Medical Services Commission. The Guidelines are intended to give an understanding of a clinical problem, and outline one or more preferred approaches to the investigation and management of the problem. The Guidelines are not intended as a substitute for the advice or professional judgment of a health care professional, nor are they intended to be the only approach to the management of clinical problem. We cannot respond to patients or patient advocates requesting advice on issues related to medical conditions. If you need medical advice, please contact a health care professional.