Cardiovascular Disease - Primary Prevention

Effective Date: December 8, 2021
Recommendations and Topics
Scope
This guideline provides recommendations on the primary prevention of atherosclerotic cardiovascular disease (ASCVD/CVD) in adults aged ≥19 years without clinical CVD. It does not apply to patients with a known history of CVD or who currently have signs or symptoms of CVD, as this would require treatment and secondary prevention. The recommendations include how to assess a patient's risk of CVD and how to manage their CVD risk factors.
Familial hypercholesterolemia (FH) and other genetic dyslipidaemias are out of scope of this guideline. Practitioners are recommended to access Canadian Cardiovascular Society guidelines that address this condition.1 For updated guidance on secondary prevention practitioners are recommended to access the 2021 Canadian Cardiovascular Society guidelines.2
Key Recommendations
Assess CVD risk in all asymptomatic adults ≥40 years of age [Strong Recommendation, Strong Evidence].2–5
Health behaviour change (e.g., smoking cessation, healthy diet) is recommended as the first-line intervention for all risk groups in CVD primary prevention. Pharmacological management is recommended for high risk groups [Strong Recommendation, Strong Evidence].2,4,5
Initiate statin therapy only after objectively evaluating the person's individual risks, benefits and preferences, and by having an individualized discussion with the patient. Initiate pharmaceutical management after considering the patient's overall individual risk. Treatment with a statin is expected to result in a significant reduction (30 - 50%) in the elevated baseline lipid levels [Strong Recommendation, Strong Evidence]. 5–8
Reducing LDL-C using statin and/or non-pharmacological management is recommended as each 1 mmol/L decrease in LDL-C results in a 20-22% relative risk reduction of major vascular events [Strong Recommendation, Strong Evidence].2,9
The use of aspirin to reduce risk of morbidity or mortality may only be beneficial to certain individuals. [Strong Recommendation, Strong Evidence]. 5,10,11
Recommendation against the use of over-the-counter omega-3 PUFA to reduce CVD risk. [Strong Recommendation, Strong Evidence].
Assessment of Risk
Who to assess
Consider assessing CVD risk in:
all patients with pre-existing risk-related conditions (e.g., HTN, DM, CKD); and
all patients with a known family history of premature CVD (defined as men aged <55 years and women aged <65 years in first degree relatives).*
A patient may be reassessed in 1 to 5 years depending on their initial risk assessment or if their risk factors change significantly. For further details, refer to Appendix A: Primary Prevention of Cardiovascular Disease Algorithm (PDF, 168KB)
Risk Assessment Investigations
Risk assessment tool: The Framingham Risk Score (FRS) is recommended.†

The FRS, or any CVD risk assessment tool, is a risk estimation only of a patient's CVD risk. Since these scores are plus or minus several percentage points, it is important to consider modifying the risk estimation based on other known risk factors (e.g., family history, ethnicity) and a practitioner's clinical judgement. For example, the Canadian Cardiovascular Society (CCS) suggests that among individuals 30 - 59 years of age without diabetes, the presence of a positive history of premature CVD in first degree relatives increases a patient's FRS by approximately 2-fold.4

In addition to the FRS, other risk assessment tools include Absolute CVD Risk/Benefit Calculator from James McCormack (for patients ≤80 years), the University of Edinburgh Cardiovascular Risk Calculator, the United Kingdom Prospective Diabetes Study (UKPDS) risk calculator that estimates the 10-year CHD and stroke risk for adults with type 2 diabetes and QRISK3 risk calculator (for patients ≤84 years). For additional details on the risk assessment tools, refer to Associated Document: Resource Guide for Physicians - Tools for Primary Prevention of Cardiovascular Disease. Paper-based scores use groups of measurements for the risk factors to assign points; and online calculators use the exact measurements for the risk factors. A risk score from an online calculator allows for a more individualized estimate of risk .
Non-modifiable risk factors include4–6:

age - chronological and biological age,
biological sex (men)
family history of CVD or familial hyperlipidemia (1st degree relative with ASCVD - men <55 years and women <65 years)
ethnicity (First Nations,12 South Asians (defined as Indian, Pakistani, Bangladeshi or Sri Lankan origin))13 For any individual, it is imperative that the health needs of that individual as it relates to their racial/ethnic background (e.g., South Asians) is critically examined to ensure culturally appropriate medical and health decisions.14
chronic kidney disease, chronic inflammatory diseases (e.g., rheumatoid arthritis, psoriatic arthritis, systemic lupus erythematosus, vasculitis (polyarteritis nodosa)), HIV infection, hypertensive diseases of pregnancy, Polycystic Ovarian Syndrome, gestational diabetes.
The modifiable risk factors are listed in Table 1: Modifiable Risk Factors for CVD.
Table 1: Modifiable Risk Factors for CVD4-6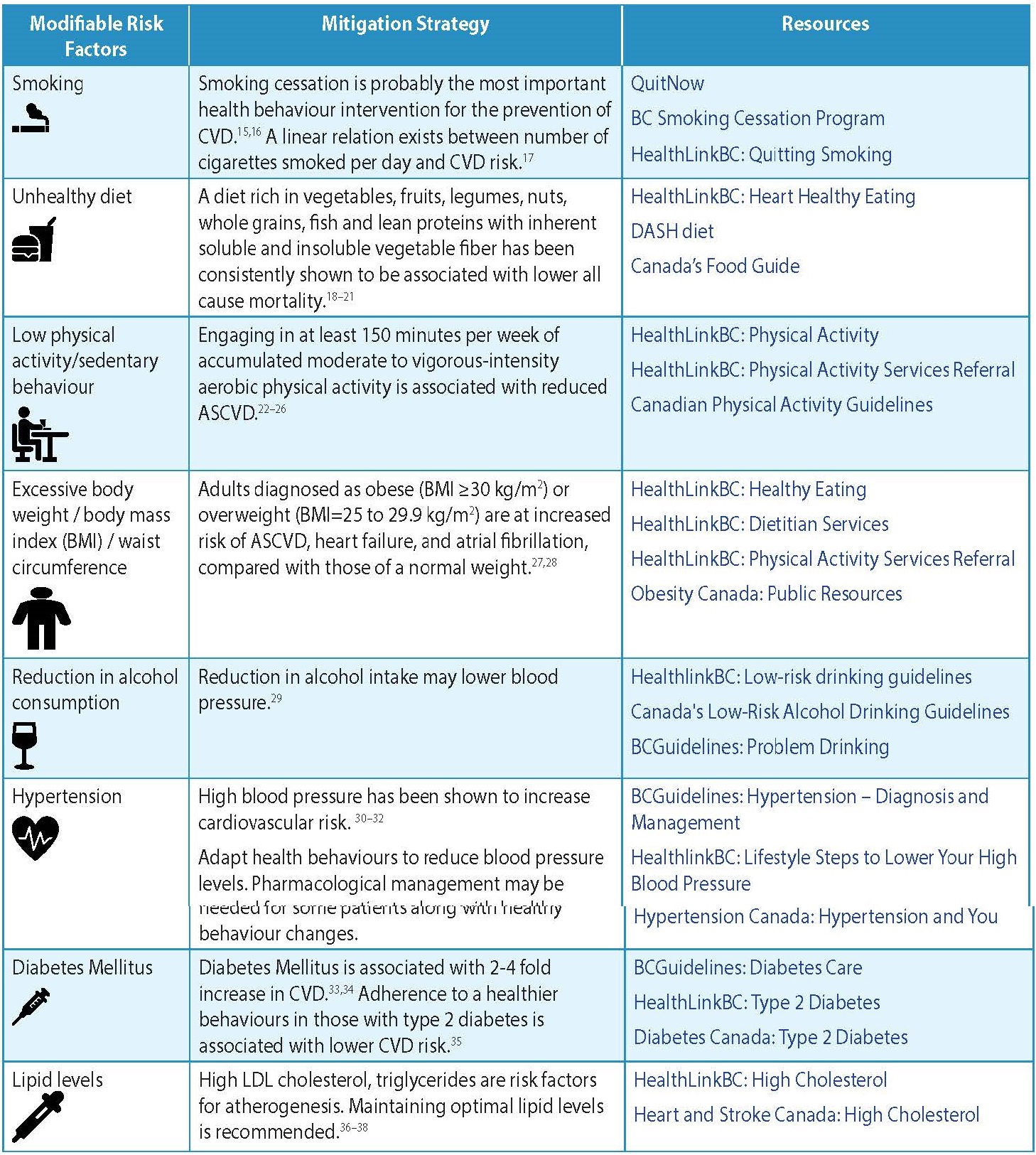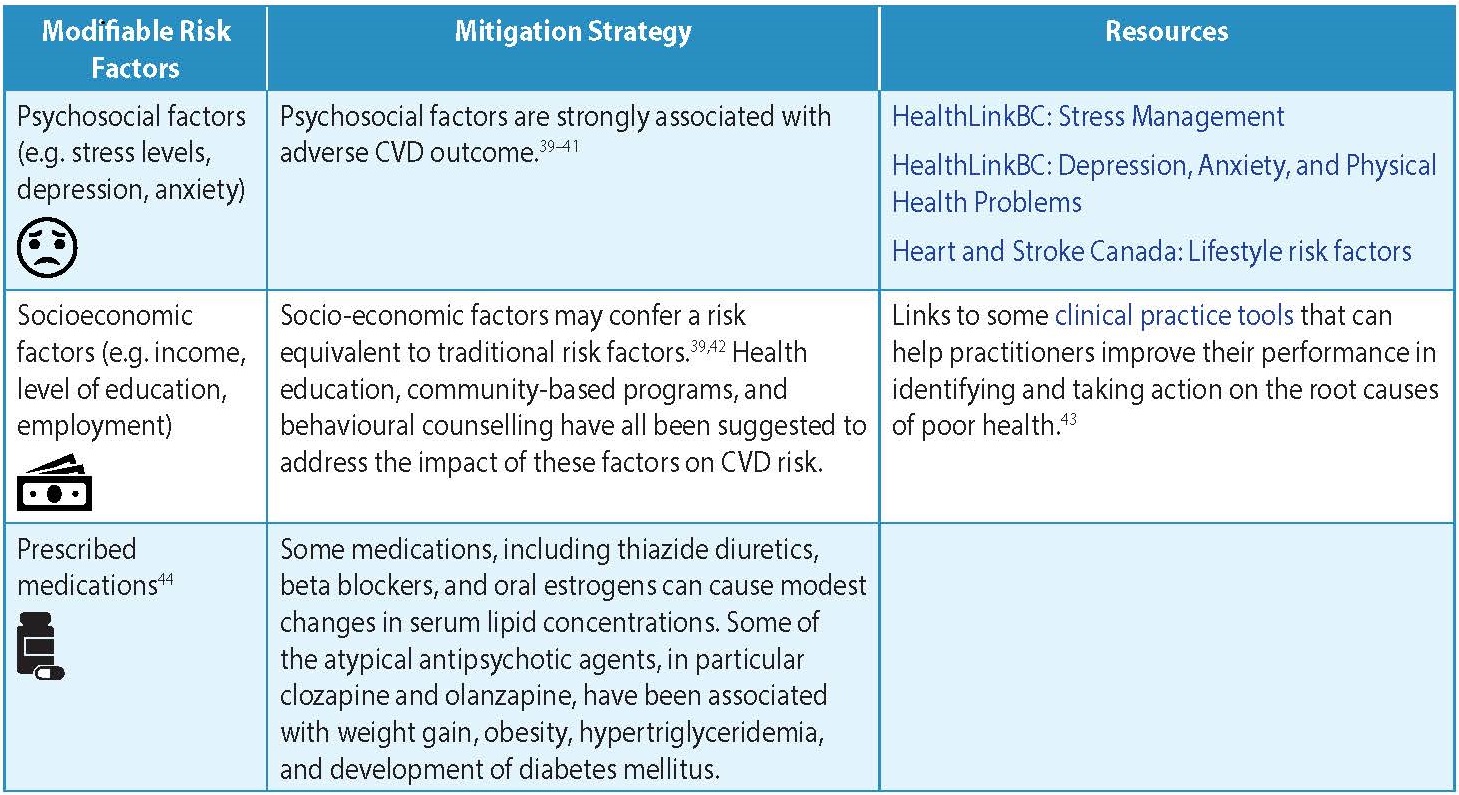 Physical examination - Besides regular physical exam elements, conduct a focused cardiovascular physical examination, including assessing for any physical signs of dyslipidemias (premature corneal arcus, tendon xanthomas, and xanthelasmas).
Test for lipids - order full lipid profile including total cholesterol (TC), high-density lipoprotein cholesterol (HDL-C), non-high-density lipoprotein cholesterol§ (non-HDL-C), low-density lipoprotein cholesterol (LDL-C), and triglycerides (TG).Non-fasting lipid testing is recommended.45
Test for type 2 diabetes - order fasting plasma glucose (FPG) OR hemoglobin A1c level.
Assess Renal Function: eGFR test, urine ACR test
No other investigations are usually indicated in the risk assessment for asymptomatic patients unless stratification of intermediate risk patients is warranted (as outlined below). Although it may have a role in intermediate risk patients, for most patients, the routine testing of high-sensitivity C-reactive protein (hsCRP) is not indicated.2
Lipoprotein(a) in Primary Prevention Screening
The most recent CCS guideline (2021) recommends measuring Lipoprotein(a) [Lp(a)] level once in a person's lifetime as a part of the initial lipid screening. Earlier and more intensive behaviour modification and management of other ASCVD risk factors are recommended for those with a Lp(a) ≥50 mg/dL (or ≥100 nmol/L). The recommendation was based on recent studies suggesting the potential role of Lp(a) as a target of treatment in the future, although currently there is no evidence from randomized control trials that specifically lowering Lp(a) leads to reductions in CV outcomes. It should also be noted that commonly used lipid-lowering therapies (i.e. statins and ezetimibe) do not appreciably lower Lp(a). The only available lipid-lowering therapies that lead to substantial lowering of Lp(a) include PCSK9 inhibitors, niacin, and apheresis, but relatively limited evidence exists for their use in patients with high Lp(a). 2,46,47
Assessment Stratification
The patient can be classified as low, intermediate, or high risk for CVD based on the risk assessment. Any patient that is considered very high risk or is symptomatic (defined as secondary prevention - out of the scope of this guideline) should be treated accordingly. The FRS defines low risk as <10%, intermediate risk as 10 - 19% and high risk as ≥20%. These groupings are an arbitrary convenience, not a scientifically validated stratification.
A patient in the intermediate risk group may warrant a secondary assessment to raise or lower their risk stratification. However, further investigations may not be appropriate if the results would not influence the decision of how to manage the risk or treat the patient.
Secondary assessment should be done on patients for whom treatment decisions are uncertain. These assessments may include carotid ultrasound, hsCRP, or coronary artery calcium (CAC) scoring. Updated guidance on the use of CAC is recommended by the CCS 2021 guidelines.2
Conduct a shared decision-making conversation regarding healthy behaviour modifications and if necessary pharmacological interventions. Consider using cardiovascular age during the discussion.
Cardiovascular (CV) age using the Cardiovascular Life Expectancy Model (CLEM) is calculated as the patient's age minus the difference between his or her estimated remaining life expectancy (adjusted for coronary and stroke risk) and the average remaining life expectancy of Canadians of the same age and sex (chiprehab.com/index.html).4,48
Management of Risk
Healthy Behaviour
Healthy behaviour modifications need to be strongly advocated as the first-line intervention for all risk groups. Adequate explanations and support should be provided to patients, so they clearly understand the nature and significance of CVD, and that they have the primary responsibility for adopting the healthy behaviour changes required for reducing their risk.
Use the prevention visit code – 14066 for discussions related to management of modifiable risks. Diagnostics codes that require a prevention focused advice include smoking (786), unhealthy eating and medical obesity (783), physically inactive (785).
Smoking: Promote smoking cessation and avoidance of second-hand smoke. Behavioral and pharmacotherapy interventions, alone or in combination, have been shown to improve rates of smoking cessation among the general adult population.49,50 Use a Screening, Brief Intervention and Referral to Treatment (SBIRT) approach.51 When talking to a patient about smoking: 1) Screen for use 2) Conduct a Brief Intervention by providing risks of behaviour 3) Assess for willingness to quit 4) Support behaviour change by connecting to resources or treatment.
For support to quit, refer patients to:
For more information on effective pharmacological aids for smoking cessation, refer to BC Smoking Cessation program.
Behavioural interventions for healthful diet and physical activity have been shown to generally improve participants' dietary intake and physical activity levels at 6 to 12 months of followup.56 Techniques such as motivational interviewing techniques and brief action planning, that promote collaborative engagement with the patient, are more effective than exercise prescription alone for patients to achieve their physical activity goals.
Diet: Encourage a well-balanced diet. There are many dietary pathways to achieve CV risk reduction such as the Mediterranean diet (which emphasizes fruits, vegetables, legumes, whole grains and olive oil, with moderate consumption of fish, dairy products, poultry and minimizing meats and sweets) or the Dietary Approaches to Stop Hypertension (DASH) diet.4
For assistance with personalized diet advice, refer patient to a dietitian at HealthLinkBC by telephone 8-1-1 or website: www.healthlinkbc.ca.
Alcohol Consumption: Screen for alcohol abuse. Use a Screening, Brief Intervention, and Referral for Treatment (SBIRT) approach.
Follow-up to Healthy Behaviour Modifications
Assess success of healthy behaviour intervention change at first follow-up.
Assess cardiovascular risk using lipid profile (non-fasting)
For those with elevated lipids from their initial risk assessment, they may be followed up with a lipid profile in 3 – 6 months. If elevated lipids are still a concern, consider pharmaceutical management.
Studies consistently demonstrate a 20-22% relative risk reduction for each 1 mmol/L reduction in low-density lipoprotein cholesterol (LDL-C).9 The absolute risk reduction is thus dependent upon the baseline risk and the baseline LDL-C, as statin treatment will provide a greater absolute LDL-C lowering in those with higher baseline values.2
Table 2. Lipids levels that may be considered elevated relative to a patient's risk level
Risk Level (Patient's risk level as determined by risk assessment tools such as FRS)
LDL-C (mmol/L) considered elevated level
Non-HDL-C (mmol/L)considered elevated level

ApoB (g/L)

An ApoB test is not part of the initial risk assessment, but may be used as follow-up test

High
≥ 2.0
≥ 2.6
≥ 0.8
Intermediate
≥ 3.5
≥ 4.2
≥ 1.05
Low
≥ 5.0
≥ 5.8
≥ 1.45
Both non-HDL-C and ApoB appear to be stronger predictors than LDL-C for major future cardiovascular events.2,57,58 Non-HDL-C may also be a better indicator of residual risk after statin therapy than LDL-C.59 ApoB is not available with lipid profiles unless diagnosis of complex dyslipidemia is indicated.
Pharmaceutical Management
Acetylsalicylic Acid (ASA) Therapy
ASA therapy in Primary Prevention: Evidence does not support the use of aspirin in low and intermediate risk patients. The evidence for use of aspirin in high risk patients is currently uncertain.5,60 Use of aspirin in people >75 may further heighten the risk of clinical significant bleeding.61
Statin Therapy
For those patients with DM, CKD, or Familial Hyperdyslipidemia, statin therapy is indicated along with healthy behaviour interventions. Table 3: Statin-Indicated Conditions below is adapted from CCS guidelines, 2016. 4
Table 3. Statin-Indicated Conditions4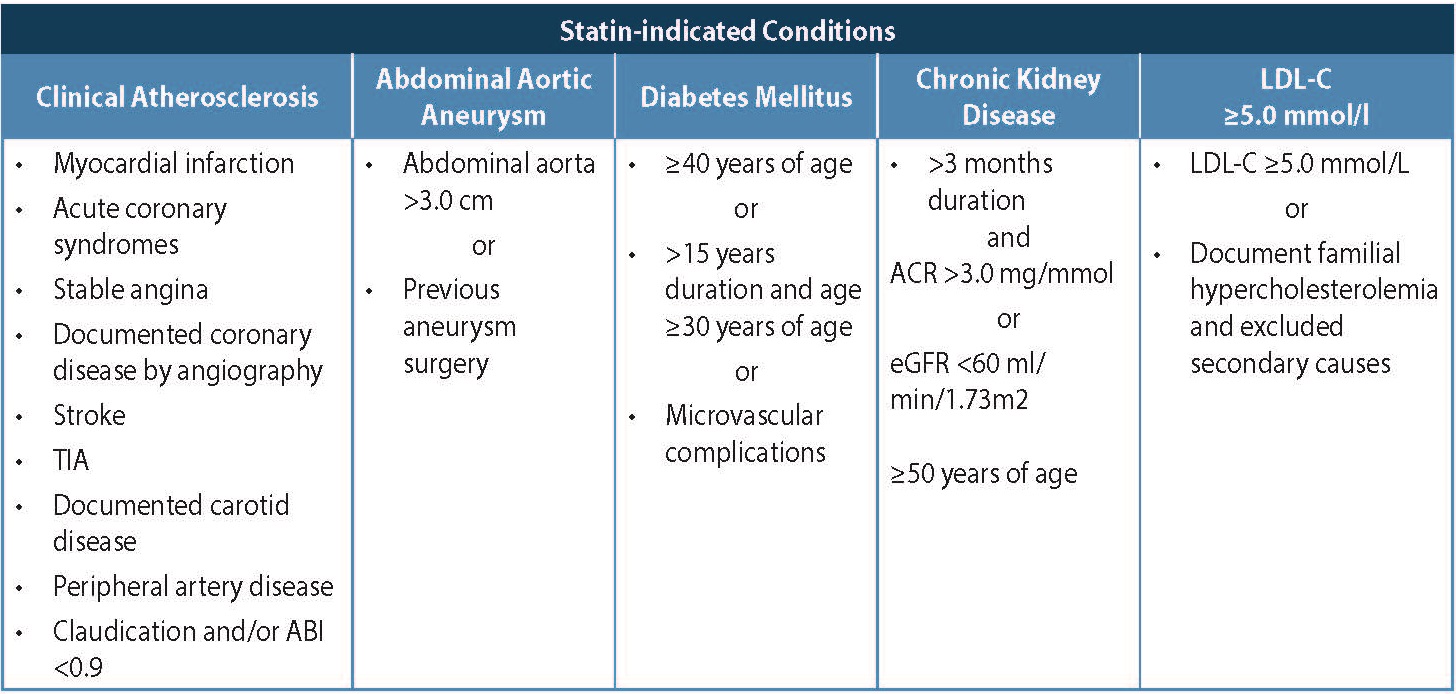 A patient-specific discussion regarding the potential risks and benefits of statin use should be undertaken. A recent Cochrane review assessed the benefit of statin therapy and reported that all cause mortality was reduced by statins; as was combined fatal and non-fatal CVD, combined fatal and non-fatal CHD events and combined fatal and non-fatal stroke. The review reported adjusted Number Needed to Treat (NNT) for 5 years was 96 for all cause mortality and 56 for fatal and non-fatal chronic heart disease.7 The decision for initiating statin therapy should not be based on lipid levels alone and should be based on cardiovascular risk assessment.62
Two tools to assist in individualizing this discussion include:
If statin therapy is decided upon, consider using a high potency statin (such as Atorvastatin or Rosuvastatin) considering efficacy and cost considerations. For dosages and adverse effects, refer to Appendix D: Pharmaceutical Table
Prior to the initiation of statin therapy:
inform the patient of adverse effects63–65 - effects may include muscle pain/myopathy/weakness, rhabdomyolysis, cataracts, elevated blood glucose and diabetes, acute renal failure, and liver injury;
educate the patient about any possible drug interactions with other prescribed medication, over-the-counter remedies and non-pharmaceuticals - consult a pharmacist or product monograph for a complete list; and
emphasize the importance of long-term compliance - it is estimated that 75% of primary prevention patients aged >65 years old started on statins stop their therapy within 2 years.66
Follow-up to Statin Therapy
Within 3 - 6 months of the initiation of statin therapy, follow-up with the patient. This may include:
Measure lipids with a non-HDL-C or an ApoB to assess patient adherence to statin therapy and any response to statin therapy (see Controversies in Care). A full lipid profile is not indicated. If both healthy behaviour intervention and a statin intervention have not been successful and lipids are still above target in the follow-up investigation, consider any other causes of elevated lipids (e.g., hypothyroidism, non-adherence).
Inquire about any adverse effects. The risk of statin-induced serious muscle injury, including rhabdomyolysis, is <0.1%, and the risk of serious hepatotoxicity is ≈0.001%.65 If muscle pain or weakness is reported in patients, measure CK. In asymptomatic patients, CK is not necessary. CK elevation is of concern only when it is significantly elevated (i.e., >5X)63
Measure liver transaminase enzyme (alanine aminotransferase (ALT)) only once within the first 3 months of starting statin. If a patient has elevated liver transaminase enzymes, (greater than 3X the normal) consider secondary causes.65
Further follow-ups as clinically needed. After the initial follow-up, routine monitoring of CK and ALT is not indicated for asymptomatic patients. More frequent routine monitoring with a full lipid profile, non-HDL-C or an ApoB is not considered necessary for the sole purpose of treat-to-target.

TOP
When to Refer Patients to a Specialist
Consider referral to a specialist when there is:
Difficulty reaching treatment targets despite maximum-tolerated lipid-lowering therapy.
Intolerance to or adverse effects of statin treatment. Statin intolerance needs to be well documented prior to referral.63

TOP
Controversies in Care
Statin Therapy in Primary Prevention
Both the Canadian Cardiovascular Society (CCS)4 and the American Heart Association (ACC/AHA)5 acknowledge that there is high interindividual variability in LDL-C levels attained with statin therapy. They agree that recent studies have demonstrated lower CVD event rates with moderate-intensity and high-intensity statin therapy that outweighed the observable risks.4,5,67 The 2016 USPSTF systematic review of statin therapy in primary prevention showed a reduced risk of all-cause and cardiovascular mortality and ASCVD events and noted greater absolute benefits in those at greater baseline risk.68 Both the CCS and ACC/AHA have recommended a more aggressive approach for statin use (see Table 4: Comparison of statin therapy recommendations between the CCS and ACC/AHA).
Table 4. Comparison of Statin Therapy Recommendations between the CCS and ACC/AHA

Criteria
CCS Recommendations
ACC/AHA Recommendations
Risk Assessment tool
FRS - low risk, intermediate risk, high risk.

Pooled Cohort Equations - elevated risk (≥7.5%), not elevated risk (≤7.5%).

The 7.5% approximately equates to a FRS score of 15% +/- 3% (depending on the risk factors).

Intermediate risk
Treat with statins based on FRS (10 - 19%0 if LDL-C ≥3.5 mmol/L.

Treat with statins based in Pooled Cohort Equations ASCVD risk ≥7.5% to <20% 10-year,

High risk
Treat with statins based on FRS (≥20%).
Treat with statins based on Pooled Cohort Equations ≥7.5%.
LDL-C ≥5 mmol/L
Treat with statins.
Treat with statins.
DM

Treat with statins for those age ≥40 years, >15-year duration for age ≥30 years (type 1 diabetes mellitus [DM]), or with the presence of microvascular disease.

Treat with statins if patient aged 40 to 75 years.
CKD or high risk HTN
Treat with statins.
No specific recommendation.
Statin Use for Primary Prevention in the Elderly Population
The CCS and the ACC/AHA guidelines both recommend discussion of statin use with elderly patients who are believed to be at higher risk.2,4,5,69 There are randomized controlled trials currently underway specifically assessing statins in primary prevention in this population.
Treatment Goals
Both the CCS4 and the ACC/AHA5 acknowledge there is controversy regarding the use of lipid treatment targets. This guideline is aligned with the current CCS (2021) recommendations in that treatment with maximally tolerated statins is recommended. If thresholds are not achieved add on therapy should be considered.

TOP
A number of clinical conditions contribute significantly to the risk of developing CVD.
Blood Pressure Control
Support healthy behaviour modifications, followed by the use of antihypertensive medications when appropriate, with consideration for the presence of other CVD risk factors.
For more information, refer to BCGuidelines.ca - Hypertension: Diagnosis and Management.
Diabetes Care
Support healthy behaviour modifications followed by the use of medications when appropriate to control blood glucose. DM is a major risk factor for CVD, but a patient with DM does not need to be automatically considered high risk for CVD. CCS defines a patient with DM high risk for CVD with age ≥40 years, >15-year duration for age ≥30 years (type 1 diabetes mellitus), or with the presence of microvascular disease. While the current FRS now includes diabetic status to individualize a type 2 DM patient's risk, use the United Kingdom Prospective Diabetes (UKPDS) risk calculator or table, website: www.dtu.ox.ac.uk/riskengine.
For more information, refer to BCGuidelines.ca - Diabetes Care.
CKD Management
In patients with CKD, the combination of simvastatin plus ezetimibe has shown benefit in reducing major atherosclerotic events when compared to placebo; however, no benefit on all-cause mortality has been demonstrated.70
For more information, refer to BCGuidelines.ca - Chronic Kidney Disease - Identification, Evaluation and Management of Adult Patients.
---
*BC Guidelines for these clinical conditions with effective dates before this one may not reflect the updates in this guideline (e.g., the addition of non-HDL-C as a measurement).

TOP
These guideline recommendations are tailored to support practice in British Columbia and are based on guidance by the Canadian Cardiovascular Society (CCS)2,4, American Cardiology/American Heart Association (ACC/AHA)5, European Society of Cardiology6. The guideline development working group used the AGREE II tool to assess the 6 domains and the overall guideline assessment. The working group looked at the three guidelines mentioned above carefully to identify the Scope of Purpose, Stakeholder Involvement, Rigor of Development, Clarity of Presentation, Applicability, Editorial Independence and made an assessment of the overall guideline quality. The AGREE II scores of the guidelines from the working group members showed some variation in domain scoring by individual members but overall agreement of the variation in the quality of these guidelines. The team gained a significant appreciation of both the methodology behind the three guidelines as well as the content and were able to use information from all of them in the GPAC guideline development. The working group started with the draft of the previous version of the GPAC guideline and studied the recommendations from the other three groups to inform this updated version. Where available, key references are provided. In situations where there is a lack of rigorous evidence, we provide best clinical opinion to support decision making and high-quality patient care. The guideline development process included significant engagement and consultation with primary care providers, specialists and key stakeholders, including the Provincial Laboratory Medicine Services. For more information about GPAC guideline development processes, refer to the GPAC handbook available at BCGuidelines.ca.
Resources
References
Abbreviations
ACC/AHA American Heart Association
ACR Albumin-to-Creatinine Ratio
AGREE II Appraisal of Guidelines for Research & Evaluation Instrument
ALT Alanine Aminotransferase
ApoB Apolipoprotein B
ASA Acetylsalicylic Acid
ASCVD/CVD Atherosclerotic cardiovascular disease
BAP Brief Action Planning
BMI Body Mass Index
CAC Coronary Artery Calcium
CCS Canadian Cardiovascular Society
CK Creatine Kinase
CKD Chronic Kidney Disease
CLEM Cardiovascular Life Expectancy Model
DASH Dietary Approaches to Stop Hypertension
DM Diabetes Mellitus
eGFR Estimated Gomerular Filtration Rate
ePARmed-X+ Electronic Physical Activity Readiness Medical Examination
FH Familial hypercholesterolemia
FPG Fasting Plasma Glucose
FRS Framingham Risk Score
HDL–C High Density Lipoprotein Cholesterol
HIV Human Immunodeficiency Virus
hsCRP High-Sensitivity C-Reactive Protein
HTN Hypertension
LDL-C Low Density Lipoprotein Cholesterol
Lp(a) Lipoprotein(a)
NNT Needed to Treat
PAR-Q+ Physical Activity Readiness Questionnaire for Everyone
PCSK9 Proprotein Convertase Subtilisin/Kexin 9
PUFA Poly Unsaturated Fatty Acids
SBIRT Screening, Brief Intervention and Referral to Treatment
TC Total Cholesterol
TG Triglycerides
USPSTF U.S. Preventive Services Task Force
Practitioner Resources
For practitioners, refer to Associated Document: Resource Guide for Practitioners – Tools for Primary Prevention of Cardiovascular Disease.
Canadian Cardiovascular Society Pocket guide: quick-reference tool that features diagnostic and treatment recommendations based on the CCS Dyslipidemia Guidelines (2006, 2009, 2012 and 2016).
RACE: Rapid Access to Consultative Expertise Program – www.raceconnect.ca
A telephone consultation line for select specialty services for physicians, nurse practitioners and medical residents. If the relevant specialty area is available through your local RACE line, please contact them first. Contact your local RACE line for the list of available specialty areas. If your local RACE line does not cover the relevant specialty service or there is no local RACE line in your area, or to access Provincial Services, please contact the Vancouver/Providence RACE line.
Pathways – PathwaysBC.ca
An online resource that allows GPs and nurse practitioners and their office staff to quickly access current and accurate referral information, including wait times and areas of expertise, for specialists and specialty clinics. In addition, Pathways makes available hundreds of patient and physician resources that are categorized and searchable.

General Practice Services Committee – www.gpscbc.ca
Practice Support Program: offers focused, accredited training sessions for BC physicians to help them improve practice efficiency and support enhanced patient care.
Chronic Disease Management and Complex Care Incentives: compensates GPs for the time and skill needed to work with patients with complex conditions or specific chronic diseases.
Health Data Coalition: hdcbc.ca
An online, physician-led data sharing platform that can assist you in assessing your own practice in areas such as chronic disease management or medication prescribing. HDC data can graphically represent patients in your practice with chronic kidney disease in a clear and simple fashion, allowing for reflection on practice and tracking improvements over time.
HealthLinkBC: healthlinkbc.ca
HealthLinkBC provides reliable non-emergency health information and advice to patients in BC. Information and advice on managing chronic kidney disease in several languages is available by telephone, website, a mobile app and a collection of print resources. Patients can speak to a health services navigator, registered dietitian, registered nurse, qualified exercise
professional, or a pharmacist.
Patients may call 8-1-1 toll-free in B.C., or for the deaf and the hard of hearing, call 7-1-1.
Diagnostic Codes
Prevention visit code – 14066
Smoking – 786
Unhealthy eating and medical obesity – 783
Physically inactive - 785
Appendices
Associated Documents
Resource Guide for Physicians - Tools for Primary Prevention of Cardiovascular Disease
This guideline is based on scientific evidence current as of the effective date.
This guideline was developed by the Guidelines and Protocols Advisory Committee in collaboration with the Provincial Laboratory Medicine Services, and adopted under the Medical Services Act and the Laboratory Services Act.
For more information about how BC Guidelines are developed, refer to the GPAC Handbook available at BCGuidelines.ca: GPAC Handbook.
THE GUIDELINES AND PROTOCOLS ADVISORY COMMITTEE
The principles of the Guidelines and Protocols Advisory Committee are to:
encourage appropriate responses to common medical situations
recommend actions that are sufficient and efficient, neither excessive nor deficient
permit exceptions when justified by clinical circumstances
Contact Information:
Guidelines and Protocols Advisory Committee
PO Box 9642 STN PROV GOVT
Victoria, BC V8W 9P1
Email: hlth.guidelines@gov.bc.ca
Website: www.BCGuidelines.ca
Disclaimer
The Clinical Practice Guidelines (the "Guidelines") have been developed by the Guidelines and Protocols Advisory Committee on behalf of the Medical Services Commission. The Guidelines are intended to give an understanding of a clinical problem, and outline one or more preferred approaches to the investigation and management of the problem. The Guidelines are not intended as a substitute for the advice or professional judgment of a health care professional, nor are they intended to be the only approach to the management of clinical problem.
We cannot respond to patients or patient advocates requesting advice on issues related to medical conditions. If you need medical advice, please contact a health care professional.