Access your health records with Health Gateway
Health Gateway provides secure and convenient access to your health records. Anyone 12 years or older can use it.
---
Last updated: March 3, 2023
On this page
---
Choose web or mobile
Web: Go to healthgateway.gov.bc.ca
Mobile: Download the app to your mobile phone, tablet or iPad.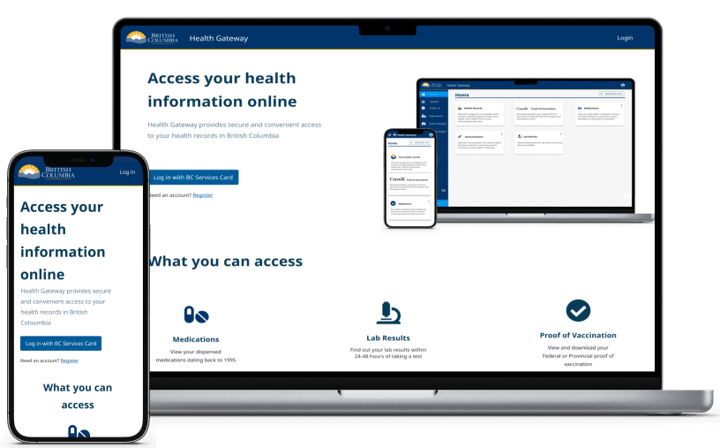 ---
Log in securely
You will need to prove who you are when you log in. You can:
or
---
What you can find in Health Gateway
Find your health information in one place from databases across B.C. Here are some examples:
Lab results
Find results for blood tests, cervix or colon cancer screenings, COVID-19 test results, and other lab tests done in B.C. Results are available back to 2019.
Most lab results are available about 2 to 3 days after your test. Pathology tests, like a tissue biopsy, are available within a few weeks after your test. This gives your health care provider time to review and interpret the results.
---
Medications
Look up what medications you got from B.C. pharmacies. Information is available back to 1995. You can check the drug manufacturer, dosage and directions for use.
---
Immunization history
View immunizations you received from B.C. public health clinics or pharmacies since 2009. Export and print them for school registration or other places that require it.
Health Gateway only shows vaccination records that are in the Provincial Immunization Registry.
Update your immunizations
You can add missing or out-of-province vaccinations.
---
Health visits
Get a list of your clinic visits and procedures, including the date, provider and location. Any health visits billed to the BC Medical Services Plan (MSP) in the past 7 years are shown.
---
Hospital visits
Get a summary of your hospital visits since 2021, including the date, provider and location. Interior Health Authority visits are not available yet.
---
Special Authority requests
Check if your Special Authority request for coverage of a drug, medical supply or device has been processed and approved. Requests submitted since March 2021 are included.
---
COVID-19 proof of vaccination
Download your federal proof of vaccination or BC Vaccine Card. Have your proof ready for travel or to access events and services that require it.
You can also get proof of vaccination for you or your family without logging in at healthgateway.gov.bc.ca/vaccinecard
---
Get help or share feedback
You can:
---
Materials for health professionals
If you work in health care, you can download and print Health Gateway materials to share with the public. Find out what's available.