Access your health records with Health Gateway
Health Gateway provides secure and convenient access to your health records. Anyone 12 years or older can use it.
Last updated: September 22, 2022
On this page:
---
Choose web or mobile
Web: Go to healthgateway.gov.bc.ca
Mobile: Download the app to your mobile phone, tablet or iPad.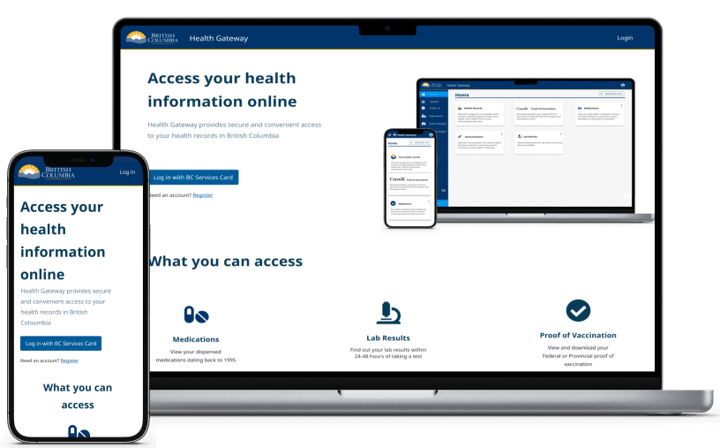 ---
Log in securely
You will need to prove who you are when you log in.
or
---
What you can find in Health Gateway
Health Gateway helps you keep track of what's important to you and your health. It provides your health information in one place from databases across B.C. Here's some of the information you can get:
Lab results
Find results for blood tests, cervix or colon cancer screenings and other lab tests done in B.C. Results are available back to 2019.
Most lab results are available about 2 to 3 days after your test. Pathology tests, like a tissue biopsy, are available about 7 to 10 days after your test. This gives your health care provider time to review and interpret the results.
---
Medications
Look up what medications you got from B.C. pharmacies. Information is available back to 1995. You can check the drug manufacturer, dosage and directions for use.
---
Immunization history
View immunizations you received from B.C. public health clinics or pharmacies. Parents and guardians can also add a dependent on the Health Gateway website to see immunizations for their children 11 years and younger. You can print them for school registration or other places that require it. This option is not available on the mobile app yet.
Health Gateway only shows vaccination records that are in the Provincial Immunization Registry.
This includes vaccinations from public health clinics and pharmacies in B.C. If you got vaccinated at a pharmacy, try searching your medications, too
It does not include vaccinations from family practices or travel clinics
Add or update your immunization records
Add or update your immunization records. Your information will be reviewed by a health care professional
---
Health visits
Look up consultations or procedures. Keep track of details by making your own private notes on records. Only health visits billed to the BC Medical Services Plan (MSP) are included.
---
Special Authority requests
Check if your Special Authority request for coverage of a drug, medical supply or device has been processed and approved. Requests submitted since March 2021 are included.
---
COVID-19 PCR test results
Access COVID-19 test results as soon as they're available.
Sign up for notifications to get a text or email when your results are ready
Parents and guardians can add a dependent to their Health Gateway account so that they can access COVID-19 test results for their children 11 years old and younger
Visit the BC Centre for Disease Control (BCCDC) website to see all available options for getting a test result
---
COVID-19 proof of vaccination
Download your federal proof of vaccination or BC Vaccine Card. Have your proof ready for travel or to access events and services that require it.
You can also get proof of vaccination for yourself or your family without logging in.
Update your COVID-19 vaccine record
Add a COVID-19 vaccination from outside of B.C. or correct an error in your COVID-19 vaccination record.
---
Create a Health Gateway account and log in
Step 1: Go to the Health Gateway website
Visit healthgateway.gov.bc.ca. You can use a mobile device or a personal computer.
Note: Internet Explorer is not supported.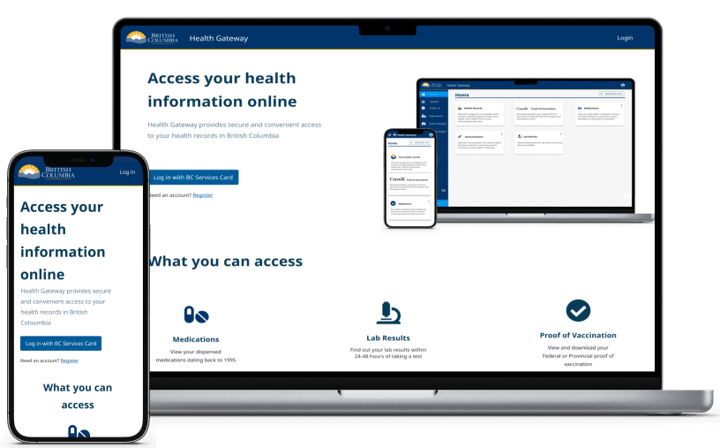 ---
---
Step 3: Choose your preferences and accept the terms of service
Choose how you would like Health Gateway to let you know when a COVID-19 test result is available.
After you accept the terms of service, you can access your Health Gateway account.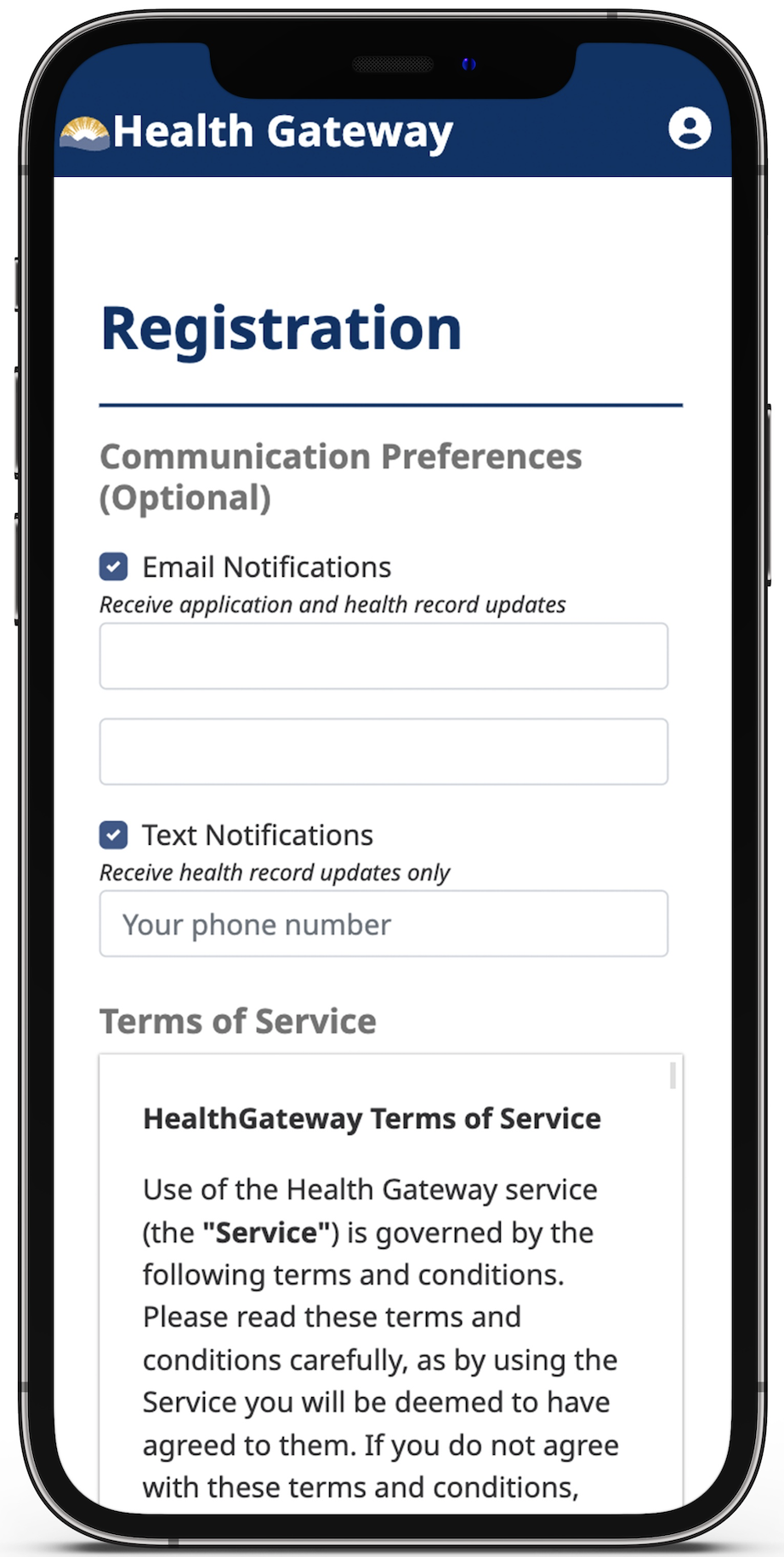 ---
Share feedback or ask for help
---
Resources for health professionals
If you work in health care, you can download and print Health Gateway materials to share with the public. Find out what's available.