Health Gateway resources for health professionals
Last updated: October 24, 2023
Health Gateway materials:
Use the materials below to help raise awareness about Health Gateway.
You can:
print and share with patients, or
show on a television screen in a patient waiting area.
Poster (11x17 inches)
Flyer (8x11 inches)
Brochure (3.9x8.3 inches)
TV Screen Display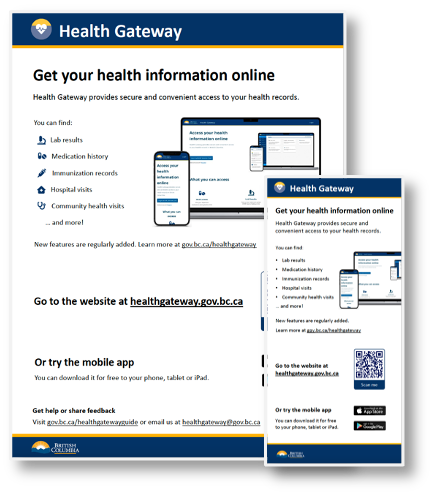 ---
Latest features in Health Gateway:
November 30, 2023 - Health Gateway is excited to announce patients now have access to diagnostic imaging reports from public sites in all BC Health Authorities.
For more information see:
---
Contact us
Send your ideas or feedback to HealthGateway@gov.bc.ca