Service Journey Builder
If you have Service page(s) in CMS Lite.
What's Changed:
We have added new functionality for authors to be able to specify the length to process services, distinguishing it from the time to complete the application process. Additionally, we've added flexibility in how these values are defined in the CMS Lite Service template, allowing for custom number entry as well as time values ranging from seconds to years. These fields are still optional.
** If you have a published Service page with a 'Time to Complete' value, you must Publish the page again or your Time to Complete details on the rendered gov.bc.ca page will not be displayed.
Note:
Due to the nature of this change, page history on the previous template will not be carried forward. Page history moving forward will operate as normal.
To take advantage of this functionality, you will need to:
Open your CMS Lite Service page(s)
Save the page. This will log a history mark for the page moving forward.
Go to the Banner section under the Chapters tab
Add Time to Complete and/or Time to Process values (neither are mandatory fields)
Save or Publish
The new buttons you'll see in the CMS Lite Service template:
Creates these fields:

Looks like this when rendered:
One field: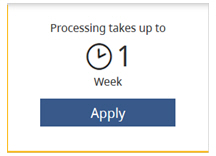 Two fields:
If you have any questions, please contact our Service Desk at GDX.servicedesk@gov.bc.ca / 250 387-7573.