Navigation & Search Tips
Overview
Last Updated: May 2, 2016
The Top Navigation is consistent across all web pages, and is where users can search and find information across all Gov BC content and resources.
The Left Section serves as a Table of Contents for navigating the BCEA Policy and Procedure Manual. Information is organized into categories. Click on a category to expand its related topics, and click on a topic to see its contents.
The Center Section shows the main content of a policy topic, which includes the topic overview, policy, procedures, authorities and responsibilities, and frequently asked questions.
The Right Section provides links

to relevant acts and regulations, definitions, rate tables, resources and contacts.
---
Using Enhanced Search
Last Updated: May 2, 2016
Click Search the BCEA Manual on the left section to search the BCEA Policy and Procedure Manual. The improved search function features:
Suggestions for similar or mistyped search queries
Results sorting by date or relevance
Option to expand search to all of Gov BC

In addition, the search function will have ​Enhanced Search Facets. These are BCEA content-specific filters to further narrow search results (note: feature is currently in development).
---
Frequently Asked Questions
Last Updated: May 2, 2016
How do I find the BCEA Policy and Procedure Manual from the Gov BC homepage?
From the main BC Gov homepage, click the Menu icon on the upper left and select British Columbians & Our Governments
Click Services & Policies for Government from the dropdown menu
Click BC Employment & Assistance Policy and Procedure Manual in the next page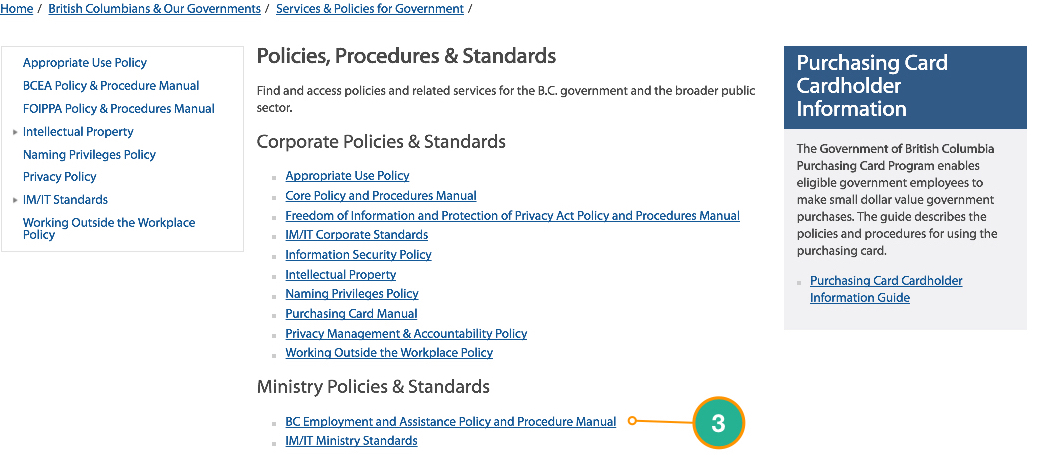 In your browser window (Google Chrome in this example), click File. Then click Print... (shortcut: Ctrl+P for PC, Cmd+P for Mac) from the dropdown menu
Click More Settings to view and set print options.

Tip - to print only a selection, first highlight the text or section you want to print, then check the box Selection Only

Click Print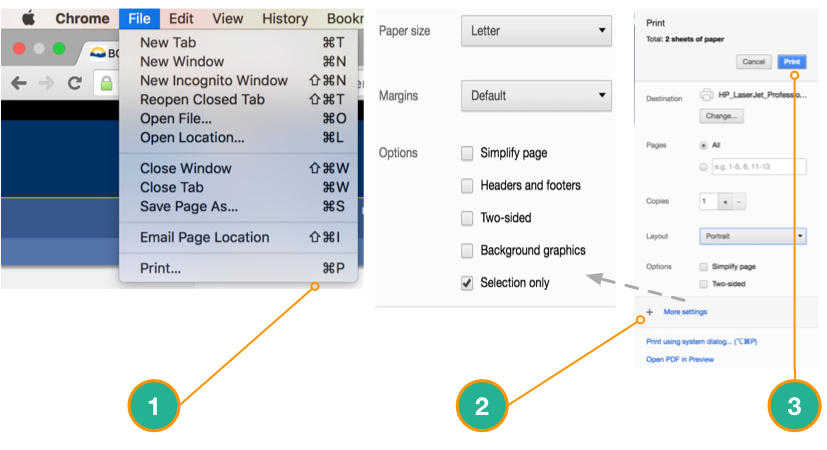 How do I find specific information on a webpage in the BCEA Policy & Procedure Manual ?
Expand all the accordions in order to make a comprehensive search
In your browser (Google Chrome in this example) window, press Ctrl + F (PC) or Cmd + F (Mac) and type your search term i.e., "application"

your browser will highlight all matches on the current webpage