Historical Sites & Artifacts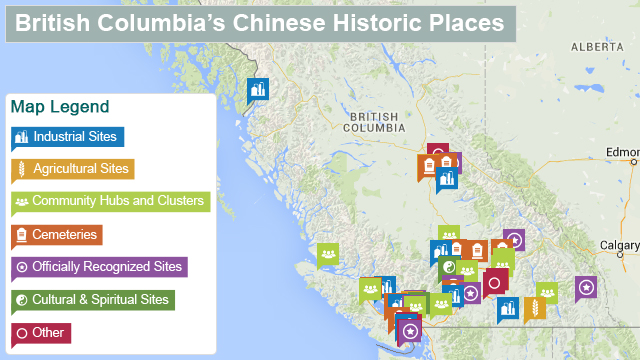 Visit HeritageBC's Interactive Map to learn about the nominated Chinese Historical Sites across British Columbia.
Recognition of sites with historical significance to Chinese-Canadians will serve as an opportunity to celebrate British Columbia's diversity, and recognize and acknowledge the contributions of Chinese Canadians in British Columbia – both past and present – to the prosperity and diversity of the province.
Historical sites and Artifacts projects will support the identification and recognition of historical sites, artifacts and culturally important locations to commemorate the history of Chinese Canadians in British Columbia, and is comprised of three components:
Historic Places: This project will support the official recognition of places on both the B.C. Register of Historic Places and the Canadian Register of Historic Places (www.historic places.ca) that have significance to Chinese Canadians and outstanding provincial heritage value.
Fraser Corridor Heritage Landscape Project: This study explores the rich cultural landscape of Chinese Canadian mining sites from the 1800s along the Fraser River system.
Artifacts Inventory: The B.C. government is working in partnership with the University of Victoria, the B.C. Museums Association and select local and regional museums across the province to create the first-ever computerized inventory of Chinese historical records and artifacts in B.C., which will showcase the rich cultural history of Chinese Canadians in the province.