Youth Advisory Council
The B.C. Provincial Director of Child Welfare's Youth Advisory Council (YAC) is a group of empowered youth who use their lived experience with the government care system to improve the quality of care for B.C. children and youth.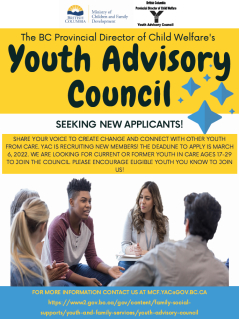 The Council is made up of members from across the province between the ages of 17 to 29. Members are either former or current youth in care.

YAC members are non-government employees who provide recommendations about services and policies that affect children, youth, and families in B.C. Members consult with the Ministry of Children and Family Development, other government ministries, and other organizations.
YAC members sign a 1-year term and have the option to continue with the council for three years.
YAC Core Beliefs
YAC is committed to involving children and youth in decision-making that effects their lives as per Article 12 of the UN Rights of the Child;
YAC is committed to including voices of youth in our strategic plans, policies and services;
YAC acknowledges youth are the experts on their lives. Their perspectives are vital to improving services for children, youth and families in B.C.
Calling all YAC Members: "Amplify your Voice" Survey - Extended to March 18, 2022
Share your experiences, impacts and ideas for improving the Ministry for Children and Family Development (MCFD)​'s Youth Advisory Council so that, in turn, the Council is supported and empowered to help strengthen services for children, youth, and families.
Small gift provided to honour your time. Complete the YAC Current/Alumni Member Survey by March 18, 2022. Contact Strategic Research at mcfdresearch@gov.bc.ca for more information.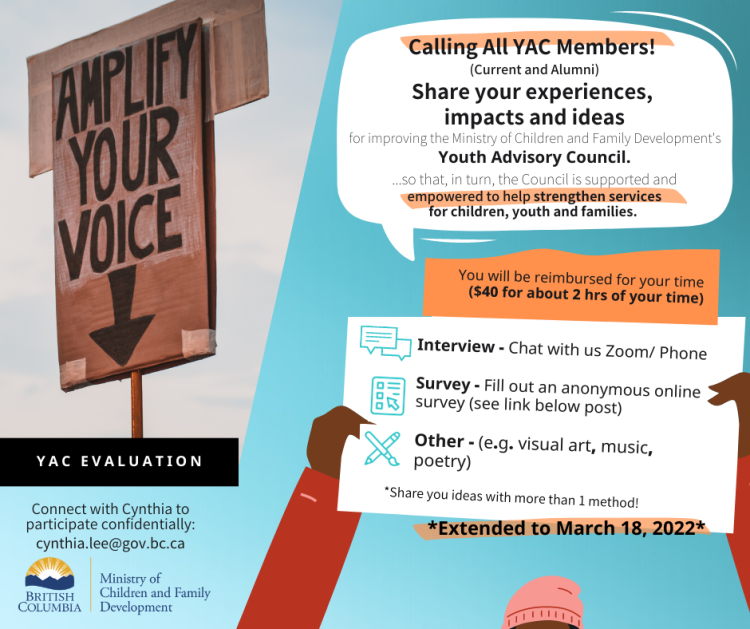 Benefits of Becoming a YAC Member
Being part of the Youth Advisory Council provides valuable work experience and leadership opportunities, as well as the chance to connect with other YAC members. YAC members are paid for time spent in meetings, working on projects, and consultations. YAC members are offered training and mental health support to provide them with the skills they need to succeed.
Eligibility to Apply for YAC
Youth interested in joining the Youth Advisory Council must:
Be between the ages of 17 and 29
Have experience being in government care* for at least 24 months and
Have a passion for improving the system of government care for children, youth, and families.
Please contact the Youth Advisory Council at mcf.yac@gov.bc.ca for more information.
​* Government Care includes Youth Agreements, Independent Living Agreements, Temporary Care Orders, Continuing Custody Orders, and/or Agreements with Young Adults (AYA). Please reach out to your current/most recent social worker, foster parent, or ministry office if you are unsure which category you call under.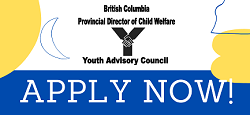 ​