Goals, activities, and commitments of the B.C. Lake Stewardship and Monitoring Program
Program goals
To inspire, promote and support engaged volunteer watershed stewardship across the Province of B.C.
To build and maintain a volunteer lake monitoring program that shares knowledge to better understand, protect and sustain our aquatic resources
To develop, promote and support partnerships with volunteers, local stewardship groups and BC Lake Stewardship Society to provide a coordinated approach to volunteer monitoring
To establish and maintain a baseline of data from lakes to facilitate long term lake management
To educate volunteers, lake residents and lake users on lake health, best management practices for watershed protection and the control and prevention of invasive species
To facilitate regular reporting of volunteer collected data to inform lake residents and users, as well as the public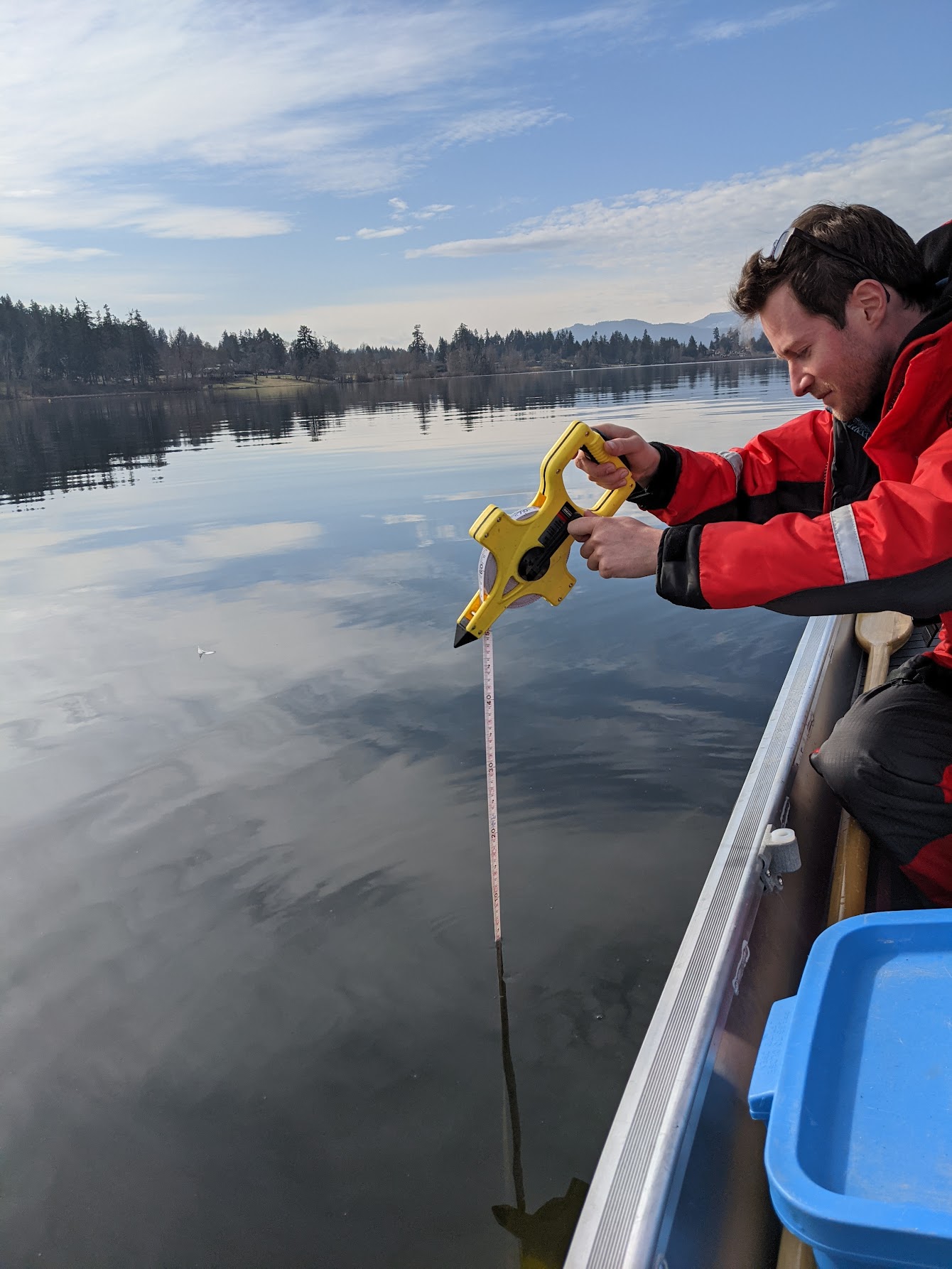 Ministry staff member using a Sechhi disk to measure water clarity.
Overview of core program activities
Our commitments to volunteers
Volunteers commit to a minimum of 12 monitoring events per year for a 3 year period. The amount of time and effort contributed by volunteers is greatly appreciated as it allows Ministry staff to make use of limited resources while continuing to learn and understand the health of our lakes across the province.
Ongoing support
In return for the commitment that volunteers are making, the Ministry commits to providing consistent and ongoing support to all volunteers and stewardship groups throughout their participation in the program.
Access to lake data
The Ministry will also review the data on an annual basis and make the data accessible to volunteers and the public through the B.C. Lake Monitoring Portal.
Lake summary reports
At the completion of each monitoring program, the Ministry commits to providing a complete 3 year data summary report that includes:
Interpretation of the lake data
A determination of the lake's trophic status
As well as recommendations for future monitoring and lake management
Finally, the Ministry will ensure that lake summary reports are delivered directly to volunteers and stewardship groups. All reports are made available to the general public through the BC Lake Stewardship Society library.
---