B.C. Air Quality Contacts
Comments About This Website
If you have a comment or concern about the air quality content on this website please send us an e-mail at bcairquality@gov.bc.ca
Air Quality Complaints
For air quality complaints, please visit Report All Poachers and Polluters to report a violation online (e.g. open burning garbage) or call the 24-hour RAPP line: 1-877-952-7277.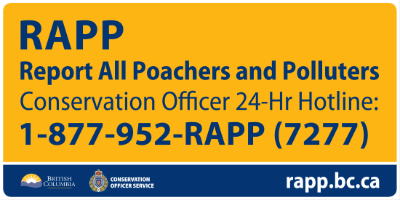 Complaints about Air Discharge
For complaints concerning all Waste Discharges: send a detailed email to environmentalcomplaints@gov.bc.ca - the email subject line should include: location (preferably region) and nature of the complaint (e.g. Okanagan: smoky discharge from sawmill XXX).