BC Major Projects Inventory
The BC Major Projects Inventory (MPI), published quarterly, provides summary information on major projects in the Province of British Columbia. The MPI includes a listing of private and public sector construction projects in B.C. with an estimated capital cost of $15 million (Can.) or greater (Read more...)
Highlights of the Q4 2016 Issue: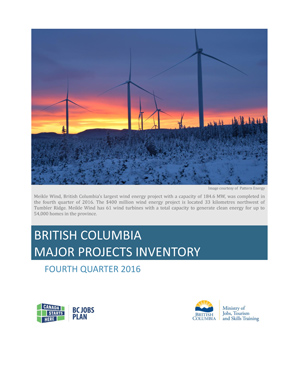 This issue of the B.C. Major Projects Inventory lists 27 new proposed projects over $15 million (M) for the fourth quarter of 2016, with available capital cost estimates totaling approximately $845 M in potential new capital investment, if all the projects proceed. In comparison, the total cost for new potential projects in the third quarter of 2016 was $1.2 billion (B).
The total estimated capital cost of all 922 major projects decreased slightly in the fourth quarter of 2016, totalling $436.9 B, representing a 3.4 percent decline over the fourth quarter of 2015. Note that the total capital cost is the combined estimated value of projects identified as proposed, construction started, completed, and on hold.
There are 341 projects currently under construction in B.C., representing an estimated capital cost of $75.1 B, down slightly from the $76.6 B reported in the third quarter of 2016. Seventeen major projects started construction in the fourth quarter, with an estimated total value of $1 B. Among the larger projects started are the $500 M Burrard Place Mixed Use Development in Vancouver, the $126 M Simon Fraser University - Energy Systems Engineering project in Surrey, and the $76 M South Fraser Transmission Relocation Project in Richmond.
Nineteen projects completed construction in the fourth quarter, with an estimated capital cost of $2.9 B compared to $2.2 B in the third quarter. The largest project is the $1.4 B Evergreen Line of the Skytrain in Vancouver, followed by the $750 M Telus Garden Communications Centre in Vancouver.
The available capital cost of the 476 proposed projects is estimated at $325.3 B, slightly down from $325.4 B in the previous quarter. Approximately $33.6 B of projects are judged to be 'on hold' for the time being, consistent with the previous quarter.
All capital costs in this report are estimates and therefore subject to change. This is particularly applicable in the early stages of a project proposal. Some capital costs are not included because they were not available at press time or the developer or owner requested that no capital cost be shown. Many major project proposals listed are in very preliminary stages and are not approved for construction, therefore capital cost estimates should be viewed with caution.
Information to Readers
The Major Projects Inventory (MPI) is a listing of private and public sector construction projects in the Province of British Columbia.
The MPI lists construction projects in B.C. valued at $15 million or greater ($20 million or greater in the Lower Mainland) including a status category: Proposed, Under Construction, Completed, or On Hold. Project information is obtained from public and private information sources.
While effort is made to maintain a comprehensive project listing that includes the most current information, it is important to note that projects are constantly being added and re-evaluated by industry. Not all major projects are included in the MPI: Projects must be known to be included, and some project information is not published for reasons of confidentiality.
For more information on the BC Major Projects Inventory, please email: EconomicDevelopment@gov.bc.ca