Highway 16 Transportation Action Plan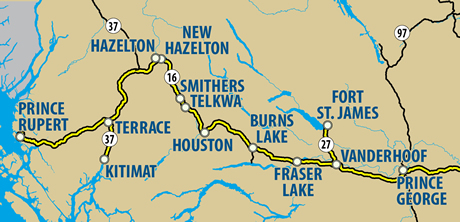 The Ministry of Transportation and Infrastructure has committed $10.2 million through 2024/25 in provincial and federal funding for the Highway 16 – Five Point Action Plan. The Action Plan is improving safe transportation along Highway 16 for First Nations and other people.
The five elements of the Action Plan are described in more detail below.
---
The Province has committed $4.2 million on a cost-shared basis with local communities, to expand BC Transit services that travel between cities.
Four services began in 2017 and allow people to travel to their next largest community and return home the same day:
In 2020 approximately 1,500 people used these services each month.
The Community Vehicle Program has allocated $2.6 million to 12 community transportation services to assist in purchasing vehicles and to provide four years of operational support. These safe, reliable vehicles are providing more than 3,000 rides per month to people who live and work in the north. These 12 services are:
For general information about the Community Transportation Grant Program, please contact CTGP@gov.bc.ca.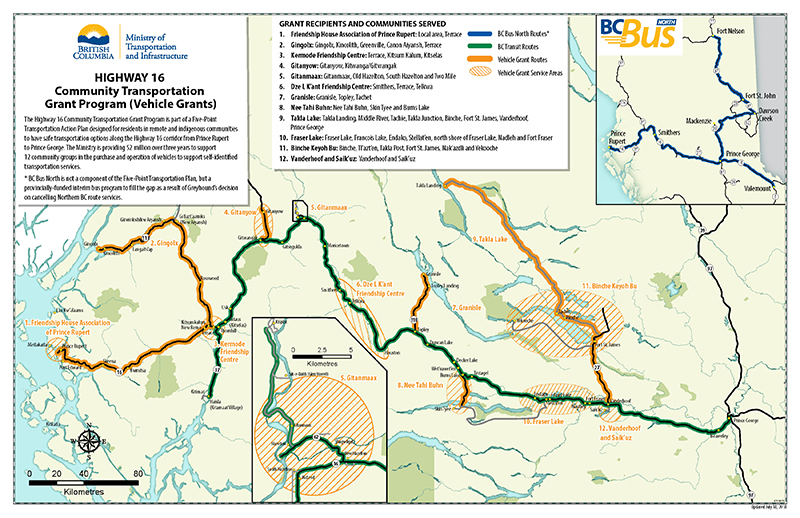 A Drivers Education program along Highway 16 has so far helped over 200 Indigenous people obtain their Class 7 (Learners and Novice) and Class 5 driver licences. It is also helping many to learn to drive commercial vehicles (Class 4).
The ministry is working with other ministries to build on previous work to deliver Indigenous drivers' education.
The Province, through the Ministry of Advanced Education and Skills Training and the Ministry of Social Development and Poverty Reduction, has partnered with the federal government for additional Indigenous drivers' education along Highway 16.
$1.5 million has been spent for highway webcams, bus shelters, and highway pull outs so buses can stop on the side of the road. This includes:
Twelve new web cameras which will support safety
15 all-weather bus shelters
Six traveler shelters for the 12 Community Vehicles
There are a number of transportation services along Highway 16. Some are private (i.e. taxi, ride hailing), some are not-for-profit (i.e. senior's shuttles, Friendship Center buses) and others are public (i.e. BC Bus North, Northern Health Connections).
A collaboration working group was formed to help coordinate these services and to link schedules. The group includes: