Highway 16 Transportation Action Plan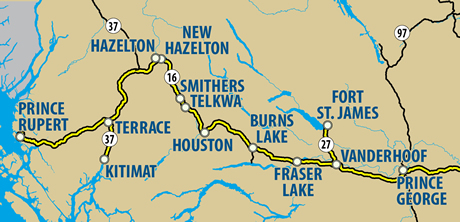 The Five Point Transportation Action Plan is improving access to safe transportation options along Highway 16, enabling residents of First Nations communities and other residents to travel safely between communities in the corridor from Prince Rupert to Prince George. The Ministry of Transportation and Infrastructure has committed $8.1-million in provincial and federal funding for the Highway 16 Transportation Action Plan.
The five elements of the action plan are described in more detail below.
Transit expansion
The Province has committed $4.2 million on a cost-shared basis with local communities, for the expansion of inter-community BC Transit services along Highway 16 from Terrace to Prince George.

Four new BC Transit inter-community routes have been implemented in collaboration with local and regional governments.
The new transit service allows people to travel to their next largest community and return home the same day.
Over 1,000 passengers are using these new inter-city services each month.
For more information see BC Transit for What's Happened So Far


Community transportation grant program to purchase and operate vehicles
The Community Transportation Grant Program supports 12 community services along the Highway 16 corridor by funding the purchase of vehicles and their operation over three years on a cost-shared basis. These grants are for communities to support community-based transportation programs operated by First Nations, local governments or non-profit organizations and are worth $2 million for the purchase ($750,000) and three years of operation ($1.2 million). Currently, over 2,700 rides are provided in total each month as part of this program.
The communities and organizations that have received funding through the Community Transportation Grant Program are included below along with contact information.

Binche Keyoh Bu Society (250 648-3232)
Dze L K'ant Friendship Centre (250 847-5211 / 250 845-2131)
Village of Fraser Lake (250 699-6257)
Friendship House Association of Prince Rupert (250 627-1717)
Gitanyow Human Services (250 849-5572)
Village of Granisle (250 697-2248)
District of Vanderhoof - Saik'uz (250 567-4711)
Gingolx Village Government (250 326- 4212)
Gitanmaax Band (250 842-5297)
Kermode Friendship Society (250 635-4906)
Nee Tahi Buhn Indian Band (250 694-3494)
Takla Lake First Nation (

250 564 9321

)
For general information about the program please contact 236-478-0232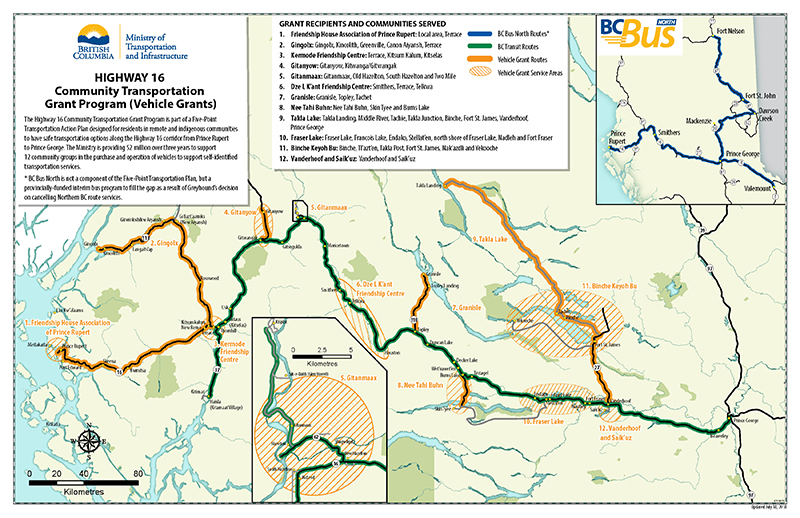 First Nations driver education program
With $400,000 in joint funding from the Ministry of Indigenous Relations and Reconciliation and the Ministry of Transportation and Infrastructure, the First Nations driver education program builds upon an existing driver training/education program to increase the number of Class 4 and Class 5 drivers in First Nations communities along the Highway 16 corridor. This includes initial training for Class 7 (Learners and new drivers) to place students into the Graduated Licensing Program.

The First Nations Driver Education Program is being delivered by Carrier Sekani Family Services (CSFS).
Driver education and training is being offered in communities throughout the corridor.
Over 190 students have participated in training


Highway infrastructure safety improvements including webcams and transit shelters
This component of the plan includes $1.5 million ($1 million federal) in funding for highway webcams and transit-style shelters, which includes infrastructure for vehicles to stop safely at the shelters (e.g., pull outs).

The ministry has installed twelve new web cameras which will help increase the safety and visibility of pedestrians and motorists along Highway 16.
The ministry has installed 15 all-weather bus shelters.
The ministry also completed the Bear Road at Highway 16 shelter site preparation in Prince George and helped the City of Terrace procure and install four shelters.
In addition, six traveler shelters have been installed to support the community vehicle grant program.


Collaboration to increase interconnectivity of services
Increased coordination of existing transportation services through BC Transit, Northern Health, not-for-profit organizations and private service providers, including efforts to better synchronize schedules and expand user eligibility criteria.

The collaboration working group is continuing to review existing schedules against new transportation services being offered, including the new community vehicle grant recipients, to maximize transportation access and opportunities.
The ministry, Northern Health Authority (NHA) and First Nations Health Authority use integrated GIS mapping to examine medical transportation needs and patterns, to better coordinate medical transport services for people in First Nations communities. This includes boosting public awareness about existing medical transport services, and looking at ways to maximize services and schedules, to carry more passengers to hospitals and medical appointments.
NHA has confirmed that 100% of their drivers for the Northern Health Connections bus have completed the indigenous cultural competency training offered by the Provincial Health Services Authority.