What happens during a flood

If a flood is about to happen, the most important thing you can do is follow all evacuation alerts and orders and follow all instructions from your band office, municipality, regional district or local authority.
On this page
---
Flood advisories and warnings
The River Forecast Centre issues advisories and warnings about current or expected flood risks. There are three stages of notification. These advisories and warnings can be found on the River Forecast Centre website. You can also follow @EmergencyInfoBC on X (formerly Twitter) to get notifications for Flood Watches and Flood Warnings.
High streamflow advisory
River levels are rising or expected to rise rapidly, but no major flooding is expected. Minor flooding in low-lying areas is possible.
Flood watch
River levels are rising and will approach or may exceed the river bank. Flooding of areas adjacent to affected rivers may occur.
Flood warning
River levels have exceeded the river bank or will exceed the river bank imminently, and flooding of areas adjacent to affected rivers will result.
---
Evacuation stages
Learn about what happens during an evacuation including before, during, and after an evacuation order is issued.
---
How to build a sandbag dike
You can prevent or reduce flood damage to your home by building a sandbag dike. It takes two people about one hour to fill and place 100 sandbags, giving you a 1-x-20-foot wall. Contact your local government for information on obtaining sandbags.
Bags required per 100 linear feet of dike:

| Height above dike | Bags required |
| --- | --- |
| 1/3 metre | 600 |
| 2/3 metre | 2,000 |
| 1 metre | 3,400 |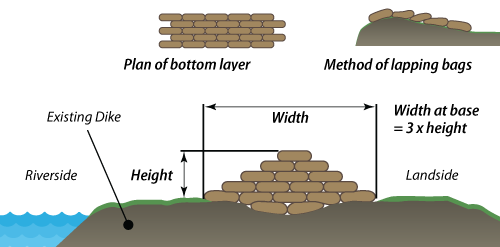 Locate the sandbag dike on high ground as close as possible to your home.
Dig a bonding trench, one sack deep by two sacks wide.
Alternate the direction of sacks (e.g. bottom layer length-wise with dike, next layer crosswise).
Sacks should be approximately half-filled with clay, silt or sand.
Tying or sewing of sacks is not necessary.
Lap unfilled portion under next sack.
Press firmly in place.
---
Coping with stress during a flood
Alerts, evacuations, loss and worry – floods can affect us all. If you are feeling stressed or anxious, you are not alone.
Take care
Stress takes a toll on your physical and mental health. Eating well, exercising and getting enough sleep lowers stress and helps us cope.
Reach out
Talking helps, whether it's with family, friends, a doctor or counsellor. Crisis lines are available to listen and help any time. You can contact:
BC Mental Health Support Line, available 24 hours a day at 310-6789 (no area code)
KUU-US Indigenous Crisis Line at 1-800-588-8717
Help others
Take care of the vulnerable. Assisting others can help you regain a sense of purpose and community as you confront the challenges together.