Currants & Gooseberries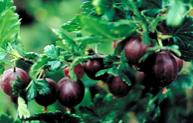 Growing currants & gooseberries
Currant & gooseberry weed management
There are only a few herbicides registered for currants and gooseberries. Control perennial weeds prior to planting. Use of sawdust mulches will help suppress weeds. The following products are registered:
Currant & gooseberry insect & mite management
Insecticides such as Malathion, Assail and Exirel are toxic to bees. Avoid applying them during the blossoming period. If they must be applied when bees are in the field, take the precautions listed in the Berry Production Guide: Pollination (PDF) to avoid killing bees.
Note: The recommended spray rates are for mature bushes unless otherwise specified. For smaller, immature bushes use reduced amounts of spray mixture.
Currant & gooseberry disease management