Blackberries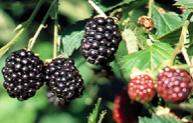 Growing blackberries
Blackberry weed management
Prior to planting, it is critical to control existing perennial weeds and brush. Use of glyphosate formulations such as Roundup or Touchdown effectively control tough weeds without creating a soil residue concern.
Note: Herbicide application rates are listed on pesticide labels and in the production guide for broadcast or total field coverage. If spraying a band over the row area only, then the treated area is only a portion of the whole field and rates must be reduced accordingly. For example, when spraying 1 m bands on rows 3 m apart, only one third of the field is treated.
Blackberry insect & mite management
Most insecticides are hazardous to bees. Avoid applying insecticides during the blossom period. Should it be necessary to apply insecticides during this period, notify beekeepers in the area. Evening applications are safer to bees than daytime applications.
Blackberry disease management
Blackberry nematode management