Aquatic plant harvesting
The Ministry of Forests, Lands, Natural Resource Operations and Rural Development has the responsibility for the regulation and licensing of the wild harvest and culture of aquatic plants in British Columbia (B.C.). The goal of B.C.'s aquatic plant management strategy is to balance the environmental and economic benefits that aquatic plants provide.
More than 600 species of aquatic plants can be found along the coast, including the greatest diversity of kelps found anywhere in the world. In addition to a food source for people, aquatic plants are used for herbal remedies, cosmetics and medical uses, and as a fertilizer for gardens.
On January 1, 2017, the B.C. government brought into force the Fish and Seafood Act and the Fish and Seafood Licensing Regulation. Information on application fees, harvesting requirements, terms and conditions on a licence, record-keeping requirements and royalty fees are outlined in the Fish and Seafood Licensing Regulations.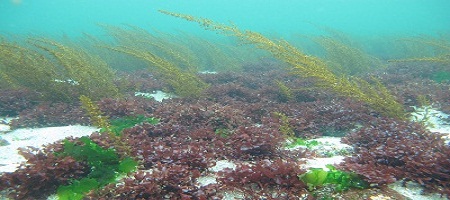 Wild aquatic plants
Domestic harvesting for personal use
Individuals harvesting for their own personal use, and collecting amounts of 100 kg or less, do not require a licence; however, all aquatic plant harvest should minimize impacts to aquatic plants and to the environment. All harvesting must be done by hand (no raking) and if harvesting occurs on the foreshore, the substrate should not be disturbed or exposed. If harvesting live plants, a sharp cutting instrument should be used and the harvesting should not harm the regrowth of the plant (minimize the amount harvested from each plant and do not disturb the holdfast).
Commercial harvesting
A Wild Aquatic Plant Harvester Licence is required to commercially harvest wild aquatic plants in B.C. that may be distributed to the public for human consumption, or if harvest volumes exceed 100 kg. The licence specifies the species, quota, method of harvest, harvest duration and area of harvest. All aquatic plant harvesting in B.C. is done by hand.
The spawn-on-kelp fishery requires both a provincial Wild Aquatic Plant Harvester Licence for the harvest of aquatic plants, and a federal authorization from Fisheries and Oceans Canada (DFO).
How to apply for a wild aquatic plant harvester licence for commercial harvesting
Application deadline
To allow sufficient time for application review including consultation with First Nations, applications and fees must be received by October 1 to be considered for a harvesting licence in the following calendar year.
Requirements once licensed – harvest record
A Wild Aquatic Plant Harvester record and corresponding royalty payment must be submitted within 10 days of completing the harvest, or after the licence expires, whichever is earliest.
Royalties are based on the type and amount of aquatic plants harvested and may be submitted to any FrontCounter BC office.
Submission of the harvest record and any royalty payment owing is required prior to consideration of an aquatic marine plant licence for the following year.
Cultured aquatic plants
An Aquatic Plant Culture Licence is required to culture aquatic plants in B.C. that may be distributed to the public for human consumption. Culture that occurs on Crown land or in the marine environment (Crown land covered by water) requires a Land Act tenure.
How to apply for the culture of aquatic plants
Contact the provincial aquatic plant officer at AquaticPlants.Courtenay@gov.bc.ca :
You may also need to notify Transport Canada's Navigation protection Program (NPP). Transport Canada is responsible for managing any navigational related concerns under the Navigation Protection Program.
Contact the Transport Canada's Navigation Protection Program for federal authorization:
Aquatic plant management
Inventories and mapping of aquatic plants are conducted in coastal regions of British Columbia, as part of the management of wild aquatic plant stocks. Inventory data, results and maps form a component of the British Columbia Coastal Resource Information Management System.
---