Pharmaceutical Care Management Strategy
The Ministry of Health's Pharmaceutical, Laboratory & Blood Services Division (PLBSD) has officially expanded its mandate. In addition to BC PharmaCare, the division now oversees the provisioning, management, and optimal use of pharmaceuticals, and pharmaceutical-related systems and services to improve patient outcomes in the B.C. health system.
Jump to: Key capability areas | Strategic areas of focus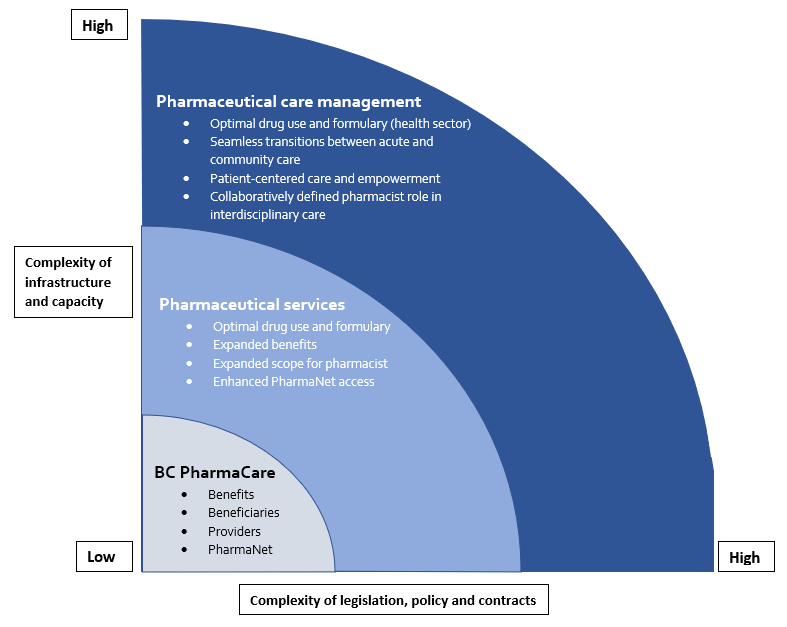 In alignment with the expanded mandate, the Pharmaceutical Care Management Strategy (PCMS) was developed after consultation and collaboration with a broad range of stakeholders across the health sector.
This provincial strategy identifies:
Provincial pharmaceutical care management capabilities
Key themes across the current pharmaceutical care management landscape in B.C.
Prioritized strategic areas of focus, with goals and timelines
Target governance and operating models
A transformational roadmap, with key workstreams and critical capability builds
Read the report of the Pharmaceutical Care Management Strategy (PDF, 3.64MB) for full details.
---
Key capability areas
The capability-driven PCMS focuses on the strengths necessary to deliver on PLBSD's expanded mandate while offering the greatest value to citizens. Over 50 stakeholders who play key roles in Pharmaceutical Care Management across the health sector were engaged to gather perspectives on key capabilities, challenges and opportunities to deliver on the expanded mandate. This included representatives from the Ministry of Health, the Provincial Health Services Authority, Health Authorities, Colleges; research and academic institutions, health associations and health professionals including family medicine and nursing; and community pharmacy.
These key capability areas were identified:
Public and population health
Policy and funding
Design and delivery of pharmaceutical services
Design and delivery of pharmaceutical care
Human health resources management
Monitoring reporting and evaluation
Digital IMIT, health technologies and infrastructure
---
Strategic areas of focus
To meet the needs of patients and populations, the PCMS aims to achieve the best possible patient outcomes from pharmaceutical care in nine strategic areas of focus:
Integrated health systems planning and governance for pharmaceutical care management
Primary care integration and collaboration
Leveraging of community pharmacists
Continuity of care re-design
Provincial digital solutions that support access and integration of pharmacy care across the patient care trajectory
Improved population health planning to support targeted interventions and optimal drug use
System-level monitoring and evaluation and performance measurement
Patient-centric digital tools, e.g. patient access to PharmaNet profiles, mobile applications for patients
People and culture
Implementing these strategic areas of focus will produce key shifts across the province: