Patients as Partners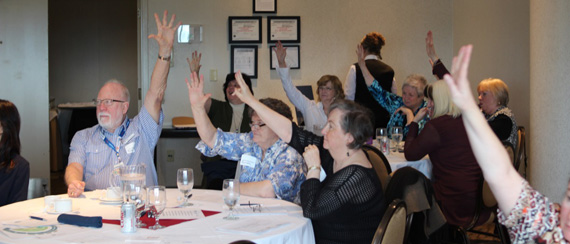 Including the voices of patients and their families is essential to positive change in health care.
The Ministry of Health's Patients as Partners Initiative brings person- and family-centred care to the forefront of health care through collaboration with patients and their families, non-governmental organizations, funded partners, regional health authorities, and a variety of health-care providers. Its partnerships work to provide leadership, tools and resources that help integrate patients' and families' voices, choices and their representation into decision making, which can positively affect people's health and health-system improvements.
The Patients as Partners Initiative follows international best practices for public engagement based on the International Association for Public Participation (IAP2) and the Triple Aim principles for health-care quality improvements. For a summary of Patients as Partners successes, please see the govTogetherBC website.
Engagement Tools and Resources
This document is to help guide patient, family, caregiver, and public engagement in British Columbia. The Patient, Family, Caregiver and Public Engagement Framework 2018 (PDF, 1.4MB) defines the three categories of engagement: Individual Care, Community Engagement and System Redesign. Engagement is a vehicle in advancing the Triple Aim resulting in improved health outcomes, improved patient and provider experience and reduced costs. It provides information about the spectrum of engagement, why engagement should be carried out, principles of engagement, best practices for the engagement, and serves as the central resource for the complete engagement toolkit.
This document is particularly aimed at:
Patients, families and caregivers
Leaders and decision makers in the health-care sector
Managers in the health-care sector, and
Practitioners in the health-care sector
The tip sheets provide guidance and support to health-care organizations in their patient, family and community engagement activities. These tip sheets are intended for use by engagement staff, health service practitioners, program managers, community development officers, and any health-care staff across the B.C. health system who work on engagement projects related to different patient populations. These tips apply to all three domains of health system engagement: individual care, program and community services, and system redesign.
These tip sheets are aimed at:
Engagement staff
Health service practitioners
Program managers
Community development officers, and
Any health-care staff across the B.C. health system who works on engagement projects related to co-design of health care
Tip Sheets for Engaging Different Populations
These stories provide a synopsis of different engagements carried out by Health Authorities, and other partners addressing a specific topic and subject area. Each of the stories briefly explains the type of engagement, the topic and subject matter and the outcome of the engagement.
Monthly Activity Guide
The Patients as Partners Initiative funds and sponsors many health sector educational activities, events and supports. Check out our monthly activity guide (PDF, 1.1MB) to find out what is happening around the province and in your community.
Past Events and Activities
Recognition
The International Association of Public Participation honoured Patients as Partners with the 2016 Canadian Organization of the Year Award, recognizing the ministry for its leading practices in public and patient engagement.
Provincial Annual Dialogue
On February 28, 2017, the Ministry of Health hosted the Patients as Partners' provincial Annual Dialogue event, which brought together patients, health-care providers and staff to share their lived experience. It generated new ideas on how to improve patient- and family-centred care in the province. Input has been shared with policy makers in the ministry and health authorities.