Patients as Partners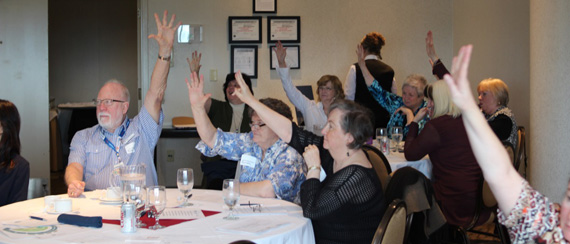 Including the voices of patients and their families is essential to positive change in health care.
The Ministry of Health's Patients as Partners Initiative brings person- and family-centred care to the forefront of health care through collaboration with patients and their families, non-governmental organizations, funded partners, regional health authorities, and a variety of health-care providers. Its partnerships work to provide leadership, tools and resources that help integrate patients' and families' voices, choices and their representation into decision making, which can positively affect people's health and health-system improvements.
The Patients as Partners Initiative follows international best practices for public engagement based on the International Association for Public Participation (IAP2) and the Triple Aim principles for health-care quality improvements. For a summary of Patients as Partners successes, please see the govTogetherBC website.
Community Conversations Event – March 4, 2019 in Vancouver, B.C.
A one-day event bringing together patients, families, caregivers, health-care providers, Ministry of Health representatives, health authority staff, community organizations, and health sector partners to provide opportunities for meaningful engagement; ensure purposeful engagement on topics that matter to participants; and provide information to participants based on input from last year's session.
This year's topics will include: Digital Health Technology; the Need to Fine Tune Community Engagement; Person and Family- Centred Care; and Lessons Learned on Team-Based Care with the Chinese Community. A package for participants is available and includes:
Through the Patients as Partners Initiative, the Ministry of Health funds, organizes and hosts an annual forum (known in the past as the Provincial Annual Dialogue or Regional Tables) for 100 -150 patients, families, caregivers, health-care providers, health authority staff, community partners and non-profit organizations from across the province. In the past, participants have learned about the progress of Ministry of Health strategic priorities and have provided input on how they believe heath care organizations should be engaging patients and their families for health care improvement. To date, we have heard the patient perspective about the Patients as Partners Strategic Plan; access to primary care; access to health care in rural and remote areas of the province; access to health care for urban Indigenous people; recommendations on how to improve person and family-centred care; free services offered to patients, families, and caregivers in the community; and supports for health care providers funded by the Patients as Partners Initiative.
Past Annual Dialogues and Engagement Tables
In 2017-2018, the Patients as Partners Initiative changed the format for the Annual Dialogue from one large engagement session to multiple regionally based engagement events across the province. This change in format enabled the Ministry of Health to engage a greater number, and diversity, of patients, families, caregivers, health authority staff and clinicians throughout the province on the following topics: access to primary care; challenges and opportunities for rural and remote communities; urgent primary care centres and shared care plans; access to health for urban indigenous people; and person- and family-centred care.
The attached executive summaries identify findings from the Patients as Partners Initiative Regional Tables held in partnership with Interior, Island, Fraser, the First Nations and the Provincial Health Services Authorities. Events were held on: October 17, 2017 in Kelowna, December 13, 2017 in Nanaimo, January 16, 2018 in Abbotsford, and February 5, 2018 in Vancouver, respectively. A final engagement Round-up Table was held on February 6, 2018 in Vancouver and brought together delegates from around the province to discuss what was learned at each table.
On February 28, 2017, the Ministry of Health hosted the Patients as Partners' provincial Annual Dialogue event, which brought together patients, health-care providers and staff to share their lived experience. It generated new ideas on how to improve patient- and family-centred care in the province. Input has been shared with policy makers in the ministry and health authorities.
Engagement Tools and Resources
Monthly Activity Guide
The Patients as Partners Initiative funds and sponsors many health sector educational activities, events and supports. Check out our monthly activity guide (PDF, 1.1MB) to find out what is happening around the province and in your community.
Recognition
The International Association of Public Participation honoured Patients as Partners with the 2016 Canadian Organization of the Year Award, recognizing the ministry for its leading practices in public and patient engagement. In 2018, the Deputy Minister of Health acknowledged the Patients as Partners team as a finalist for the Ministry of Health Service Award, "This small team of six is an excellent example of commitment to having a patient-centred mindset, maintaining professional conduct, creating strong interpersonal relationships and making a difference in the lives of British Columbians."