Federal Head Tax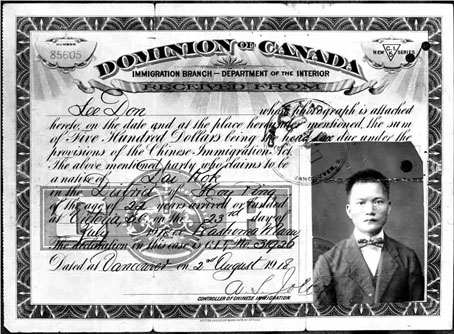 Head tax certificate issued to Lee Don, age 22, arrived Victoria, B.C. on July 23, 1918 (VPL 30625)
Almost immediately upon completion of the CPR, pressure from the B.C. provincial legislature to pass exclusionary legislation against the Chinese led to the enactment by the federal government of the Chinese Immigration Act of 1885. This legislation imposed a $50 fee, called the "head tax," on each Chinese person entering Canada. Only six classes of people were exempt: diplomats, clergymen, merchants, students, tourists and men of science. Modelled on the 1881 poll tax passed in New Zealand, the intention of the head tax was to discourage Chinese labourers from coming to Canada.
In 1901, the tax was increased to $100 and in 1903 it was increased again, to $500 – the equivalent of two years wages for a labourer. Despite the heavy tax, Chinese migrants continued to come, as they could earn 10 to 20 times more in Canada. Many Chinese Canadians borrowed money to pay the tax. Then they laboured for years to pay off their debts.
No other ethnic group in British Columbian history has suffered such formally sanctioned mistreatment of its members on entering Canada over such an extended period. During the period of the head tax between 1885 and 1923, over 97,000 Chinese immigrants still came to Canada seeking a better life, with many helping to build B.C. and Canadian society.
They lived and worked in every town and city across British Columbia. In many small towns, Chinese Canadian cafés served as community gathering places. Chinese Canadian farmers grew fresh produce and Chinese Canadian grocers supplied local neighbourhoods. The B.C. government received approximately 40 per cent of the $23 million total (nominal value) tax revenue collected through the head tax.