A New Era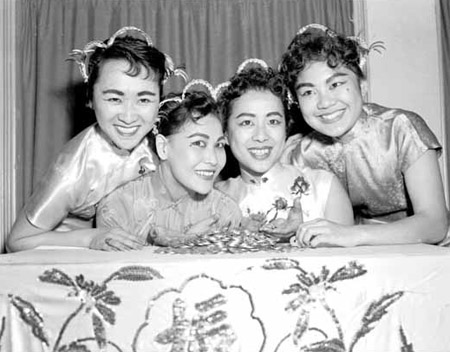 Women in Chinese dress holding yen, Vancouver, BC. Province Newspaper, 196-. (Courtesy of the Vancouver Public Library, 41640)
The 1967 immigration reform created the "points system" and removed racial discrimination in immigration policy, opening the door again to Chinese immigration. As a result, new Chinese immigration rose steadily in the 1970s and 1980s.
According to the 1981 census, people of Chinese origin made up less than three per cent of the B.C. population. In contrast, in 1901, Chinese Canadians were roughly 10% of the B.C. population (14,885 of 149,709). It was a full century before that proportion was reached again in 2001 (373,830 of 3,698,850). By 2011, Chinese Canadians made up nearly 15% of British Columbians.
New immigrants have contributed to a thriving Chinese Canadian culture in Vancouver and the Lower Mainland, in particular Richmond, where 44% of the population are ethnic Chinese.
On June 22, 2006, Prime Minister Stephen Harper offered an apology and compensation for the head tax once paid by Chinese immigrants. Survivors or their spouses were paid approximately $20,000 as compensation. There were only an estimated 20 Chinese Canadians who had paid the tax still alive in 2006.
British Columbia now has the largest Chinatown (Vancouver) and the oldest Chinatown (Victoria) outside San Francisco in North America. Chinese British Columbians have made contributions in every aspect of B.C. society including science, art, music, academia, sports, business and community services. Many Chinese Canadians have been appointed to the Order of Canada, the highest honour in this country.