Organizing Against Racism & Hate
The Organizing Against Racism and Hate (OARH) program was initially established to help small communities collaboratively find ways to address incidents of racism and hate crime. In 2016, the OARH program was expanded to include four new urban communities – Vancouver, Richmond, Surrey and Burnaby. There are 32 communities listed as OARH members in British Columbia and all have:
An established community partnership of organizations or individuals that actively develop community capacity and skills; foster community engagement; and build community sustainability plans to address racism and hate.
Have an agreed protocol on how to respond to an incident of racism in their community.
Provide an annual summary of incidents of racism observed/reported in their community.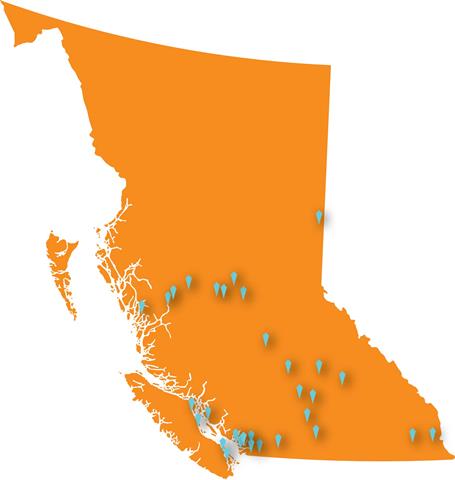 100 Mile House
Cariboo Family Enrichment Centre.
486 Birch Ave.,
100 Mile House, BC V0K 2E0
250 395-5155
Email

Penticton
South Okanagan Immigrant & Community Services
(Penticton & District Multicultural Society)
508 Main Street,
Penticton, BC V2A 5C7
250 492-6299
Email

Abbotsford
Abbotsford Community Services
2420 Montrose Ave.,
Abbotsford, BC V2S 3S9
604 859-7681, Ext. 270
Email

Port Alberni
Port Alberni Friendship Centre
3555 4th Avenue
Port Alberni, BC V9Y 4H3
250 723-8281
Email

Burnaby
Burnaby Family Life
102 – 2101 Holdom Avenue
Burnaby, BC
604 659-2208
Email

Powell River
Powell River Diversity Initiative
103 - 4511 Marine Avenue,
Powell River, BC V8A 2K5
604 485-2004
Email

Prince George
Immigrant & Multicultural Service Society
1270 – 2nd Ave.,
Prince George, BC V2L 3B3
250 562-2900
Email

Campbell River
Multicultural and Immigrant Services Association of North Vancouver Island
A114 - 740 Robron Road,
Campbell River, BC V9W 6J7
250 830-0171
Email

Prince Rupert
North Coast Immigrant and Multiculturalism Services Society
120 - 101 1st Ave. East,
Prince Rupert, BC V8J 3X4
250 624-6986 or 250 622-2915
Email

Courtenay/Comox Valley
Community Justice Centre of the Comox Valley
Suite C-2 - 450 8th Street,
Courtenay, BC V9N 1N5
250 334-8101
Email

Revelstoke
Okanagan College
1401 - 1st Street West,
Revelstoke, BC V0E 2S0
250 837-4235, Ext. 6503
Email

Cranbrook
East Kootenay Organization for
Human Dignity and Equality
Box 533
Cranbrook, BC V1C 4J1
250 426-9622
Email

Richmond
Richmond Multicultural Community Services
210 - 7000 Minoru Boulevard, Richmond BC V6Y 3Z5
604 279-7160
Email

Dawson Creek
Dawson Creek Literacy Society
929 - 102 Ave.,
Dawson Creek, BC V1G 2B5
250 782-4211
Email

Salmon Arm (Shuswap Region)
Shuswap Settlement Services Society
371 Hudson Ave. NE,
P.O. Box 304,
Salmon Arm, BC V1E 4N3
250 804-2726
Email

Duncan/Cowichan Valley
Cowichan Intercultural Society
#205 - 394 Duncan St.,
Duncan, BC V9L 3W4
250 748-3112
Email

Smithers
Bulkley Valley Social Planning Society
Box 579,
Telkwa BC V0J 2X0
250 877-0042
Toll Free 1-866-877-0042
Email

Fernie
Elk Valley Métis Association
Box 933,
Fernie, BC V0B 1M0
250 423-4833
Email

Sunshine Coast
Alofii Consultancy
c/o Witworks Ltd.
Box 1381,
Sechelt, BC V0N 3A0
604 885-0651
Email

Fort St. James
College of New Caledonia
Box 1557
179 Douglas St.,
Fort St. James, BC V0J 1P0
250 996-7019
Email

Surrey
MOSAIC
200-7134 King George Bvld.
Surrey, B.C. V3W 5A3
778 591-9334
Email

Hope
Free Rein Associates
P.O. Box 998
895 Third Ave.,
Hope, BC V0X 1L0
604 869-2279
Email

Terrace
Skeena Diversity Society
4617 Lazelle Ave., PO Box 665
Terrace, BC V8G 1S3
250 635-6530
Email

Houston
Northwest Community College
PO Box 1277
3221-14th Street West,
Houston, BC V0J 1Z0
250 845-7266
Email

Vancouver
Association of Neighbourhood Houses BC
203-3102 Main Street
Vancouver, BC V5T 3G7
604 875-9111, ext. 100
Email

Kamloops
Kamloops Immigrant Services
448 Tranquille Road,
Kamloops, BC V2B 3H2
778 470-6101
Email

Vanderhoof
Good Neighbours Committee
3231 Hospital Rd.,
Vanderhoof, BC V0J 3A2
250 567-9773 or 250 570-8472
Email

Kelowna
Kelowna Community Resources
620 Leon Avenue,
Kelowna, BC V1Y 9T2
250 763-8008, Ext. 130
Email

Vernon
Social Planning Council for the
North Okanagan
3105 33rd Street,
Vernon, BC V1T 9P7
250 540-8572
Email

Kitimat
Kitimat Child Development Centre
1515 Kingfisher Ave.,
Kitimat, BC V8C 1S5
250 632-3144, Ext. 219
Email

Williams Lake
Canadian Mental Health Association Cariboo Chilcotin Branch
51 Fourth Ave. South,
Williams Lake, BC V2G 1J6
250 398-8220
Email

Nanaimo
Central Vancouver Island Multicultural Society
101-319 Selby St.,
Nanaimo, BC V9R 2R4
250 753-6911, Ext 101
Email