Connectivity in B.C.
Connectivity is critical for British Columbians regardless of where they live. The internet is embedded into all aspects of our day-to-day lives as it enables a broad spectrum of possibilities including healthcare, education, culture, public safety and economic activity.
The provincial government encourages the expansion of connectivity in rural and remote areas across the province where possible to ensure local connectivity is affordable, accessible and business ready.
Does everyone have equal access to connectivity in B.C.?
There are still a number of households across the province that do not have access to the Canadian Radio-television and Telecommunications Commission (CRTC) target speeds of 50 Mbps. These areas are primarily on the outskirts of connected communities or in rural or remote areas where populations are small or dispersed, making access to internet connectivity expensive and challenging.
According to the CRTC, 92% of households in B.C. with access to target speeds of 50 Mbps are largely in urban areas. If we look at rural B.C, only 38% of rural communities and 38% of rural Indigenous communities have access to the recommended broadband internet speeds.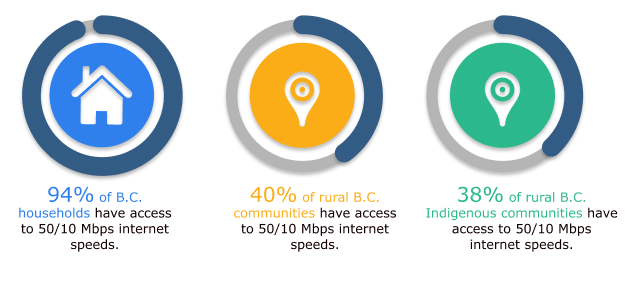 In order to fully participate in the digital economy, access to high-speed internet is important, but affordability of this access is equally important. Providing the same level of access, quality and affordability in rural areas as seen in urban areas is a key priority for the Province.
Connectivity Topics

Find more information about internet and cellular services and regulations.

View an interactive map to discover connectivity availability in B.C.

Funding is available for connectivity projects through the Connecting British Columbia program.

Connected Communities is a new initiative for the Ministry of Citizens' Services to support the digital readiness of local governments, First Nations and rural communities.
Learn more about the importance of connectivity in rural communities.