2022 Award for Design & Contract Preparation - Structures
Nominees
The nominees for the 2022 Award of Excellence for Design and Contract Preparation – Structures are:
BGC Engineering Inc. and Gygax Engineering Associates Ltd.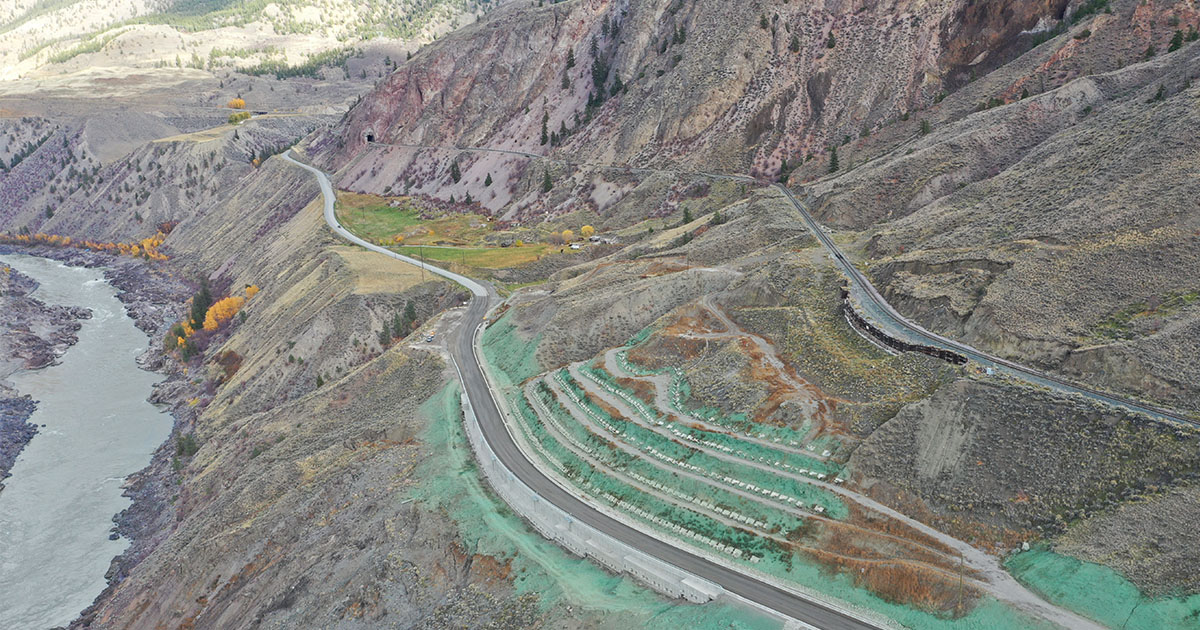 Project: Highway 99 Ten Mile Slide Stabilization
Location: 17 kilometres northeast of Lillooet
Assignment Contract Value: $7 million
The Ten Mile Slide on the Xaxli'p Indian Reserve is one of the only known continuously moving landslides in North America. Prior to stabilization, average movement rates of the Ten Mile Slide were 10 millimetres per day, with rates up to 50 millimetres per day following rain or snow melt events.
The Ten Mile Slide site spans Highway 99, which is an essential route between the rural communities of Lillooet, Xaxli'p and the Thompson-Cariboo, and sees approximately 1,600 vehicles per day.
BGC Engineering Inc. and Gygax Engineering Associates Ltd. were engaged in fall 2015 to come up with a long-term solution to stabilize slide movement. Both teams adapted to changing site conditions while meeting tight design submissions and working effectively with the ministry and stakeholders. The final design has resulted in a safe, reliable and low maintenance alignment.
The contractors developed a collaborative structural solution to a complex, dynamic geotechnical problem that included soil anchors installed above the highway, a tied-back pile wall with a waler assembly and concrete cap beam below the highway, and reconstruction and realignment of the highway.
The project resulted in a safe and reliable highway alignment between Lillooet and Kamloops and has been essential to maintain community connectivity for Xaxli'p. The project also provided community benefits and procurement opportunities for Xaxli'p and will limit future maintenance costs.
Morrison Hershfield Limited
Project: Taft Creek Bridge Renewal
Location: Highway 37 between Meziadin Junction and Bell II
Assignment Contract Value: $470,000
The Taft Creek Bridge Renewal rehabilitation design effectively addressed all the major structural needs at the site and extended the lifespan of the existing infrastructure from 25 to 75 years.
Morrison Hershfield Limited minimized environmental disturbances by the reuse of existing substructure and road base and provided a roadway cross-section consistent with the corridor design criteria to safely carry all user types, within scheduled timelines, in a very remote and challenging geographic location.
Morrison Hershfield Limited worked well with the ministry by incorporating feedback, meeting deadlines and proposing unique solutions to meet technical and budgetary needs.
Award of Excellence 2022
BGC Engineering Inc. and Gygax Engineering Associates Ltd.
Project: Highway 99 Ten Mile Slide Stabilization
Location: 17 kilometres northeast of Lillooet
Assignment Contract Value: $7 million