Volunteer Lake Monitoring Program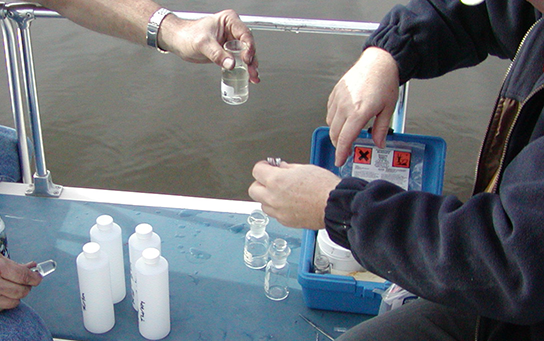 British Columbians want lakes to provide good water quality, aesthetics and recreational opportunities. When these features are not visible in recreational lakes, questions arise. People begin to wonder if the water quality is getting worse, if the lake has been affected by land development, and what conditions will result from more development within the watershed.
The BC Lake Stewardship Society (BCLSS)
, in partnership with the Ministry of Environment and Climate Change Strategy, has designed a program, called The B.C. Lake Stewardship and Monitoring Program (BCLSMP), to help answer these questions. Through regular water sample collections, we can begin to understand a lake's current water quality, identify the preferred uses for a given lake, and monitor water quality changes resulting from land development within the lake's watershed.
Program Goals
To inspire, promote and support engaged volunteer watershed stewardship across the Province.
To build and maintain a volunteer lake monitoring program that shares knowledge to better understand, protect and sustain our aquatic resources.
To develop, promote and support partnerships with volunteers, local stewardship groups and BCLSS to provide a coordinated approach to volunteer monitoring.
To establish and maintain a baseline of data from lakes to facilitate long term lake management.
To educate volunteers, lake residents and lake users on lake health, best management practices for watershed protection and the control and prevention of invasive species.
To facilitate regular reporting of volunteer collected data to inform lake residents and users, as well as the public.
Levels of Monitoring within the Program
Within the Volunteer Lake Monitoring Program there are multiple levels of study that can be done on lakes. The level of study chosen for a lake is based on the volunteer commitment and the concerns for the lake itself. The diagram below illustrates the different levels of volunteer study.
Click on the above graphic to see larger version.