The Mobile Air Monitoring Laboratory (MAML)
Overview
The provincial government is committed to improving and protecting air quality in B.C. with innovative and flexible ways to provide air quality monitoring.
The mobile air monitoring laboratory (MAML) offers a flexible and cost-effective way to monitor air quality in communities that do not have fixed air monitoring stations. It has been used to provide neighbourhood-specific air quality monitoring in larger communities and rural areas.
What is the MAML?
Built on a Ford F550 chassis, the MAML is a fully equipped, mobile laboratory that monitors air quality. It continuously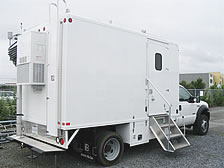 measures common air pollutants related to health effects, such as black carbon, sulphur dioxide, nitrogen dioxide, carbon monoxide, ozone and particulate matter (PM).
The MAML is able to monitor noncontinuous parameters on its roof, such as volatile organic compounds (VOCs), polycyclic aromatic compounds (PAHs) and other air toxics.
A full suite of meteorological parameters — including wind speed, wind direction, temperature and humidity — are measured from the 10-metre, retractable hydraulic tower at the back of the van.
Data from the MAML is transferred in real time via a cellular Ethernet modem into the Ministry of Environment's air monitoring database. There, the data is quality assured and posted for immediate viewing on the Mobile Air Quality Monitoring Data web page. The MAML is powered through an external electric cable to the van.
Why does B.C. use the MAML?
The mobile air monitoring laboratory offers an effective, economical way to monitor air quality in areas that do not have fixed air monitoring stations, and to assess if a community requires longer-term monitoring. In many of these sites, only a simple assessment of the air quality over a short time is needed to understand the root causes affecting air quality, and to address the issues. For the cost of operating two to three permanent air quality stations, we get valuable information on five to eight communities over the course of a year.
How can I get results from the MAML?
Real-time results from MAML's air testing in B.C. communities are available as part of the Current Air Data. Data and health-impact reports from the various projects can be found in Reports & Publications.
What does the Ministry of Environment do with this information?
The information is used by the Ministry of Environment and communities to protect and improve air quality. Depending on the nature of the findings, the end deliverable ranges from full-scale reports and health-impact assessments to town-hall presentations.
In some cases, the MAML project findings are handed over to local governments and health authorities for further analysis and reporting. Many of these reports and findings go towards generating recommendations for airshed planning and local emission reductions. They may also result in further monitoring.
Where have you used the MAML?
Examples of MAML's projects include:
Victoria's James Bay neighborhood: study to gauge the impact of nearby air and marine traffic on air quality.
Moricetown (a small, First Nations community near Smithers): wood-smoke impact study.
Whistler Olympic: traffic-pattern-change impact study.
Peace River community: project to assess the impact of oil and gas development on local air quality, and to determine the need for future monitoring.